The 2014 World Billiards Championship officially kicked off on Oct. 17 in Leeds, U.K. As players around the world chalked their cues, we searched through listings of homes for sale to find the ultimate places to play. While most of these rooms feature American-style pool tables, they'd be fit for any type of cue sports that you fancy.
Pool of Fish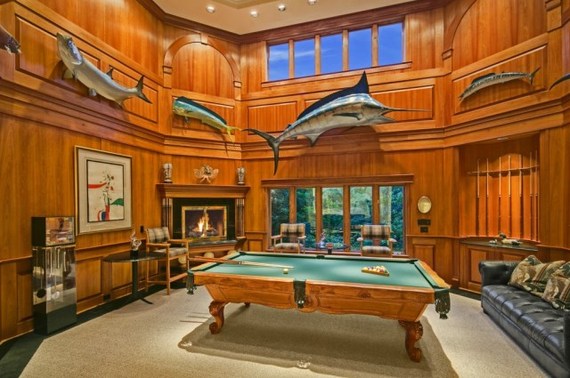 This Mercer Island home sits right on the water, so the fishing theme of the billiards room fits right in. The wood-paneled walls, fireplace and extremely tall ceilings create a stunning effect. A wood-paneled wet bar sits adjacent to the room, so you can sip some whiskey while watching your friends play.
Right on Cue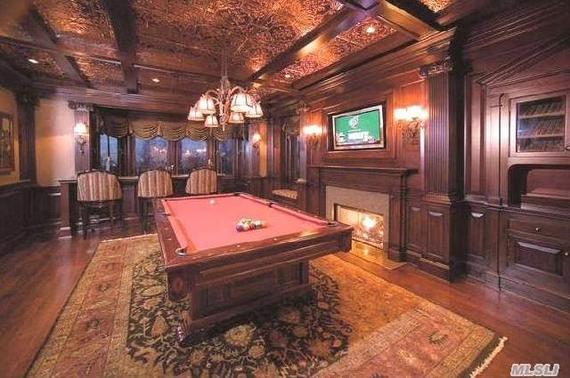 The intricate ceiling, ornately carved wooden wall fixtures, fireplace and chandelier all combine to create the effect of a classic gentleman's smoking room. Just stepping into this billiards room would take you back to a bygone era when people discussed politics with cigars and brandy.
Contemporary Cue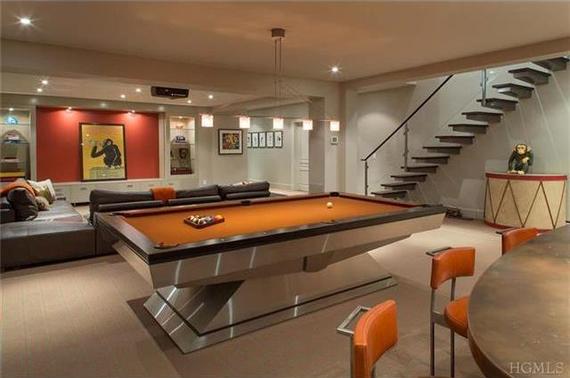 A floating staircase leads to the lower level of this estate, which features a wine cellar, bar, lounge area and pool table. The pool table appears to be made of metal, which fits the modern décor. It also has orange fabric that matches the orange seats at the bar; very chic!
Where You Call the Shots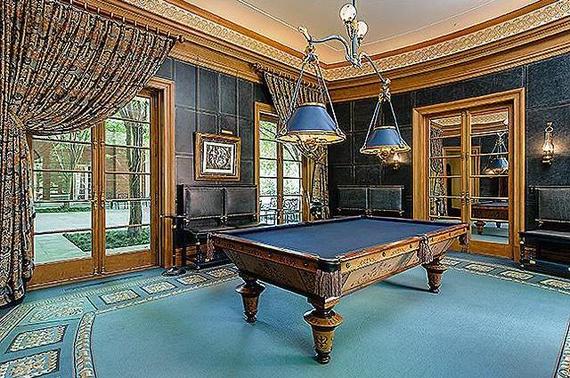 This $37.5 million dollar estate is a work of art, and the billiards room is no exception. The elegant patterns on the table blend perfectly with the rich blue and gold textures found in the carpet, drapes, light fixtures and molding. You'd feel like a royal playing a match in a place like this.
Dogs Playing Pool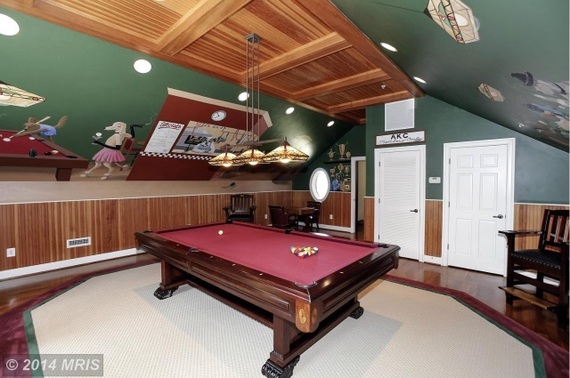 We've all seen the classic painting of dogs playing poker, but this billiards room takes it one step further with a mural of dogs playing pool, drinking cocktails, serving food and holding trophies. The mural even features the classic light fixtures hanging above the pool table!