It's that time of year to pack up your summer clothes and bring out your boots and scarves. Unless, of course, your closet is big enough for both, like the ones found in these five homes for sale. These closets are the stuff of shopaholic fantasies; they're stylish, enormous, and have a place for everything. Warning: You'll never look at your own closet the same way again.
Shoe Lover's Heaven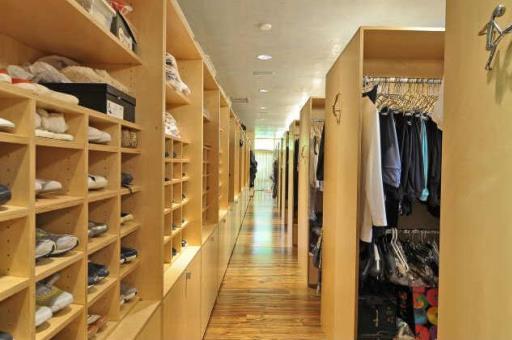 This unbelievable closet is larger than some retail stores, with shelf after shelf of clothing racks. There are built-in cubbies for all types of shoes, and plenty of drawers for accessories. It would feel like browsing through a department store, filled with free clothes! The rest of the home is filled with antiques, furniture, taxidermy and art from far off places, so no doubt this closet is filled with clothes from around the world.
Classy & Fabulous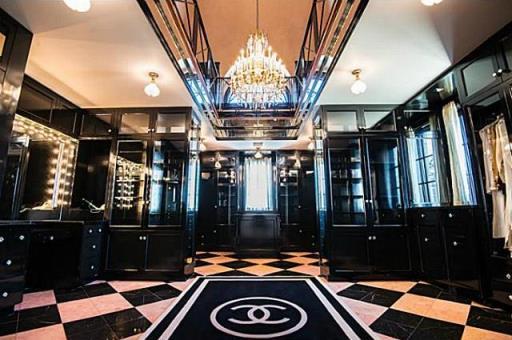 No, you're not looking at a Chanel store, just a beautiful closet that's styled like one. The tile floor, chandelier and black cabinets would fit right in on Fifth Avenue. It's just one of the many amazing amenities in this enormous 36,000-square-foot home, which also has a sauna/spa room, bowling alley, racquetball court, indoor AND outdoor pools, grand ballroom and media room. It's located in Hickory Creek, Texas, proving once again that everything is bigger in Texas.
Gucci Goodness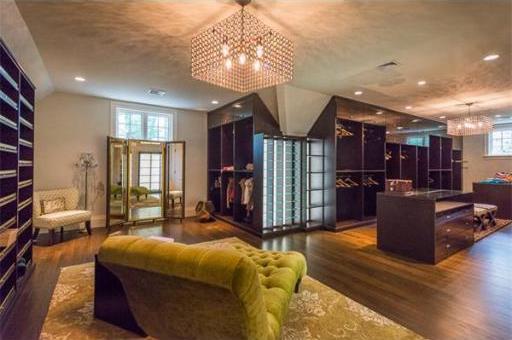 As the listing states, this is an "over the top Gucci showroom-inspired closet/dressing room." It spans several rooms, with lounge chairs and changing tables. One side of the closet is decorated all white, and the other has dark wood cabinets. The main sitting area has additional closet space, large mirrors, lounge chairs and beautiful lighting. It's bigger -- and more beautiful -- than most living rooms!
Boudoir of Beauty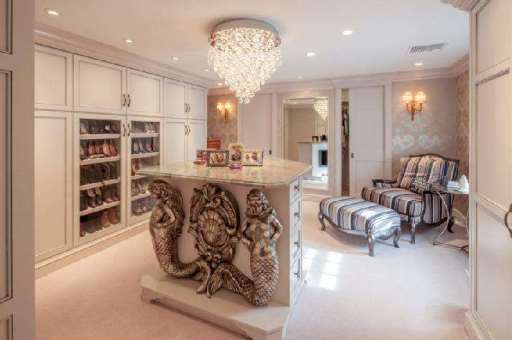 Two mermaid statues welcome you to this glamorous closet, which is illuminated by a gorgeous chandelier. The spacious cabinets and center island offer plenty of storage, and the room is large enough for a lounge chair. Even the wallpaper is uber-chic. The décor certainly matches the rest of the home, which is going up for auction with bids starting at $2 million.
French Laundry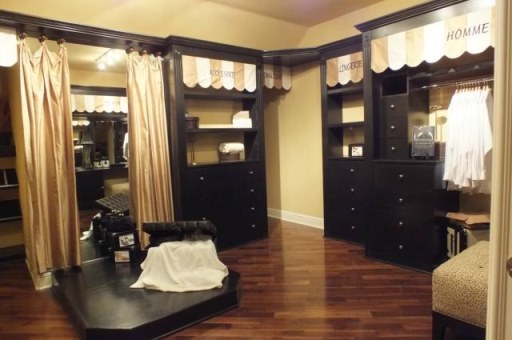 This Parisian-inspired closet in Corona, California has separate sections for different types of clothes, each labeled in French on striped valances. There's an elevated platform in front of the mirror, where you can be the center of the stage. It's certainly the crème de la crème of closets. Other amazing features in this home include a pirate-themed kid's room and a room dedicated to the UCLA Bruins.