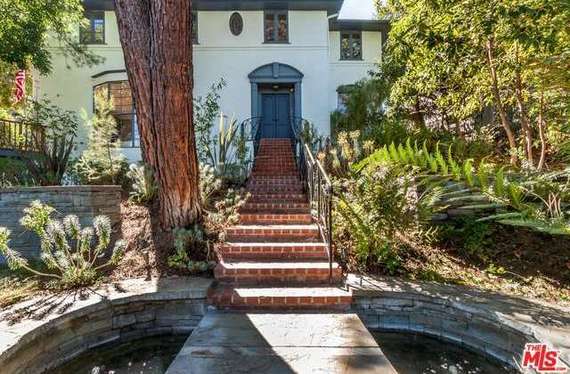 The TV comedian just sold his Los Angeles abode for $2,178,200 ... and it's apparently just as likable as he is!
While Jimmy Kimmel is pretty good at entertaining a television audience, he's probably not so bad at entertaining his guests, either. This home's backyard has a BBQ, pizza oven, hot tub AND a beer keg dispenser! How's that for luxury entertainment?
The five-bedroom, five-bathroom home is full of charm with a fabulous mix of midcentury modern design and elegance. Beautiful hardwood floors and large windows give the home a bright and airy feel. Many of the rooms are decorated with tasteful and simple neutral-toned furniture, giving the 3,605-square-foot home a clean, finished look. It is also hard not to love the colorful tiling in some of the bathrooms, which adds a nice splash of color to the home's décor!
The list of impressive features includes a gourmet kitchen equipped with a dessert refrigerator, separate icemaker, working soda dispenser and a large electric adjustable dining table ... with a seating booth! Not so surprisingly, the home also has a recording studio with a sound booth. Maybe the TV show host is planning on training his children to follow in his footsteps?
The home was built in 1947 and is perched on a high hill offering stunning views of the surrounding area. Kimmel purchased the property back in 2002 for $925,000.