Nothing spells Thanksgiving quite like gorging yourself alongside your favorite, err closest, relatives while fighting over that last seat at the table with an overfilled platter of goodness. Now imagine Turkey Day in one of these delicious dining rooms fit for a king, or pretty much anyone who can afford them.
1) A fancy feast
10425 West Revuelta Way, Los Angeles, CA 90077
Price:
26,995,000
Beds:
13
Baths:
16.5
Listed By:
Jade Morris, Coldwell Banker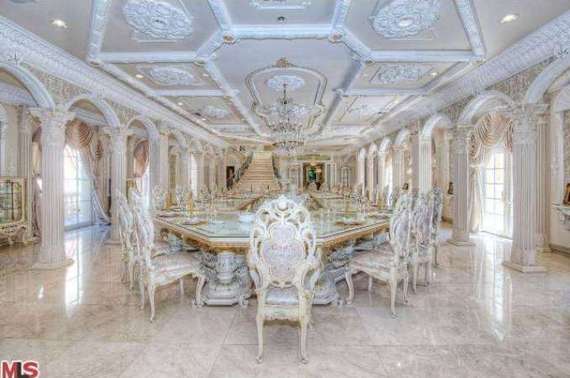 This gives the term "formal dining room" a totally new meaning. You may need to break out your powdered wig and petticoat for a fete in this Lower Bel Air home.

2) Party in the Palisades
439 Paseo Miramar, Pacific Palisades, CA 90272
Price:
$9,495,000
Beds:
6
Baths:
6.5
Listed By:
Myra Nourmand, Nourmand & Associates-BH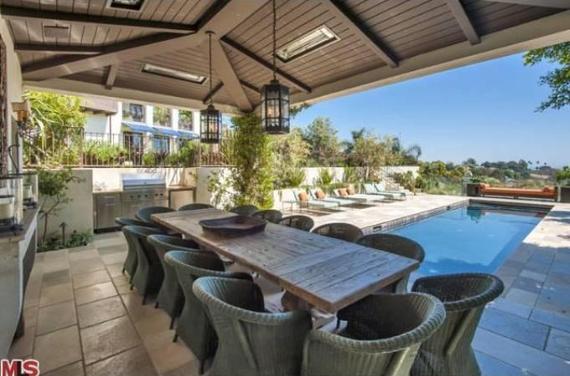 Feast Al Fresco anyone? Temperatures in the Pacific Palisades around Thanksgiving are usually a balmy 70 degrees, so dining outdoors is always a fabulous option. And especially if you're Hilary Swank, who, by the way, is selling off this beauty. Feel free to invite over your new neighbors, John Mayer and Dan Aykroyd, who live a few blocks away.
3) Dining in Wonderland
67 Byron, Weston, MA 02493
Price:
$17,000,000
Beds:
7
Baths:
8.5
Listed By:
Richlen & Yates Team, Coldwell Banker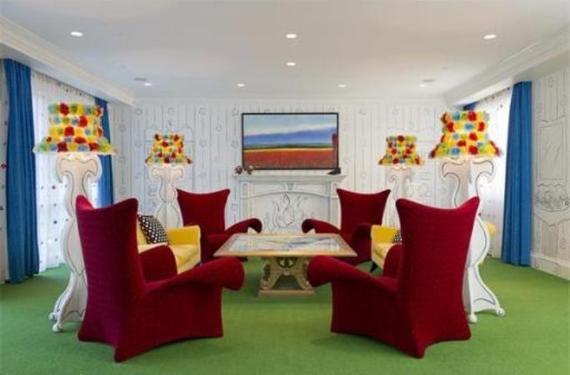 You don't have to be mad to enjoy dining at this home in The Mad Hatter and the March Hare may not be invited to your holiday festivities, but make sure to compliment the Queen on her casserole. We all know what happens when she gets upset.

4) Dining room with a view
1521 Ave #1102, Seattle, WA 98101
Price:
$1,150,000
Beds:
2
Baths:
2
Listed By:
Jan Selvar, Windermere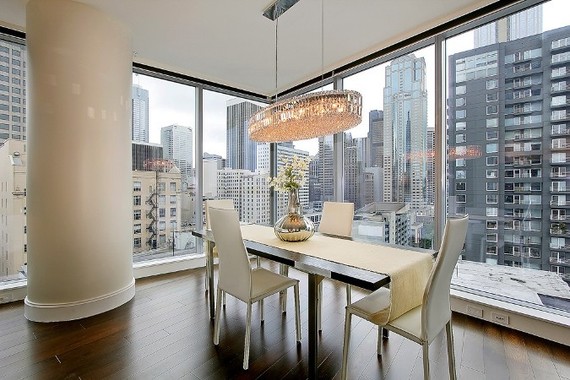 Feast your eyes on the city views from this formal dining room smack dab in the middle of Downtown Seattle. You might make a few neighbors across the way a tad bit jealous with your Thanksgiving spread.
5) Picnic by the pool
3310 Devon Ct, Coconut Grove, FL 33133
Price:
$12,900,000
Beds:
5
Baths:
6.5
Listed By:
Monica Betancourt, Esslinger, Wooten, Maxwell Inc.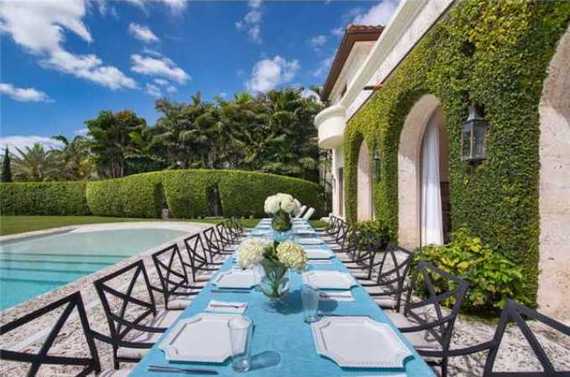 Although mashed potatoes and gravy isn't on the South Beach Diet, don't you think you deserve a cheat day? I mean who could resist Thanksgiving dinner at this home in East Coconut Grove. Just work off those calories with a post-dinner dip in the table side swimming pool.
6) A very Hollywood holiday
2009 La Mesa Dr, Santa Monica, CA 90402
Price:
$18,900,000
Beds:
6
Baths:
8
Listed By:
Loraine Silver, Partners Trust Santa Monica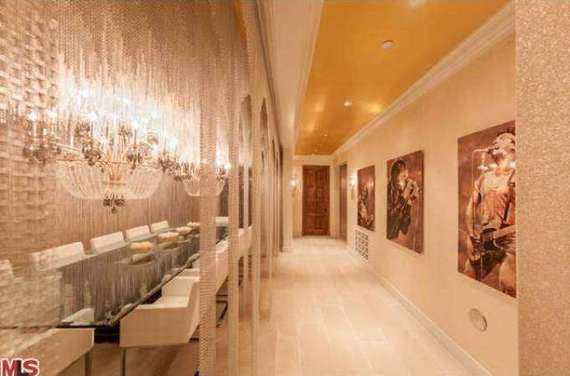 Your bird better be dressed to impress this Thanksgiving. Take one look at this delicious dining room in Santa Monica, and you'll be whisked away on a "Lifestyles of the Rich and Famous" experience. But instead of champagne wishes and caviar dreams, you'll be dreaming of dressing and wishing you hadn't had that second piece of pecan pie.
7) Wine and Dine
1156 San Ysidro Dr., Beverly Hills, CA 90210
Price:
$12,500,000
Beds:
7
Baths:
11
Listed By:
Mauricio Umansky, The Agency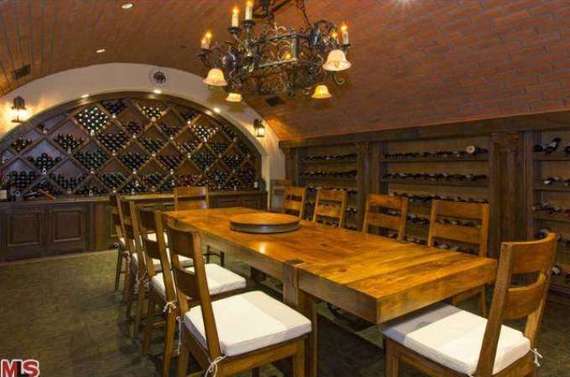 Go ahead and pass the vino at this gated villa in Beverly Hills, there is plenty to go around! The home comes with a 3,000-bottle wine cellar and tasting room. What pairs well with cranberry sauce and gravy?

8) Pass the dessert in the desert
385 Alta Vista Rd, Palm Springs, CA
Price:
$14,500,000
Beds:
10
Baths:
11
Listed By:
Joyce Rey, Coldwell Banker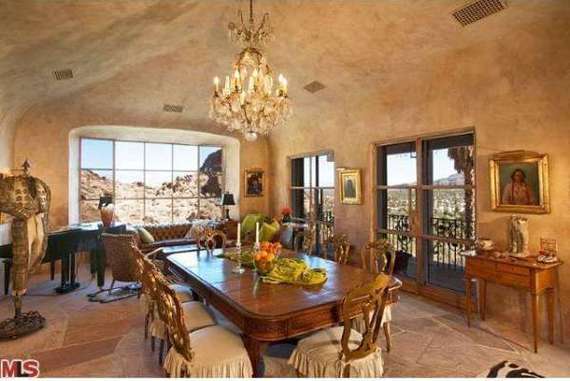 This secluded home in The Mesa neighborhood of Palm Springs sits on 73 private acres. Take in the rolling hills and dramatic canyon views as you also take in more pumpkin pie!

9) I left my heart - and stomach - in San Francisco
11 Wolfback Ridge Rd, Sausalito, CA 94965
Price:
$5,380,000
Beds:
3
Baths:
3.5
Listed By:
Kouros Tavakoli, Decker Bullock Sothebys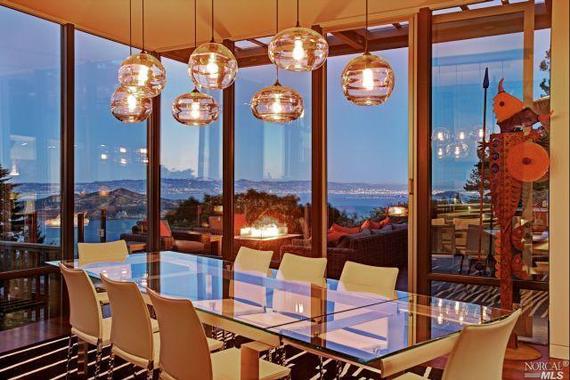 Serve up a killer view of the San Francisco Bay this Turkey Day with a side of mid-century modern design. Guests at this home in Sausalito will be thankful for their stylish setting.
10) Walk the Plate, err Plank!
2225 Arlington Ave, Riverside, CA 92506
Price:
$2,299,000
Beds:
5
Baths:
5
Listed By:
Karin McCoy, Allison James Estates & Homes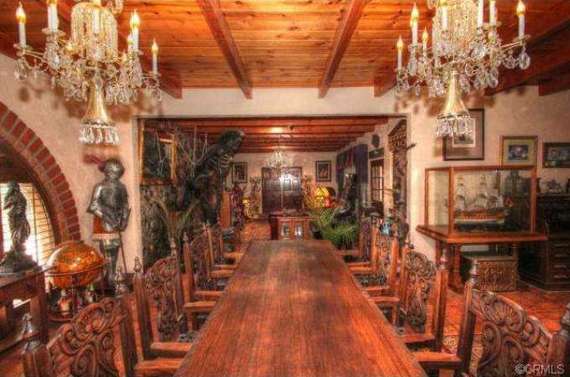 Shiver me timbers! This pirate-themed home in Riverside, CA features a dining room fit for Captain Cook. Plenty of merriment will be made this holiday. But beware, the buccaneer in you may be screaming, "pass the grog you scallywag before I make you walk the plank!"
For more interesting dining rooms in homes for sale, check out the "Amazing Dining Rooms" Redfin Collection.