Like most people, I live most of my life in a rut. But that doesn't bother me.
I've often heralded the value of taking an unfamiliar path once in a while. I find trying new things to be refreshing and invigorating. But let's face it; we all know that life has more workdays than weekends. And who's to say that being comfortably entrenched in daily routines is such a bad thing? Staying mostly "on course" and trying not to feel melancholy when you're wrapped in the familiarity of every day is very important in life. In fact, going through your daily paces can bring a sense of serenity.
Our routines help the world tick along. Like me, are you in a trancelike state most mornings? I am usually the first to rise, and then it's a mad dash to shower, dress, have breakfast (maybe), and bustle around ensuring the rest of the house is moving, and everyone has everything they need and are on time to start the day.
This is the usual rhythm of a parent. Of course, the end of the day has its familiar customs too. The cooking and washing and tucking-in sequences never seem to vary. But aren't we lucky to have people to care for and homes to keep tidy?
Many people would have us believe that going through life as though on a well-worn path can promote apathy, boredom and even anxiety. There are oodles of books urging us to find the new us and step out of our comfort zones. We want to be known as boundary breakers and world changers, taking risks and trying new things, even if they're a bit painful. Richard Branson, with all his daredevil antics, springs to mind. Amid his charitable exploits, he's made a life out of that "eat dessert first" line of thinking.
If you knew me you'd recognize me as the person first in line to try something different. Trekking in Nepal, slowly jogging a marathon (with no training) at a creaky 47 and taking a flying trapeze class? That's me. All within the last year.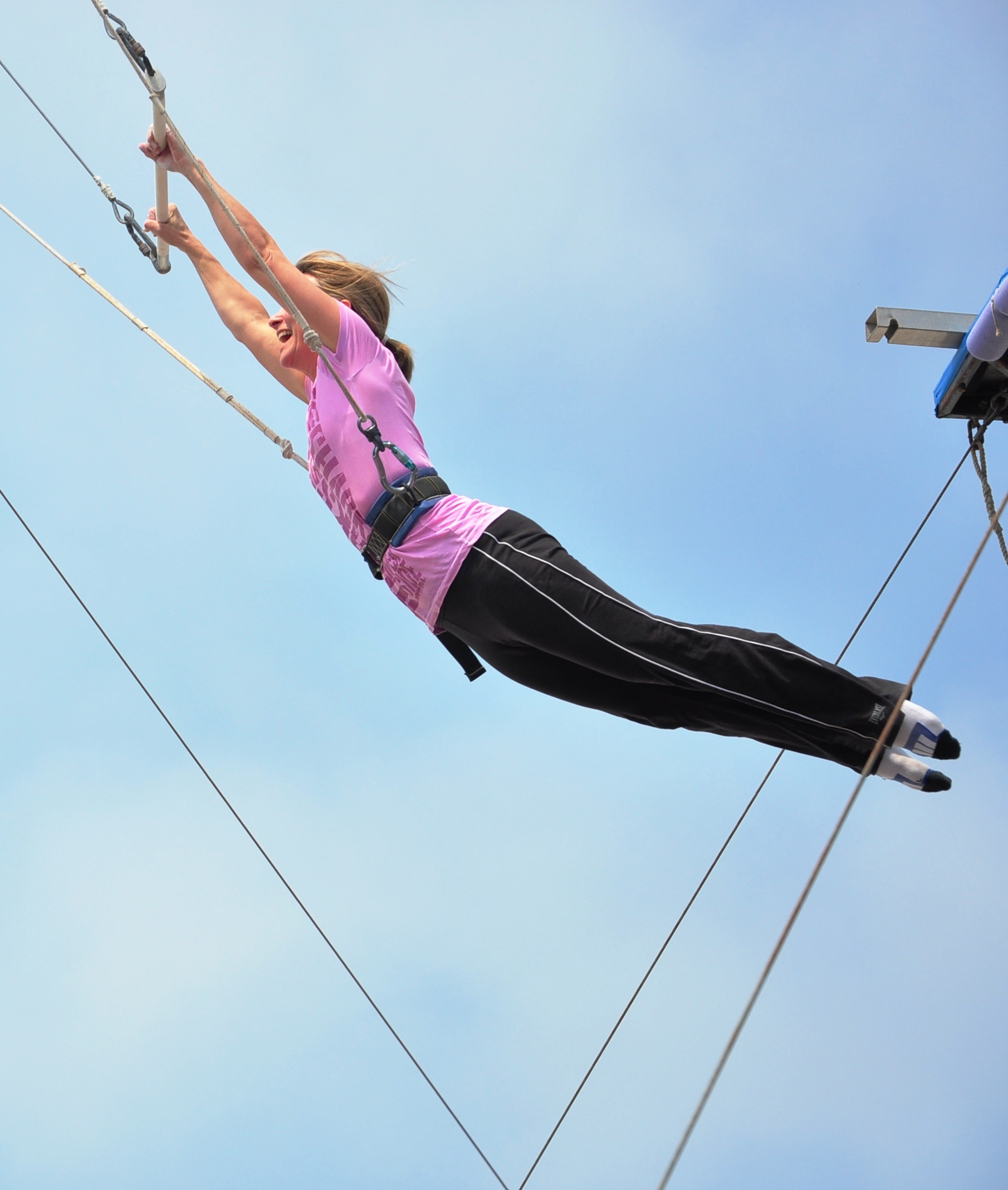 But life isn't just about high flying opportunities. Much like our addiction to caffeine, we can't live in a suspended state forever and need a familiar spot in which to land and feel centered. It's like plugging yourself in for recharging. Your body and your mind require it to stay healthy.
I think it's a great idea to make a plan to do something fun or charitable or interesting every so often. Plan them with people you love or just for you alone. Fold those experiences into your life like a recipe; with care and attention. It's always wonderful to reflect on them afterward but the key to a happier life is in making sure you enjoy those regular stretches of in-between. The fabric that makes up each and every day is what we sometimes wish away, watching the clock and waiting impatiently for the next big thing to happen.
Once in a while, I pop a digital clip I love onto my Facebook page or share it with the family on the computer at home. We've seen it many times now and I think it serves as a perfect reminder that we need to appreciate life just as it is, every single day. I challenge you to reconsider the idea that your life is just a tiresome routine and open your heart and your mind to this possibility: The familiar paths you travel and people you see and love each day are nothing short of treasure, regardless of what you might feel you lack in life. Enjoy this short TED Talk by Louie Schwartzberg regularly and I bet you'll never worry that you're living in a "rut" again.
For more by Ree Varcoe, click here.
For more on wisdom, click here.