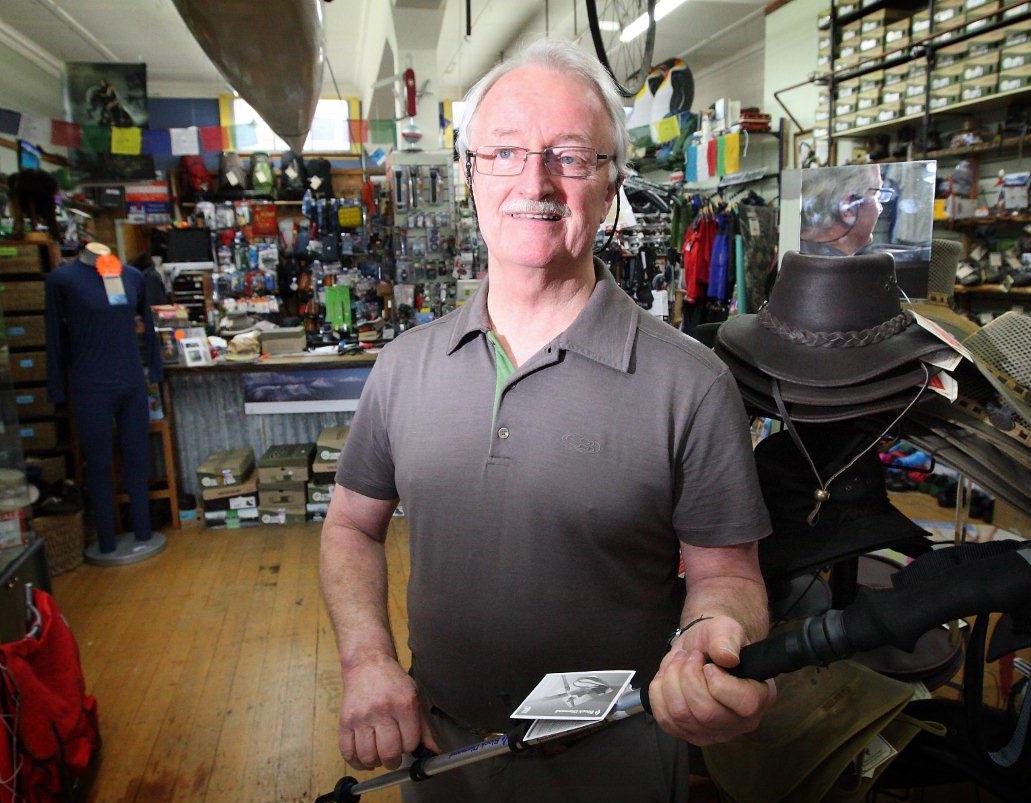 My friend Colin Hancock is a bit of a treasure in our New Zealand town. He's been in the outdoor gear business for 41 years. His store, Trek 'n' Travel, has been on the city's main drag since 1996. Colin's shop boasts a huge haul of the best brands for tramping and camping. But he isn't your run-of-the-mill business owner. You can expect an experience when you visit him. This man knows his stuff and stocks the very latest equipment, too. He packs it wall to wall in his little shop (even utilizes the ceiling) with a mix of fun, essential and sometimes quirky gear, everything from Merino clothing and hiking boots to possum-fur nipple warmers -- anything his customers would possibly need in preparing to explore the outdoor world.
It's very unusual to find Colin behind the counter. Every morning, he sets up a table outside his shop along our main street, a laminated map of New Zealand taped to its top and two camping chairs on either side. When he's not so busy, he'll steal some time in one of the chairs, offering a smile, a friendly greeting and recommendations of sites worth seeing to visitors who pass by. I've never known Colin to turn anyone away who asked for his sponsorship. Schools, clubs, sports teams and offices all over the region have been bestowed with free merchandise from Trek 'n' Travel through the years.
Colin's the type of man who doesn't worry if he's giving more than he gets as long as he can pay the bills. This man is always spreading sunshine, just full of positivity. I've nicknamed Colin the Happiest Man in Hamilton.
You must know people like Colin in your town, too. People who've gone out on a limb to start their own business serving the public, doing their work with gusto and great joy. Think about how much richer they make our lives. Realize, too, that they need more from us than a cursory nod and a smile as we pass by, telling ourselves we will stop to give them our patronage another time. When we neglect an independent business in favor of a cheaper, more convenient chain store, we run the risk of losing local gems. My husband went to get a few things the other day and Colin let slip that business had been waning for a long time now, so much so that he was truly worried about the future of his store. He's not usually one to complain, so it would've taken a lot for him to say his business was in danger. For someone like Colin, there's no buffer of protection from a head office or other branches to help share the burden around. An individual owner-operator can only do his best to keep the doors open by trading on his reputation. But when someone as motivated as he becomes a victim of what I like to call "chain-store robbery," it's time to sit up and take notice.
This is the age of "customer no-service," a term used by Clark Howard, my favorite reporter back in Atlanta. Unfortunately, it seems that, these days, a lack of common courtesy abounds in retail settings where people are hired on low wages to fill slots for defined periods. Of course, we are all busy working hard to provide for our families. And impolite service is often disregarded in our urgency to find the most convenient place that provides products at the lowest price. But, in truth, shouldn't this really be the era of the little guy? What's happened to the pride in supporting local business and valuing the sustainability of our community surrounding us? Do we really need to be quite so hurried and self-absorbed?
I challenge you to look around your own village, town or city and rediscover those little golden-nugget merchants lost in a sea of contemporary, bulk-buying, cheap import stores. Drive a little bit out of your way to reach them once in a while if they're not on your normal commute. Take the family along. Notice the attentive owners and the staff they've nurtured to have attention to detail, extensive product knowledge and A+ customer care, and go tell a friend or two about your great experience. For these aren't the clock watchers or timecard stampers; they are the Colins of the world who fearlessly dedicate their workday to the art of true customer service with a smile. Long may they last.
Photo used with permission from the Waikato Times.
For more by Ree Varcoe, click here.
For more on becoming fearless, click here.