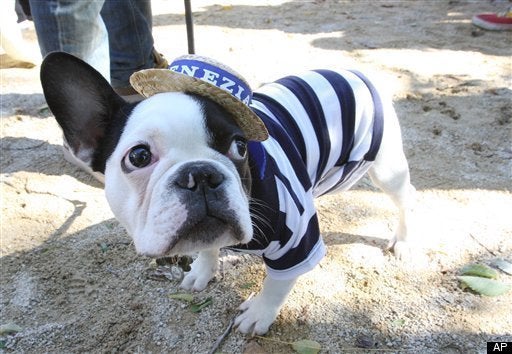 One year, five months and more than a half dozen hearings later, four out of eight men involved in a dogfighting ring in Bronx, New York, will be tried before a court of law. The trial will commence in Room 210 of the Bronx Criminal Courthouse on Monday, November 16, 2009.
Last June, police arrested eight men from the Bronx and New Jersey, including suspected ringleader Alexander Estephane, who lives in the building where the bust took place.
The other defendants in the case who will stand trial along with Estephane are Lauritz Acoy, Juan Toledo, and Alterik Mason. Two other suspects, Rashaan Johnson and Israel Cuevas have been repeated no-shows to all the hearings and will subsequently be tried separately, while suspects Eric A. Boyce and Darnell Walker were dismissed due to a lack of evidence.
Estephane, Toldeo and Acoy have received felony charges for dogfighting while Mason has a misdemeanor charge as a spectator. All four defendants have no chance at a plea deal. If proven guilty in a court of law, they will subsequently be charged with the maximum crimes.
However, when it comes to dogfighting penalties, New York State ranks 48 out of 50, and is therefore considered one of the most lax on its dogfighting laws.
- Dogfighting: Felony, maximum of 4 years and a $25,000 fine
- Spectator at a dogfight: Misdemeanor with a maximum of 1 year and a $1,000 fine
- Possession of dogs for fighting: Maximum of 1 year and a $15,000 fine
"Being that New York State's dogfighting laws are among the worst in the country, unfortunately, I think these heinous crimes will only continue," said Jennifer Panton, President of New York City-based United Action for Animals.
In response to the Bronx dogfighting bust, United Action for Animals formed an Anti-Animal Fighting Campaign and has been key in bringing the Bronx dogfighting bust to the attention of New Yorker's.
"I think in New York City there's this common misconception that dogfighting only takes place in rural areas, but it doesn't," said Panton. "It happens right here in our backyards and basements, too."
Panton has organized and lead two peaceful protests outside the Bronx Criminal Courthouse and can also be credited with presenting Judge Steven Barrett and Assistant District Attorney Jacob Kaplan with a petition that has nearly 1,800 signatures requesting that the defendants receive the maximum punishment allowed by law.
The upcoming trial on November 16th is an important date for New York City and for dogs. The trial is open to the public, so please come out and join United Action for Animals in support of the voiceless victims.