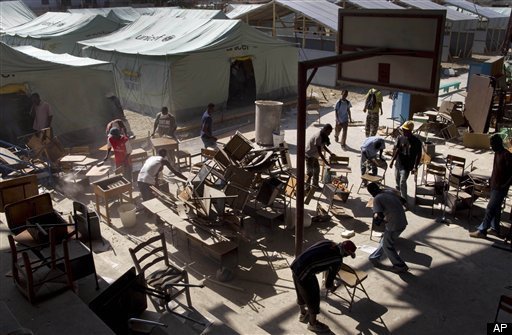 As the Haitian government and international donors work to put into place their post-earthquake recovery plans, creating economic hubs outside of Port-au-Prince will be key. This is part of Haiti's opportunity, as UN Secretary-General Ban Ki-moon said, to "build back better" -- a priority also articulated by the Haitian government.
 
Expanding the rural poor's access to microfinance is a critical building block of recovery. The majority of Haitians in rural areas are living in deep poverty, surviving on less than a dollar a day. After the earthquake, nearly 600,000 people have fled Port-au-Prince to the countryside, adding enormous economic and social stress on these already struggling communities. These same communities could become the spark for economic vitality, though, if we can get financial services into the hands of the working poor-- Haiti's women.
Small commerce and basic agriculture constitute 70 to 80 percent of Haitians principal economic activities. Women make up the majority of this workforce. Restoring the businesses of this network of women traders will be critical to Haiti's long term recovery because they are the backbone of the supply chain delivering food and goods between rural areas and the cities. 
 
Microfinance institutions operating nationally, like Fonkoze, have been a vital part of the rural economy for many years. Nearly 98 percent of their clients are women, and Fonkoze offers them a full range of services that like loans, savings, business development loans, remittances, insurance as well as financial education. Fonkoze also has a program to move women out of extreme poverty into microfinance and ultimately into economic activity. Each client receives a package of skills training on an enterprise of her choosing, and asset such as a cow or chickens, one-on-one mentoring and access to savings. After 18 months, with increased skills and newfound confidence, the women are ready to join a microfinance group with starter loans of $25.
 
Building back a better Haiti calls for tools that can help prepare the poor to protect themselves from future disasters and economic shocks. One example illustrates all too well what difference this protection makes. After helping clients rebound from the devastating hurricanes in 2008, Fonkoze developed a catastrophic micro-insurance product. They were just a few months away from offering it to their clients when the earthquake hit. Had the product been in place, it would have offered clients an indemnity for basic needs and existing loans and a new loan to help them restart their businesses.
 
Recovery needs are clear: we need to get people back on their feet, economically active again and ready to escape the vicious cycle of poverty that has trapped Haiti for so long.  If we do this right, Haiti could become a powerful comeback story. Such optimism may seem unexpected in the midst of so much devastation and loss of life. Yet, the global investments in rebuilding the country could result in some extraordinary outcomes. Microfinance needs to be part of the story.