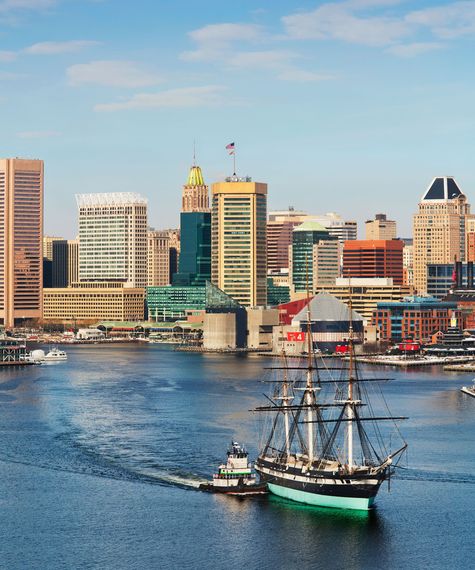 Photo by Getty Images.
Sure, New York City, Los Angeles, and Chicago are all cool, but isn't it about time we heard about some less-obvious trip destinations in this massive country of ours? Get out of the major cities and you'll find boutique hotels-cum-contemporary art galleries, starchitect-designed museums, under-the-radar dining scenes (where you don't have to book months in advance or hand over a week's salary), street art you haven't already seen on Instagram, and quirky local subcultures galore.
So, let's celebrate America's birthday, and its breathtaking diversity, by visiting some of the nation's less-celebrated cities.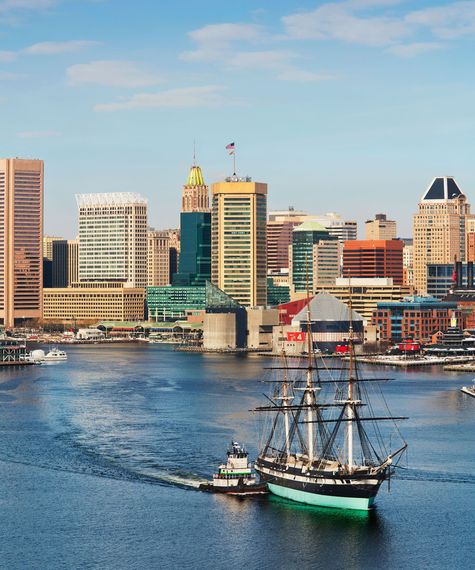 Photo by Getty Images.
Baltimore, Maryland
2015 was rough for Charm City, but Baltimore has more than bounced back, and the city's distinct neighborhoods merit a few days' exploring. Historic Fells Point (established in 1730) is home to a plethora of independent bars, boutiques, and restaurants including Waterfront Kitchen, where even sweeping views over the harbor have to play second fiddle to the seed-to-table concept menu.
Colorful Station North is filled with galleries, artist studios, and music venues, while quirky Hampden is famed as the stomping-ground of the working-class women affectionately known as "hons." Hampden's annual Honfest pays homage to the neighborhood's blue-collar roots, and the hons' beehive hairdos, cat-eye glasses, leopard-print attire, and "Bawlmerese" dialect.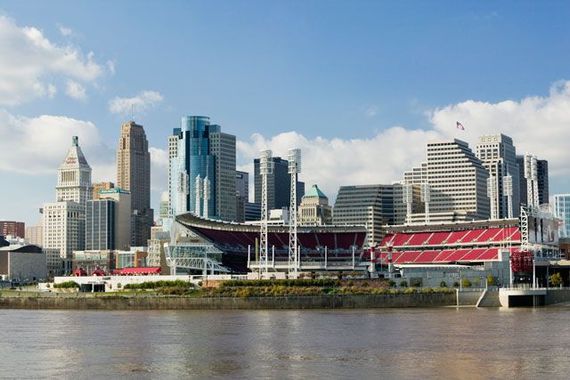 Photo by Getty Images.
Cincinnati, Ohio
After "emerging" for years, Cincinnati has finally firmly arrived on the food-and-drink scene. Mita's, by Jose Salazar, the chef behind the acclaimed Salazar in the Over-The-Rhine neighborhood, opened late last year and features a menu influenced by Spain and South America (try the paella). Sundry and Vice, an apothecary-themed cocktail bar in Over-the-Rhine, features cocktails named for patent medicines, using syrups made in-house. On Sundays, the bar serves boozy ice cream floats with homemade ice cream.
Need to sleep off all the food and drink? 21C Museum Hotel functions as a contemporary art museum as well as a boutique hotel, and is housed in a 1924 landmarked building adjacent to the Contemporary Arts Center.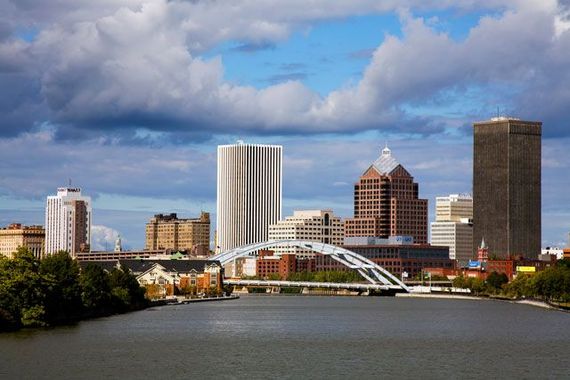 Photo by Getty Images.
Rochester, New York
Fans of the visual arts will find good reason for heading to Rochester. Founded in 1947, the George Eastman Museum is the world's oldest photography museum, named for and located on the estate of Kodak's founder. The museum has a collection of over 400,000 photographs from 14,000 photographers, as well as one of the world's most comprehensive libraries of photographic books, manuscripts, and journals. The city is also an under-the-radar hub for street art, thanks to Wall Therapy, a mural project that aspires to inspire and revitalize the communities in which it works.
Art-hopping got you parched? Quench your thirst at The Daily Refresher, a vintage-chic cocktail joint with the city's largest collection of spirits as well as an on-site food truck slinging burgers and sandwiches.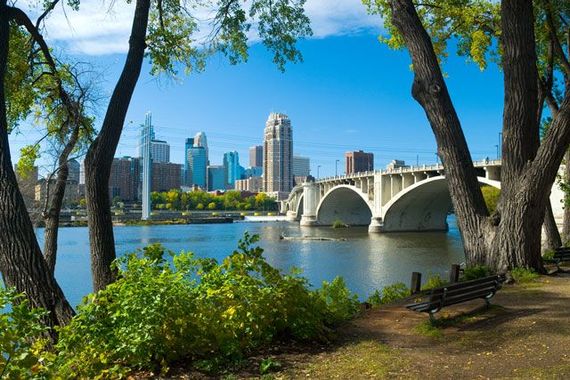 Photo by Getty Images.
Minneapolis, Minnesota
The late, great Prince lived in his hometown of Minneapolis all his life and, frankly, if it's good enough for the Purple One, it's good enough for us. Pay homage to the legend at his Paisley Park recording studio and at Electric Fetus, one of his favorite record shops. Later, clear your head with a walk along Cedar Lake; then, head to Red Stag Supperclub for organic, locally sourced food, classic cocktails, and polished ambiance. Winters get cold here, but, in the warmer months, make like Prince and pedal your way around the city, which has a network of off-road trails, a public bike-share system, and (move over, Portland) a mission to make itself America's most cycle-friendly city.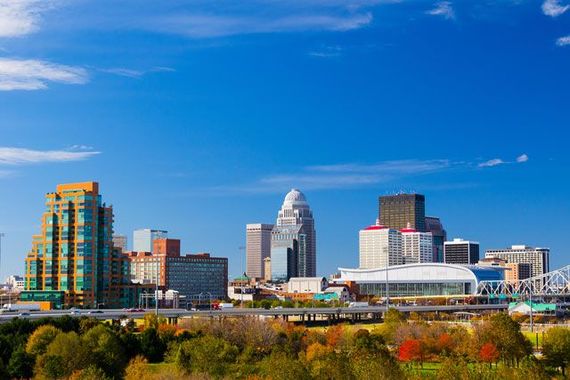 Photo by Getty Images.
Louisville, Kentucky
Housed in a series of tobacco and bourbon warehouses, the original Louisville outpost of the small but expanding 21c Museum Hotel collection has an art installation, Asleep in the Cyclone, that you can actually sleep in. All 90 rooms feature original artwork, but you don't have to stay there to experience Louisville's healthy arts scene. East Market Street in the NULU neighborhood is lined with galleries (check them out on the First Friday Trolley Hop), and the Speed Art Museum has recently reopened after a three-year renovation and expansion.
Lest you think all Louisville libations are of the bourbon variety: Copper & Kings, a modern American brandy distillery, also does a mean gin and absinthe; and the bar at Butchertown Grocery, a contemporary southern restaurant, serves up more inventive cocktails than you can shake a stirrer at.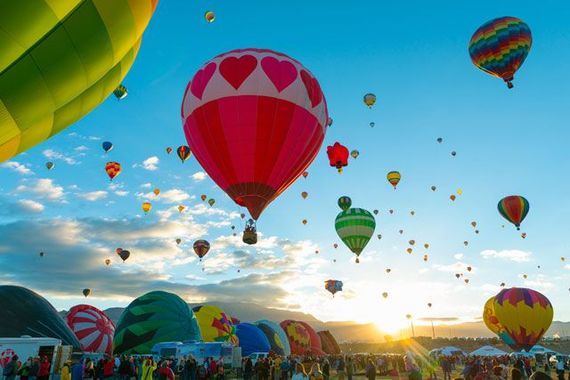 Photo by Getty Images.
Albuquerque, New Mexico
Albuquerque may still be synonymous with Breaking Bad, but it is sorely underrated as a destination on its own terms. Though its culinary reputation is dominated by green and red chiles, Albuquerque is also home to a surprisingly healthy wine and beer scene: It has a higher concentration of breweries per capita than even Portland, Oregon. With its surrounding otherworldy landscape and Native American culture providing endless inspiration, the arts are also a major focus.
The Indian Pueblo Cultural Center preserves the legacy of New Mexico's 19 Pueblos through exhibitions and dance, and Nativo Lodge features 12 specially designed artist rooms, including one that is in 3D. Art here also serves a functional purpose, with the musical road on the Albuquerque stretch of Route 66 playing "America the Beautiful" when you drive over it -- but only if you are obeying the speed limit.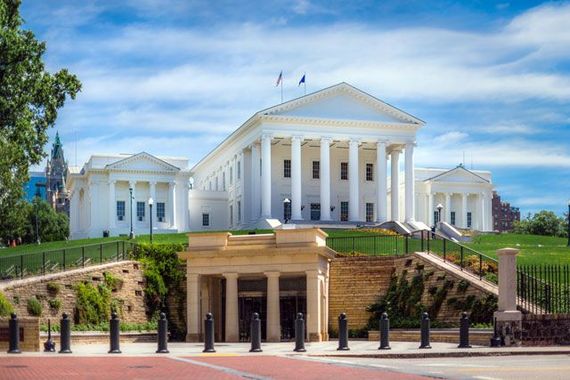 Photo by Getty Images.
Richmond, Virginia
A city known for its musical heritage, Richmond can boast such acts as Matthew E. White, GWAR, and Rolling Stone's "artist you need to know in 2016" Lucy Dacus among its homegrown talent. Since the design-focused, blush-hued boutique Quirk Hotel opened late last year (born out of the Quirk Gallery in the downtown arts district, and home to the city's only rooftop bar), there's more reason than ever to spend a weekend.
Time your visit to coincide with a First Friday Artwalk to take in some independent galleries. Have dinner and a glass of local Belle Isle moonshine at Vagabond, and then check out the music scene for yourself next door at The National -- or, in the summer months, head for Brown's Island for the Friday Cheers open-air concert series.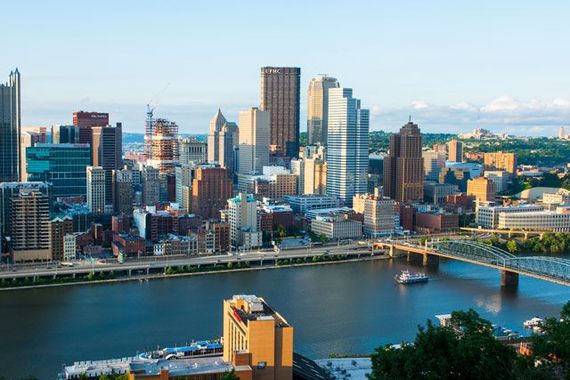 Photo by Getty Images.
Pittsburgh, Pennsylvania
Being the birthplace of Andy Warhol and home of the excellent Andy Warhol Museum is more than enough to put Pittsburgh on the map, but that's only part of the story in this Steel City. For starters, there's now an Ace Hotel here, in a former YMCA, which elevates any city into certain hipster territory, and there's a 14-block-strong cultural district filled with theaters, parks, restaurants and art galleries. Contemporary art museum Mattress Factory hosts experimental and thought-provoking installations and, before September 4, fashionistas can catch "Killer Heels," The Frick's dedicated high-heel exhibition.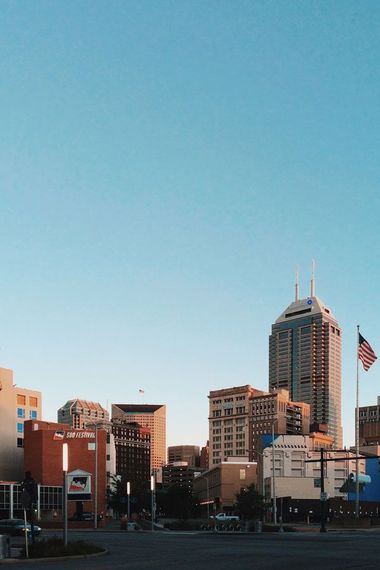 Photo by Getty Images.

Indianapolis, Indiana
The original iconic LOVE sculpture by Robert Indiana is situated at the Indianapolis Museum of Art, where a new artist-designed 18-hole putt-putt course recently opened on the sculpture court. In honor of the city's 2016 bicentennial, each hole pays homage to Indy's history -- including a reproduction of famous son Kurt Vonnegut's office.
Worked up a thirst on the course? Head to the emerging neighborhood of Fletcher Place for a handcrafted cocktail or two at Hotel Tango Whiskey (named for the military alphabet; it's not actually a hotel). Then, grab dinner at Tinker Street, an intimate restaurant nestled among historic Queen Anne homes.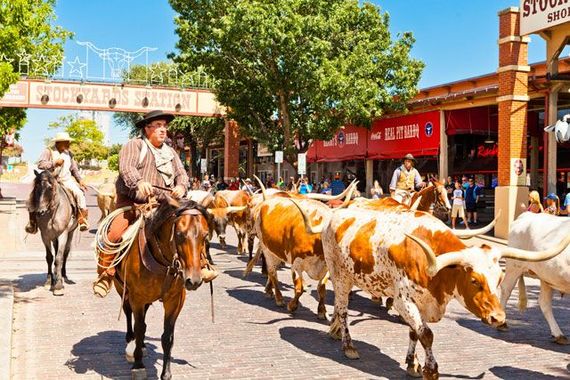 Photo by Getty Images.
Fort Worth, Texas
Best known for its Western heritage (and as Dallas' neighbor), Fort Worth is quietly forging a world-class museum and dining scene. The Renzo Piano-designed pavilion at the Kimbell Art Museum is worthy of any major cultural capital, and the adjacent Modern Art Museum of Fort Worth is housed in a Tadao Ando-designed building, home to Café Modern, one of the country's best museum restaurants.
For dinner, visit Clay Pigeon, where vegetables are sourced from the rooftop garden; then, end the night with cocktails at the underground Scat Jazz Lounge, illuminated by a nostalgia-inducing neon sign at the end of an atmospheric downtown alleyway.
By Karen Gardiner.
Also on HuffPost:
PHOTO GALLERY
Pocket Neighborhoods