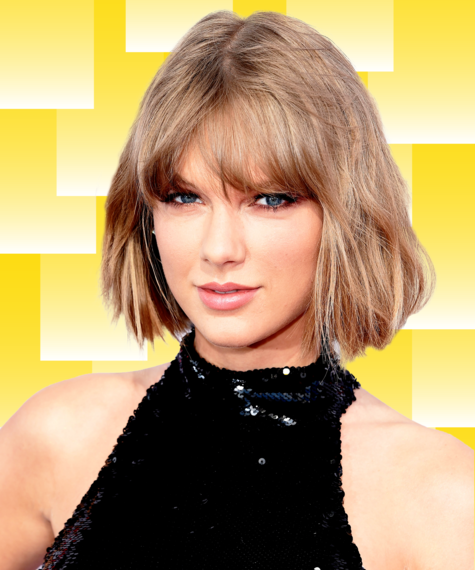 Photo: Steve Granitz/Wireimage.
Thanks to Instagram, we've all witnessed Taylor Swift's baking skills, vacation pics, and, of course, her cats. But until recently, we could only speculate as to what the stylish singer's L.A. home might look like. Our curiosity was quenched when Vogue uploaded its new "73 Questions" video, flaunting Swift's impressive digs and eclectic country decor.
While the segment was focused on Taylor's answers to dozens of off-the-cuff questions (her favorite cocktail is a vodka and Diet Coke), we kept our eyes glued to her interiors, starting with her music room, complete with an ornately carved wood piano, dozens of framed photos, and a French-inspired pink settee. In her dining room, we got a peek at her Scrabble set and farmhouse table. Then, in the kitchen, we checked out her killer coffee maker collection and dramatic brass faucet (adorned with a photo of Swift and her boyfriend, Calvin Harris). The backyard's seating seemed limitless, but her daybed and star-shaped lighting were the real head-turners. The last stop on the tour was her living room, featuring bone-inlay accents and cats -- both decorative and real.
By the end, we found ourselves coveting her quirky accessories, so we watched the video a few too many times to figure out how to get her look, or mainly, her stuff. Click through to bring a little Swift style to your home. Girl squad not included.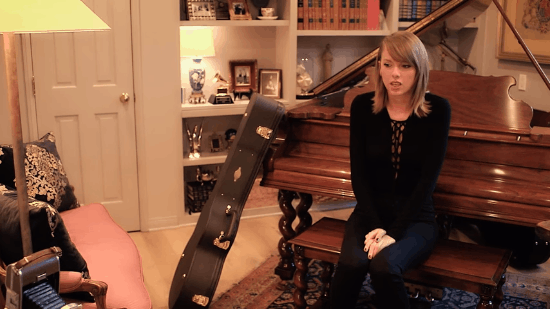 Swift admits she's lost count of how many guitars she owns. After eying those shelves, we're guessing it's the same deal with her trophies.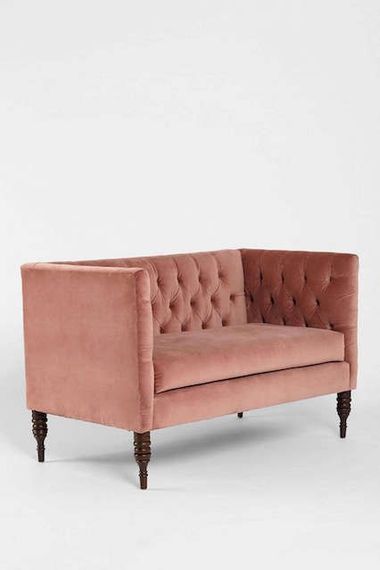 While this isn't her exact couch, it is pretty and pink. It goes perfectly with the crazy, patterned wallpaper in the foyer.
Urban Outfitters Tufted Settee, $1,150, available at Urban Outfitters.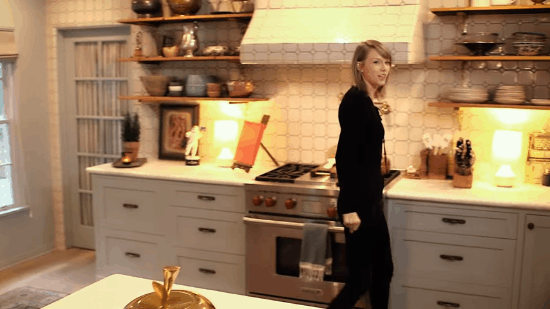 Don't blink, or you'll miss the MTV Moon Man trophy. Swift jokes about using the flag of yet another VMA as the stirrer for her favorite beverage -- coffee.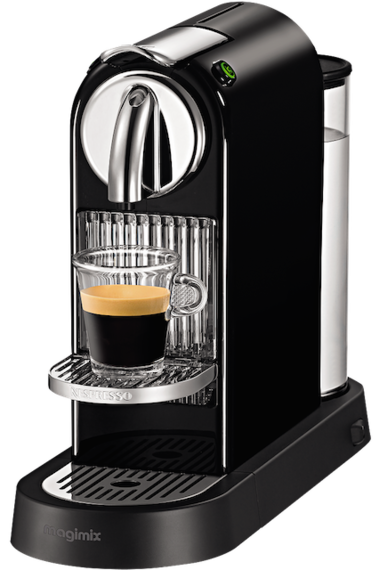 Swift's impressive coffee setup includes multiple machines, including this one.
Nespresso CitiZ in black, $249, available at Nespresso.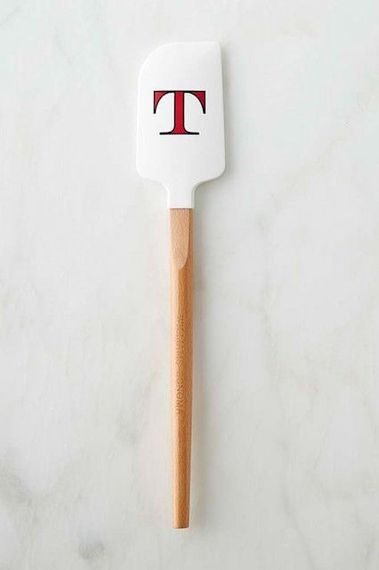 We spotted the "T" and "S" spatulas in her utensil caddy. Lucky for us, they're only $13 each. The perfect housewarming gift?
Williams-Sonoma Alphabet Silicone Spatulas, $12.95, available at Williams-Sonoma.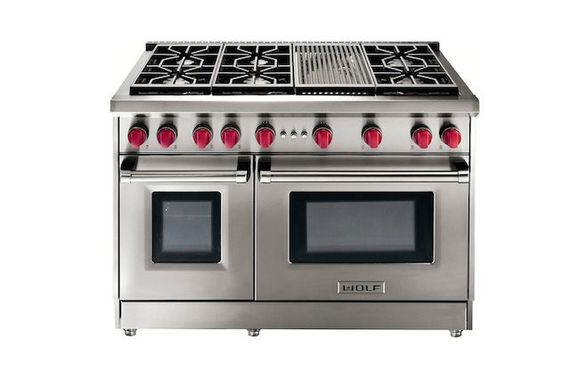 Swift uses this professional range for cooking up her fav food: chicken fingers.
Subzero Wolf 36" Dual Fuel Range, $10,180, available at Subzero.
We imagine this antique dining room table has seen many a Scrabble tournament.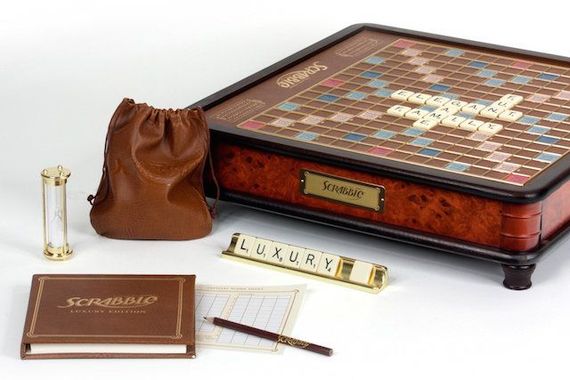 This leather-and-wood version is the definition of nerd chic.
Scrabble Luxury Edition, $199, available at Haymarket.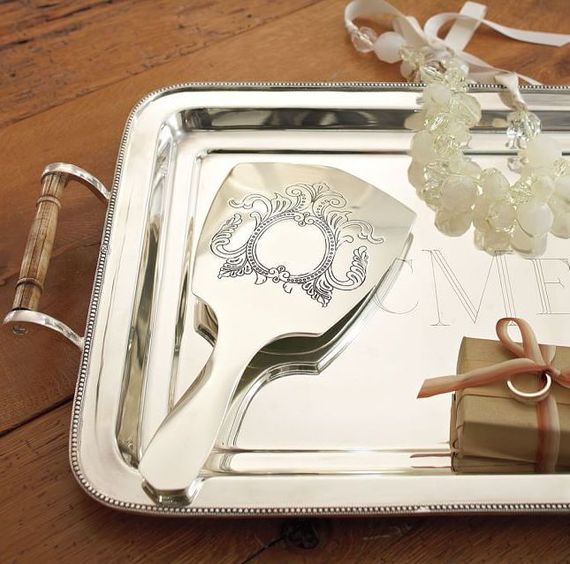 A tray fit for the new queen of pop.
Pottery Barn Silver-Plated Breakfast Tray, $99, available at Pottery Barn.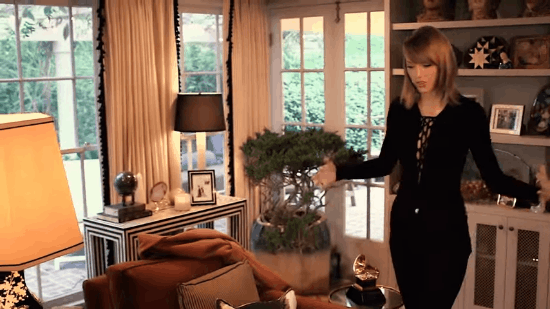 Clearly, this is where Swift likes to unwind after a long day -- and where Olivia decides to make a cameo.
For more Swift-approved pieces, visit Refinery29.
By: Leigh Gotzmer
Also on HuffPost:
PHOTO GALLERY
The Best Cleaning & Organizing Tips