It's simple: Smoking kills.
Sending this message to smokers -- or to those who are thinking of starting smoking -- just got a lot easier. Earlier today, the federal government released nine new graphic warning labels that will appear on everything from cigarette packs to in-store tobacco displays.
Stark images and bold messaging will now graphically illustrate -- on every ad and every pack of cigarettes -- the painful and deadly reality of tobacco use. A diseased lung. A baby surrounded by secondhand smoke. A man who needs an oxygen mask to breathe.
These warnings, which were proposed in November 2010, were required under the Family Smoking Prevention and Tobacco Control Act which was passed with broad bipartisan support in Congress and signed into law by president Obama on June 22, 2009.
Beginning September 2012, each pack of cigarettes will serve as a vivid reminder of the real public health effects of smoking.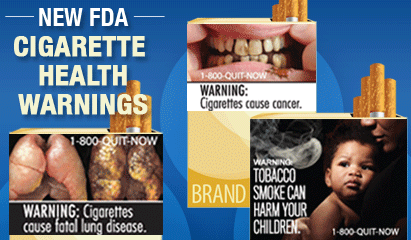 Introduction of the graphic health warnings is expected to have a significant public health impact by decreasing the number of smokers, resulting in lives saved, increased life expectancy, improved health status and medical cost reductions. We estimate that this regulation will reduce the number of smokers by 213,000 in 2013.
As Health and Human Services Secretary Kathleen Sebelius reminded us, "President Obama is committed to protecting our nation's children and the American people from the dangers of tobacco use. These labels are frank, honest and powerful depictions of the health risks of smoking and they will help. These labels will encourage smokers to quit, and prevent children from smoking. President Obama wants to make tobacco-related death and disease part of the nation's past, and not our future."
Health warnings on cigarette packs in the U.S. have not changed in more than 25 years. The new graphic health warnings will clearly convey the real risks of smoking and provide a critical opportunity to educate consumers about these risks, which will help encourage current smokers to quit, while at the same time discourage nonsmokers, including young people, from starting to use cigarettes.
Smoking is the leading cause of premature and preventable death in the United States, killing 443,000 people each year. The next cigarette could be the one that triggers a heart attack, a stroke or cancer. And it is not just smokers who are affected: There is no safe level of exposure to tobacco smoke. Any exposure to tobacco -- even if secondhand -- is harmful.
Additionally, cigarette use costs the U.S. economy approximately $200 billion annually in medical costs and lost productivity. Raising awareness about the negative health consequences of tobacco use and continuing to take action to improve Americans' health is a top public health priority for us. These graphic health warnings are a significant advancement in communicating the dangers of smoking to all Americans -- tobacco users, non-users and particularly to children.
The new U.S. Food and Drug Administration warnings are a major component of the Department of Health and Human Services' new comprehensive strategy to prevent children from starting to use tobacco and to help current tobacco users quit. In fact, each new warning label carries the government-funded 1-800-QUIT-NOW cessation resource phone number.
The new labels illustrate the message -- that tobacco use is harmful. The graphic warning labels will bring us one step closer to ending this completely preventable epidemic.
For more information and to see the final images, visit www.fda.gov/cigarettewarnings.