Four years ago, Bobby Flay was dressing for a dinner out with his wife when he had an epiphany, "I just looked in the mirror and thought: "Man, I don't like that. I don't like the way that looks." Thus began his journey to a fit lifestyle, providing the impetus for his first-ever web series on FoodNetwork.com, Bobby Flay Fit: One Week, Small Steps, Big Changes.
The web series, comprised of seven episodes just three minutes each, is, as Flay put it, "Something I've been more excited about than other things I've been doing in a really long time. And you can watch the whole series in 21 minutes."
Not a quick fix or crash diet, which Flay says just don't work in the long run, Bobby Flay Fit is meant to motivate people to "make exercise and eating right a part of their daily routine. That's it. It's not some magic bullet or new formula."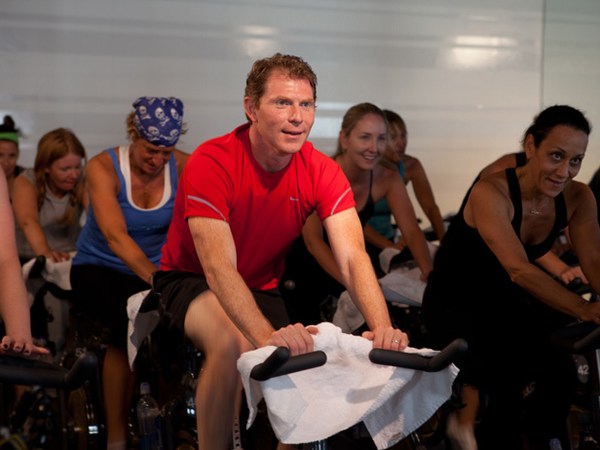 Bobby mixing up workouts with Soul Cycle (Photo Courtesy Food Network)
Being a proponent of the philosophy that if you make exercise and eating right a part of your lifestyle you'll not only look better, you'll feel better too, Bobby doesn't abide by America's obsession with diets. "I don't even like the word 'diet.' They don't work, they're unhealthy, and ultimately you can't live your life like that." One diet in particular that bugs Bobby is the no-carb approach. "I couldn't imagine not eating things like bread or pasta or pizza, but that doesn't mean you need to eat a pound of pasta at a time."
After that moment of truth staring down his less-than-fit self in the mirror, Flay said he didn't try lose 15 pounds in three weeks. He simply put on his gym shoes and started to go running every day. He also changed his eating habits. "Ice cream is my thing, but I don't sit down and eat a whole pint watching a football game anymore. I'll have a couple scoops a couple times a week. I don't just take things and throw them out of my diet. It's more about portion control than denying yourself."
As a chef, Bobby is surrounded by food way more than the average person, so he says if he can change his eating habits, anyone can. When he did, Bobby laughed as he explained, "People started asking me every day how I stayed in shape. They'd say 'You're a chef, you're supposed to be overweight.' You know, that whole things about don't trust a skinny chef!" But Bobby defies the stereotype, quite proudly, and that's another reason why he wanted to create the web series, which he produced himself. He wanted to inspire people by showing them that if he -- a chef -- can do it, then so can you.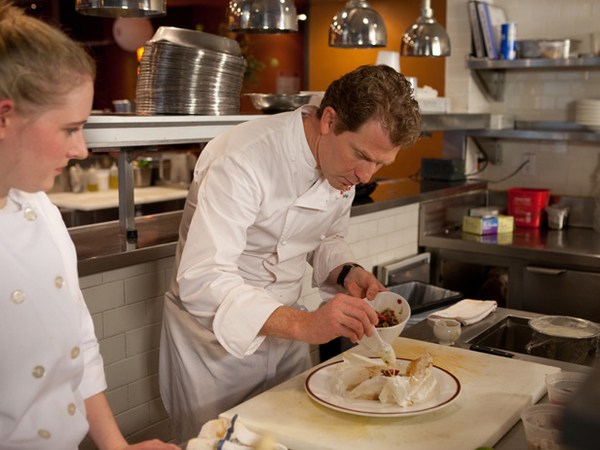 Flay in the kitchen at his NYC restaurant Bar American (Photo Courtesy Food Network)
Just try to change your habits for a week," suggests Flay. "Take it one day at a time until it's part of your routine. A little progress at a time is a lot more satisfying, and ultimately, it's more healthy.
It's always been a mystery to me when I hear people say they don't have time to exercise, and Flay shares my dismay. After all, the man is a lot busier than most of us, yet he finds time to go for a run or hit the gym pretty much every day. When I asked him what he'd say to people who say they're too busy to exercise, he laughed and replied, "It's total bullshit. It's you. It's your body. You have to make a very small commitment, just 45 minutes four or five times a week. It'll change the way you feel, you'll actually be more productive.

Bobby Flay with trainer Harold Raschke-Robinson (Photo Courtesy Food Network)
Not making excuses himself, Flay will get up as early as five in the morning to make time for a run or a workout. "I just know that if I don't get in some kind of exercise then I feel differently all day." He emphasized the obvious, that when you look and feel good, you feel better about your life in general, and your whole outlook changes. "When people feel better about themselves, everything seems to fall in place in terms of how they feel about their lives."
In his typical charismatic and infectious fashion, Bobby's web series even motivated the people who worked with him in production. "The crew, camera, audio, producers, everybody got inspired. That's all I want to do, get people to motivate and think about these things differently."
Wrapping up our conversation about
Bobby Flay Fit
-- and about being fit in general -- he said,
My goal is for people not to just do this for a week or two, or even three months. It's for them to make common sense decisions for a healthier lifestyle. At some point they won't have to think about it anymore, it'll just be who they are.