It's all about the food at Brooklyn Fare Kitchen's Chef's Table, where Chef Cesar Ramirez just got his two Michelin stars. Two well deserved stars, and the only two in Brooklyn.
Located on a funky stretch of Schermerhorn Street in downtown Brooklyn, Brooklyn Fare Kitchen is way off the beaten culinary path of Manhattan, where Cesar Ramirez was once the Chef de Cuisine at Bouley back when it had two Michelin stars.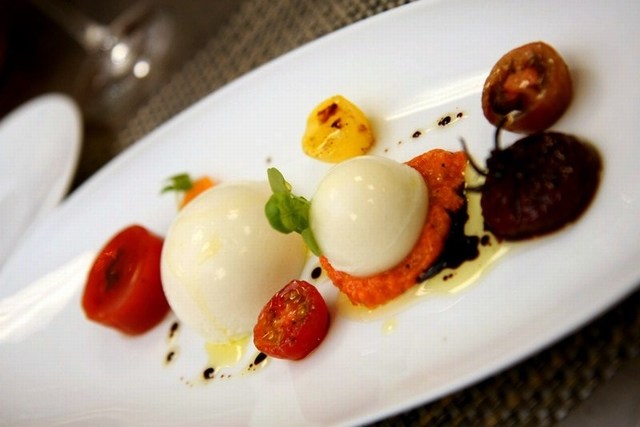 "Tomato" (Photo by Douglas Kim, member of the Brooklyn Fare Kitchen team)
It's not just the location that makes the Michelin Guide's two star rating all about the food, it's also the fact that since the remodel back in July, they're still waiting for their liquor license. So, it's BYOW (for wine, usually very fine wine). With no wine list as yet and no fancy address, it's clear the Michelin reviewers were thinking about the food when they awarded the two star rating.
When I spoke with Cesar this morning shortly after he got the call from Jean-Luc Naret, the Director of the Michelin Guide, he was floored. A humble chef with huge talent, he said, "I can't believe this, I mean, we're part of a grocery store in Brooklyn!"
That said, they did just undergo an incredible remodel, bumping seating up from 12 to 18, and making Brooklyn Fare Kitchen just about the prettiest kitchen in New York City. Ramirez said, "We really wanted to do the remodel right. We got the best china, wine glasses, a Molteni stove, a custom-made work space, everything is beautiful."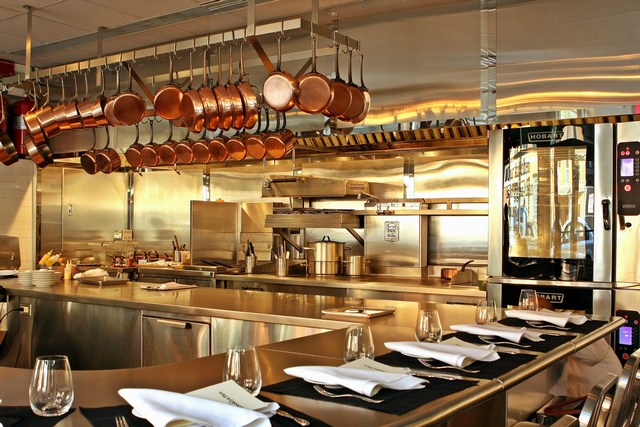 The remodeled Kitchen (Photo by Douglas Kim)
Jean-Luc Naret was quoted on GrubStreet New York as naming Ramirez's Chef's Table as one of the best three meals he had in the world this year. Putting Ramirez's Chef's Table at Brooklyn Fare Kitchen in the top three spots to dine anywhere, in the eyes of the man who makes, or breaks, the reputations of chefs and restaurants. Pretty awesome for what NYMag.com called a "glorified bodega."
Ramirez was beside himself. "When Jean-Luc and his wife came into the restaurant, they couldn't believe what we were doing here. I've kept the concept simple, you eat in the kitchen, on my work space. And I never compromise on getting the very best ingredients."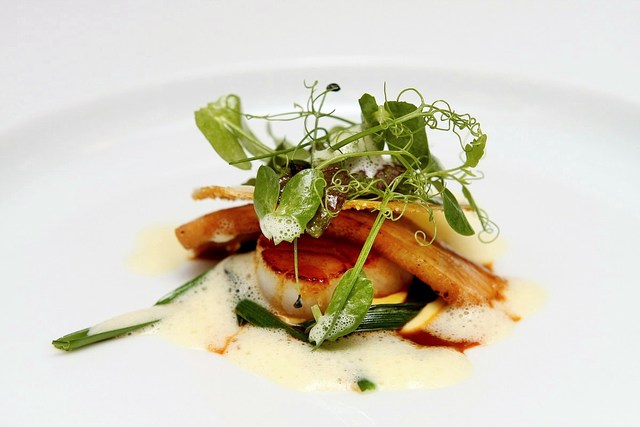 "Scallop" (Photo by Douglas Kim)
Having dined there a couple of times myself, I say from experience, Cesar and his team, Douglas Kim and Christopher Ramos, deserve their two Michelin stars. The chef is out-of-this world talented, and the food he and his team offer up from the dazzling new kitchen is beyond wonderful. If you can manage to nab a seat or two at this long-waitlisted Kitchen, you'll find the trip to Brooklyn, and the not remodeled employee bathroom, all part of what makes Brooklyn Fare Kitchen one of a kind.

The Chef's Table at Brooklyn Fare Kitchen is $135 per person, prix fix, BYOW
200 Schermerhorn Street, BROOKLYN, NY
1.718.243.0500
On Facebook