When Chef Alex Palumbo invited me to head to the Fulton Fish Market at Hunts Point with him, I jumped at the opportunity. I had been eating fish at his restaurant, Osteria il Paiolo, and it was so fresh that I asked where he got it. When he said he went himself to the Fulton Fish Market, I said I'd always wanted to go myself. It's the largest fish market in America and it provides the vast majority of New York City's fish to all our thousands of restaurants. But since it relocated from South Street Seaport to the Bronx in 2005, and it operates for buyers only from 1:00 a.m. to 7:00 a.m., I just never got to go.
I met Alex at 12:30 a.m. at his Brooklyn restaurant Osteria il Paiolo, and together we made the trek way up to Hunts Point. As we got closer, we entered a part of the Bronx that is full of large-scale produce centers, meat facilities formerly located in the Meat-Packing District of Manhattan, and huge dairy suppliers. Clearly this was the place that NYC restaurant suppliers call home.
Entering the Fulton Fish Market a little after 1:00a.m., the first thing I noticed was its size. It's housed in a cavernous 400,000-square-foot bunker of a building. Alex told me that the first time he came to Hunts Point, he stayed five hours, walking the entire length of the place and visiting every fish vendor to discover what they had to offer.
"It was so exciting the first time I came," said Palumbo. "I had never seen any fish market so huge, with so much choice. So I went around to every seller until six in the morning!"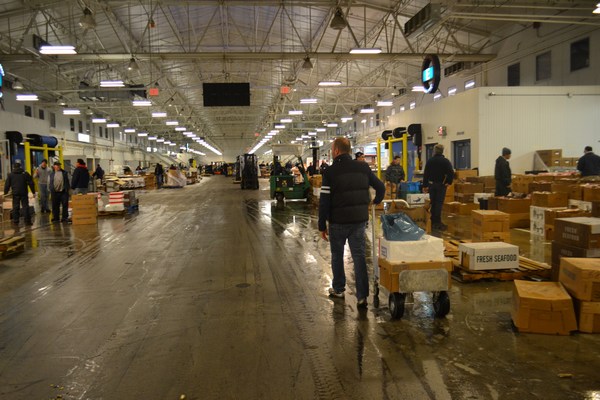 Fulton Fish Market at Hunts Point (Regina Varolli)
Hunts Point mainly serves the distributors who buy fish in bulk and then resell it to restaurants spanning the five boroughs. So Palumbo was one of only a handful of chefs at the market. When I asked Alex why he bothered to come to the market himself, in the middle of the night after a long day at the restaurant, rather than just getting his fish from a distributor, he had several reasons.
"When I first opened Osteria il Paiolo, I wanted to make sure I had the freshest fish I could find. So I had to come here myself. It gives me the chance to pick exactly what fish I want, to see it and smell it, and know it's the best. With a distributor, I'll only get what they bring me, and I won't know if it was the best that day at the market. I also just like the experience of coming here, and not having anyone in between me and the fish I will sell to my customers. It also saves me a lot of money!"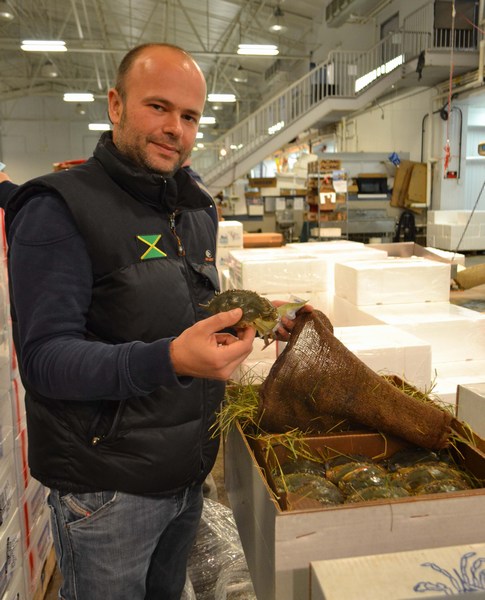 Chef Alex Palumbo choosing soft-shell crabs (Regina Varolli)
Alex isn't kidding on that last point; by buying his fish directly at the market rather than through a distributor, he not only gets to choose the fish himself, he saves about $35,000 a year doing it.
I followed Alex from stall to stall, watching as he carefully went over the selection and hand-picked what he wanted. All the while I couldn't help but notice the cast of characters that work at Hunts Point. They appeared as if they'd been in the fish business their entire lives, even going back generations. They had faces full of character, fish hooks slung over their shoulders and stuck in their back pockets, and some had cigarettes or cigars dangling from their mouths as they worked.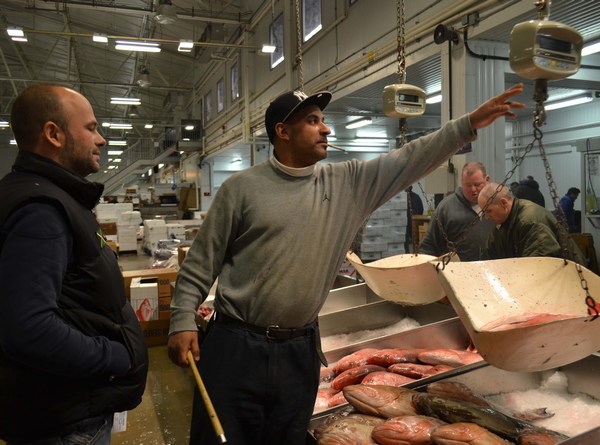 Weighing Palumbo's red snapper (Regina Varolli)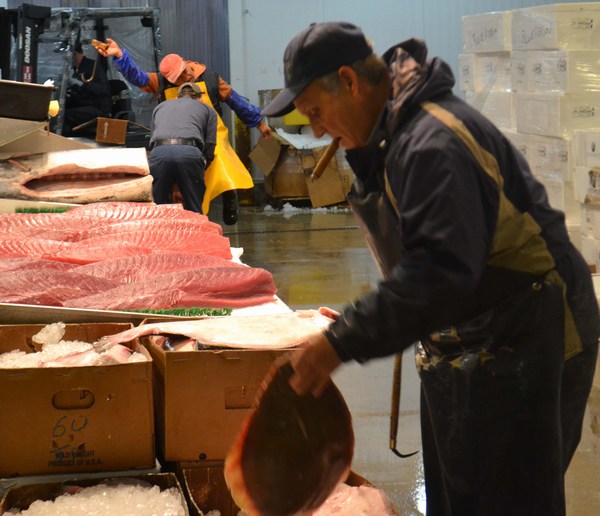 An obvious old-timer, he knew his fish... and his cigars too! (Regina Varolli)
After visiting all the stalls and choosing his fish, Alex said, "Right, it's time for an espresso!" I laughed. "Sure, where should we go?" Then he smiled and said, "Follow me."
Hidden behind a set of double doors was a "Café" that appeared more like a street vendor truck without the wheels, and they actually had espresso. Not the best espresso, but at 4:00 in the morning, in the middle of a cold fish market, it didn't go down like the worst espresso either. And the place did have an 'A' rating.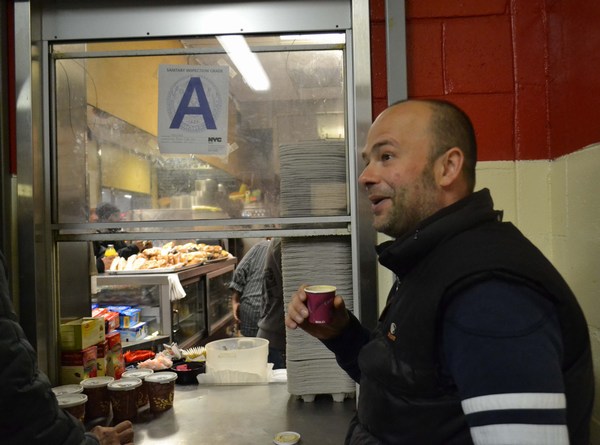 Chef Palumbo sipping his espresso and chatting with other buyers (Regina Varolli)
Eating at Osteria il Paiolo in Williamsburg, one can clearly taste that Chef Palumbo cares about the fish he serves. An Italian from Verbania, Piemonte, Palumbo holds fast to the tradition of choosing your own produce and directly connecting with the people who supply it. Now that I've witnessed firsthand the time, effort, and care he puts into buying his fish at Hunts Point, it's no surprise that it's some of the freshest I've had in New York City.