On a recent trip to London, I had the great pleasure of dining at the exquisite Michelin two-star Hélène Darroze at The Connaught, one of London's most venerable hotels. At The Connaught, Darroze helms an ambitious endeavor. She not only runs the main dining room, but is in charge of the banquets, afternoon tea, Sunday brunch, two bars, and room service.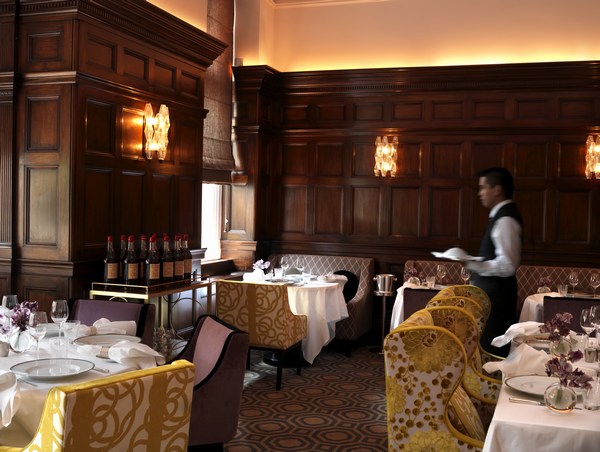 The Dining Room of Hélène Darroze at The Connaught
(Photo Courtesy Hélène Darroze)
At The Connaught I met Hélène, had the opportunity to watch her at work, and was given a tour of the vast underground kitchens, all of which were amazingly clean and organized, and uniquely quiet. "It's something of a rule for me," said Hélène, "you don't need to shout to get your point across."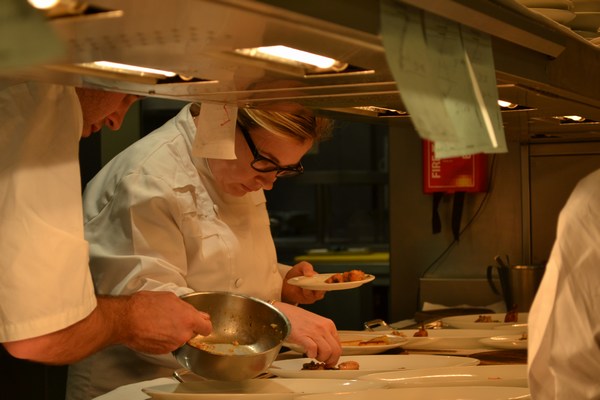 Hélène Darroze in her kitchen at The Connaught
(Regina Varolli)
Hélène Darroze grew up in her father's restaurant in the southwest of France and spent a great deal of time on her grand-father's farm. From a very early age Darroze developed a respect and a passion for both products and producers. She would help on the farm and in the kitchen, and she always liked to be present when the farmers made their morning deliveries at the restaurant. "The products were my world."
While Darroze began to cook at age six, it was her little brother who was expected to take over the family restaurant. Her mother had a pharmacy, and everyone assumed she would take over that business. Not so. And by the time she was a teenager she was working in the kitchen doing prep, dishes... "I did whatever they needed me to do to help."
In the late 1980s Hélène left the restaurant for business school. "I always knew I wanted to work in hotels or restaurants, but I didn't think it would be in the kitchen, so this is why I chose to study business."
After school, Darroze went to work for Alain Ducasse. While she took a position in the business office, she still did a three month stage in the kitchen. "It was at Ducasse that I realized my passion was to cook. Even when I worked in the office during the day, I would spend my nights working in the kitchen. Yes, it was a lot of work, but I was so passionate I was happy to do it."
While Hélène stills sees her father and grand-father as two of her greatest culinary influences, it was Ducasse who pinpointed her potential and encouraged her to develop it. "Ducasse made me realize I had to work in the kitchen, he said I had passion, taste, and was very serious. The fact that Ducasse supported me in the kitchen was very important for my father."
"But," continued Hélène, "Ducasse was a continuity. What I learned from him is what I also learned from my family. The respect for products and producers, respect for taste, and the simplicity of cooking around the products."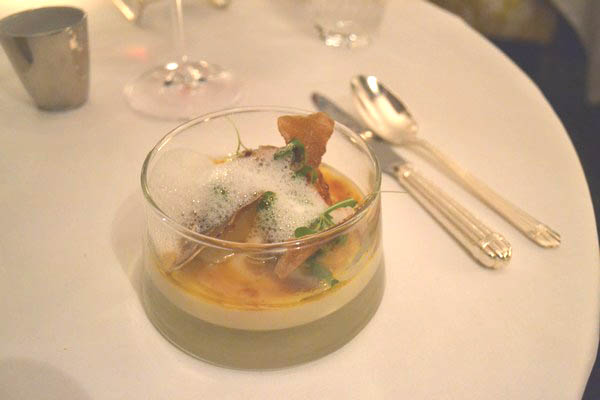 From my meal at The Connaught: Royal Style Jerusalem Artichoke with confit egg yolk, ham jus, Parmigiano-Reggiano cappuccino and white truffle from Alba
(Regina Varolli)
After three years with Ducasse, Darroze returned to her father's restaurant where he gave her the opportunity to work in the kitchen without having to start out at the very bottom. "My father trusted me, and very soon after I was working with him he gave me the kitchen for myself. He was very generous."
Darroze remained at the family restaurant for four years, where she learned more and more about the art of cooking. She would taste everything, try anything, and learn from her experiments as much as the people around her.
At 32 years old, Darroze left her family restaurant and moved to Paris to open Restaurant Hélène Darroze in the 6th arrondissement. With no investors, she took money she had saved, got a loan from the bank, and some help from a cousin. While it was hard for both her and her father when she left, Hélène said "I needed my own place to express myself."
While the Parisian palate wasn't the same as that of her clientele in the southwest of France, the restaurant was nevertheless an instant hit. But, when Ducasse came to eat, he warned Hélène, telling her that perhaps her flavors were too strong, too earthy, for Parisians. Hélène told me that Ducasse always called her "a terrorist of taste."
But Hélène didn't change anything about her food. "I just cook what I feel inside," she explained. "I don't focus on what other people will say. I just do what I love." After three months, the restaurant earned one Michelin star.
Having never had formal culinary training or a lengthy apprenticeship, Darroze spoke to me about her deep appreciation for the technical skills and contributions of her team. "All of my dishes really are a team realization. They are my emotion, my passion and ideas, but it takes their techniques to realize the dishes."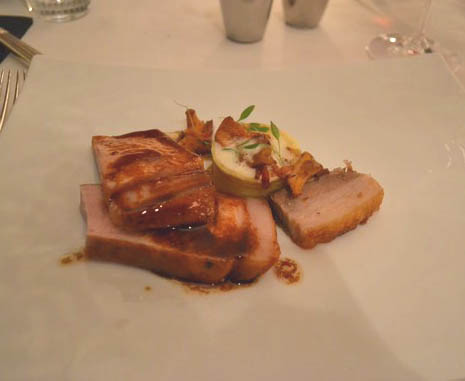 From my meal at The Connaught: Basque Pork with Ibérico Lomo (dry-cured pork loin sausage), grilled confit pork belly, gratin dauphinois with roasted girolles mushrooms and bacon, and a green tarragon mustard jus
(Regina Varolli)
Four years ago, Hélène was approached by The Connaught Hotel in London with an offer to take over the dining room and open another eponymous restaurant. "While I always said I would only ever have one restaurant, that I didn't want to move from Paris, I fell in love with The Connaught. And I fell in love with London."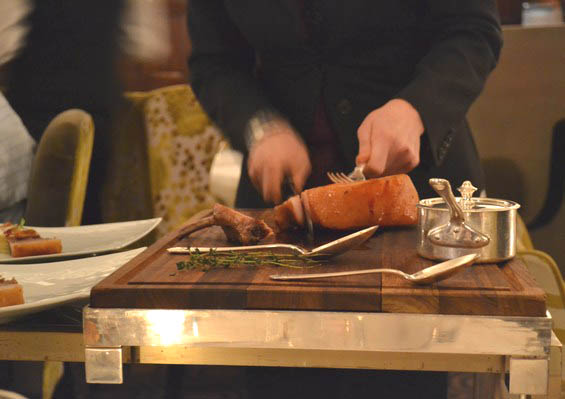 Carving the wild Basque pork table-side
(Regina Varolli)
Today Hélène travels back and forth between London and Paris, relying heavily on her teams, teams she has full confidence in and respect for. Not only that, but she is also a single mother of two adopted daughters, Charlotte and Quiterie, ages 4 ½ and 2 ½. When I asked her about the challenges of raising two children on her own while running two restaurants in two different cities, she told me it's a matter of timing and organization.
"I became a mother at 40, and I think before that it would have been very difficult to balance my career and my family. But now that I have reached a certain level in my career, I have built great teams at my restaurants that I can rely on. And now I also have the ability to hire a nanny. I'm not sacrificing either my family life or my work, on the contrary, everything is balanced, and my children are very balanced and happy."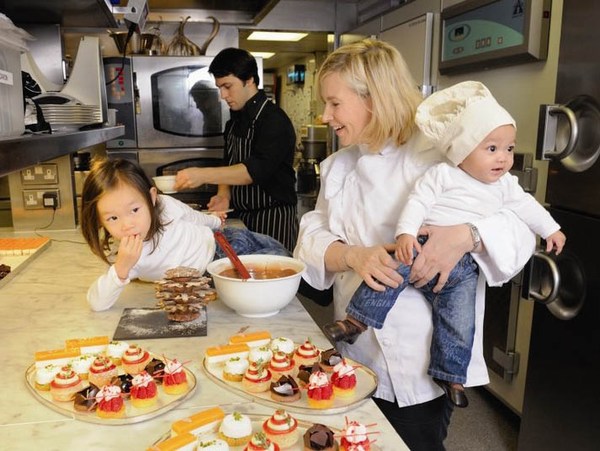 Hélène Darroze in the kitchen with her daughters Charlotte and Quiterie
(Photo Courtesy Hélène Darroze)
With two highly successful, and highly acclaimed, restaurants, and two daughters to raise, Darroze has found a way to have it all. And though she might come off as really rather ambitious, when I said this to her, she replied, "I don't think it's a question of ambition, it's a question of living my passion. I just love what I do, and I love my family."