Mark your calendars for the first week of May, because the LUCKYRICE Festival is back in town, bringing with it top chefs from Asia, Hawai'i and across the United States, for a week of Asian food and culture events that take the concept of food festivals to a whole new level.
LUCKYRICE again kicks off with cocktails. Only this year, instead of a straightforward cocktail party, on May 1st LUCKYRICE is holding an Epicurean Cocktail Feast, with food and cocktail pairings from chefs and mixologists. LUCKYRICE founder Danielle Chang told me she did this because she noticed that "more mixologists are getting into the kitchen, and more and more chefs are getting behind the bar." Adding that, "Today even top restaurants like Le Bernardin take their cocktails very seriously, and pay attention to how they pair with food."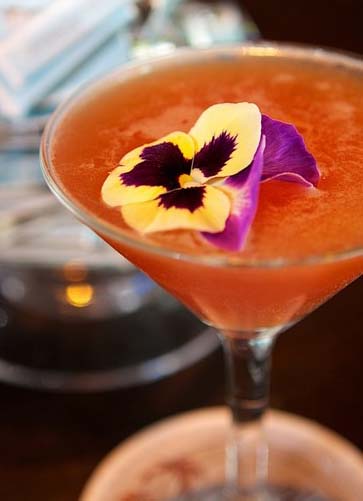 "La Rosa" from Lani Kai at Opening Night Cocktail (Julie Qiu, Photo Courtesy LUCKYRICE)
On May 2nd a new event takes place, the Sunset Luau at Bar Basque. Hosted by Alan Wong, Roy Yamaguchi, Chai Chaowasaree and Vikram Garg, all chefs from Hawai'i, the Luau will be an open-air feast of traditional Hawaiian cuisine, accompanied by cocktails from Hawaiian native mixologist Julie Reiner. Lays, a whole roasted pig and cocktails -- what's not to love?
May 3rd offers three different events to choose from. A Spicy Asian Dinner at James Beard House hosted by chefs Sang Yoon, Pichet Ong and Hooni Kim. This dinner is for people who are always complaining that restaurant food isn't spicy enough when it says it's spicy! Another choice is the Chinese Wedding Banquet and Dinner Cabaret where chef Susur Lee prepares a traditional feast while diners are entertained by Broadway performers Dina Morishita and Welly Yang. Also an option is a traditional Thai dinner hosted by Pok Pok's Andy Ricker (new to NYC via Portland) and David Thompson. Ignoring the trends of fusion and modern Thai food, Ricker and Thompson promise to transport guests back to a time of pure and simply delicious, traditional Thai food.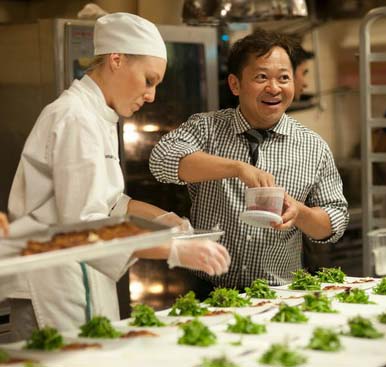 Pichet Ong, Tea and Desserts at The Mandarin Oriental (Richard Patterson, Photo Courtesy LUCKYRICE)
The Grand Feast returns to The Mandarin Oriental Hotel on Friday, May 4. Last year I attended this event, and I can honestly say that the food was beyond all expectations. Not only were the dozens of dishes from top chefs across the Asian global food scene delicious, they were also more than plentiful. This year's Grand Feast features Asian and Asian-inspired creations from chefs Susur Lee, Ian Kittichai, Todd English, Ming Tsai, David Thompson of Nahm Thai Bangkok and London, Masaharu Morimoto, Brad Farmerie, Perry Street's Cedric Vongerichten, Teresa Lin and David Wong.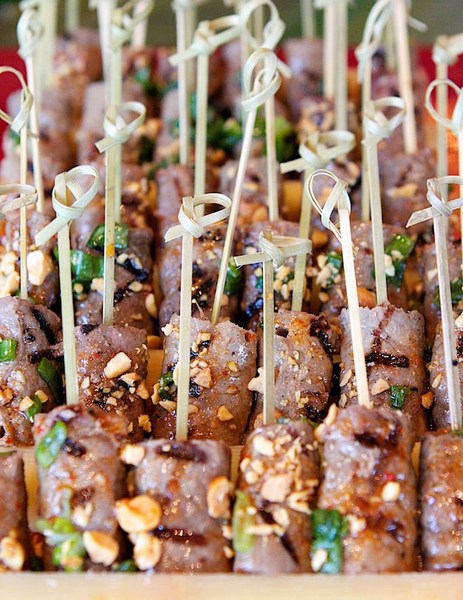 Grilled Marinated Beef with Asparagus by Indochine at the Grand Feast (Julie Qiu, Photo Courtesy LUCKYRICE)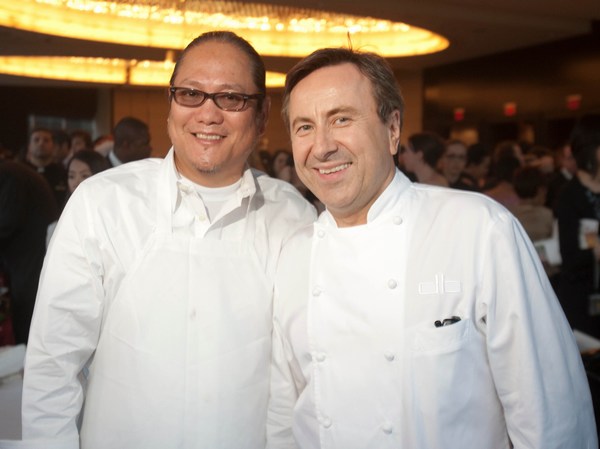 Masaharu Morimoto and Daniel Boulud at the Grand Feast (Richard Patterson, Photo Courtesy LUCKYRICE)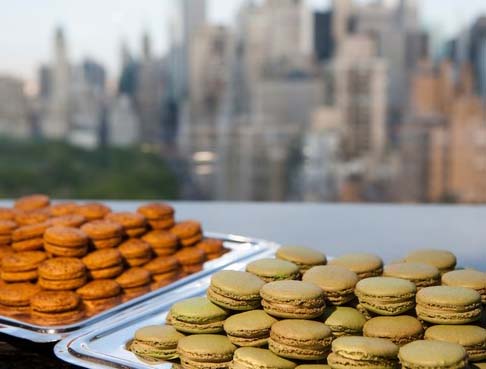 Damien Herrgott's Asian-flavored macarons at the Grand Feast (Richard Patterson, Photo Courtesy LUCKYRICE)
The Night Market under The Archway in DUMBO returns on Saturday May 5th, only this year the price of admission includes a cocktail and sake bar, as well as beer and wine. With the trademark LUCKYRICE emphasis on Asian culture, this year they've thrown in a live performance by Chinatown's own Notorious MSG, adding to the high energy vibe of this recreated Asian outdoor market.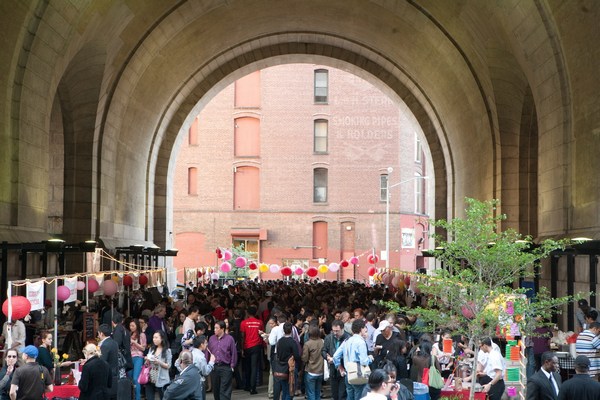 Night Market under The Archway in DUMBO (Richard Patterson, Photo Courtesy LUCKYRICE)
Wrapping up the week-long celebration of Asian food and culture, LUCYRICE brings back Talk+Taste, a day of cooking demonstrations being held at The French Culinary Institute in SoHo. New this year to Talk+Taste is a cocktail pairing with each demo, so you can sip on Bombay Sapphire cocktails while you eat all the dishes you've just watched the chefs prepare.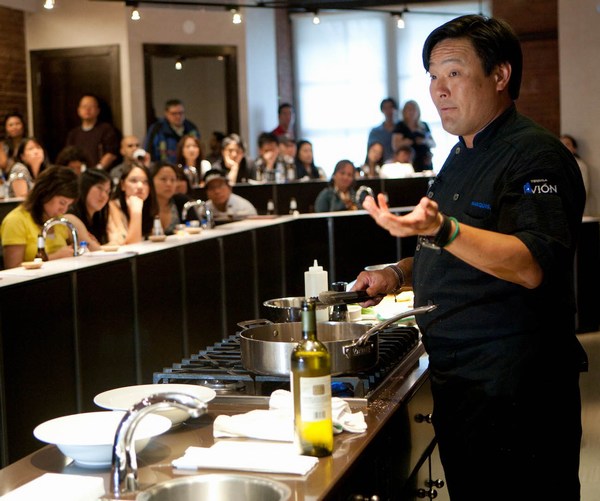 Ming Tsai's cooking demo at Talk+Taste (Richard Patterson, Photo Courtesy LUCKYRICE)
All the LUCKYRICE events always sell out fast. That's why I'm giving you this very early heads-up, so you won't miss out just because you didn't hear about it soon enough. To get your tickets, just visit the LUCKYRICE website, where you can also read more about each of the 2012 events coming to NYC.