Love French macarons? Then you won't want to miss out on a day of free macarons in NYC! On March 20th, Macaron Day presents a veritable treasure hunt of these colorful little confections, where macaron enthusiasts can race around the city to participating bakeries and stores, and get a free macaron at each location.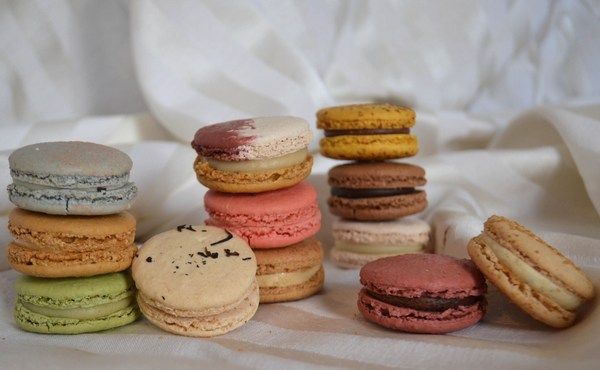 Bosie Tea Parlor Macarons by French Pastry Chef Damien Herrgott, my favorite macarons in NYC (Regina Varolli)
Founded in Paris by Pierre Hermé and Relais Desserts, Macaron Day originally was created to reignite the Parisian love affair with the macaron. It was such a huge success that today Macaron Day has spread throughout France. In NYC, with the undeniable explosion of macaron peddlers and lovers, in 2010 François Payard decided it was high time to bring Macaron Day to the city he now calls home. And for this, we're ever so grateful to Payard!
Two highly notable new participants this year are Dominique Ansel Bakery in SoHo and Bosie Tea Parlor in West Village. Ansel, the former Executive Pastry Chef of the Michelin three-star Restaurant Daniel now has his own namesake bakery, and if you swing by on March 20th, be sure to not only pick up your free macaron, but to grab one of his outrageously yummy Kouign Amman. A classic bit of French Viennoiserie you won't find anywhere else, Ansel's Kouign Amman is a crispy, buttery, flaky cross between a croissant and a palmier. And it's just plain heavenly.
At Bosie, you'll get a selection of regular-size macarons from Executive Pastry Chef Damien Herrgott, a Dessert Professional Top Ten Pastry Chef in America 2012. As it happens, Herrgott was the opening pastry chef for Macaron Day founder Pierre Hermé at his first Paris shop, and he remained with Hermé for four years -- perfecting his macaron and pastry technique -- before coming to NYC. At Bosie, it's worth picking up a Cannelé while you're there. Dark and crispy outside, smooth and creamy inside, Herrgott's Cannelé is a French classic you don't often find in the States, and it's the best I've ever had (here or in France).
Other participants in Macaron Day 2012 are François Payard Bakery (both locations) and François Chocolate Bar at The Plaza Hotel, Epicerie Boulud, Bouchon Bakery (both locations -- where it's worth buying one of their addictive Chocolate Bouchon!), Bisous Ciao, La Maison du Chocolat (all locations), and Mad-Mac at Bernardaud. Just don't expect to get a free macaron at Ladurée, they've chosen not to participate.
For a full list of participants, and a map of all the locations so you can plan your macaron hunt, visit the Macaron Day NYC website.