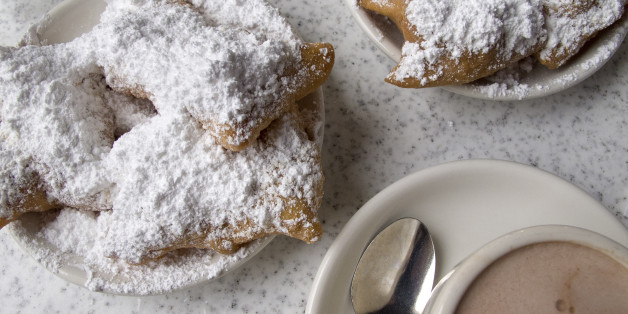 When I recently hit New Orleans for the first time, I had only 24 hours to consume what so many chefs tell me is one of America's best food cities. So I enlisted the aid of one of the South's most talented chefs, Derek Emerson of Jackson, Mississippi's highly acclaimed Walker's Drive-In, Local 463, and the new, fantastic CAET Wine Bar, the most beautiful space to sip, see, and be seen in Fondren.
Chef Derek Emerson, several times a finalist for the James Beard Award: Best Chef in the South, gave me my NOLA eating orders, and I hungrily headed deeper down south. The result: a stomach stretched to capacity, and a short, super sweet list of where to eat in New Orleans for Mardi Gras, or anytime you're in The Big Easy.
MoPho
514 City Park Avenue
Make a detour off the beaten tourist path, because you gotta go to MoPho. Tapped "Restaurant of the Year" by New Orleans Magazine, this Vietnamese-Creole fusion restaurant headed by former August chef Michael Gulotta has a seasonal menu that made me wish I had an infinity-edge stomach. Primarily locally-sourced, the menu is full of dishes that have cool, clean flavors, not heavy as one might expect. I genuinely wanted to try everything, unfortunately the boundaries of my belly and the ticking clock wouldn't allow.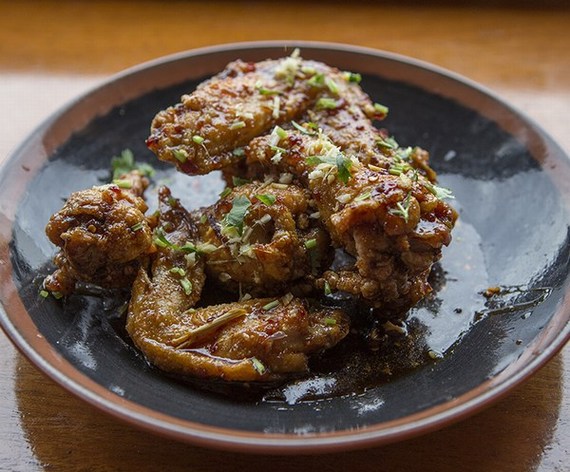 MoPho's Crispy Chicken Wings in Lemongrass and Ginger (Photo Courtesy Sam Emerson, Red Box Photography)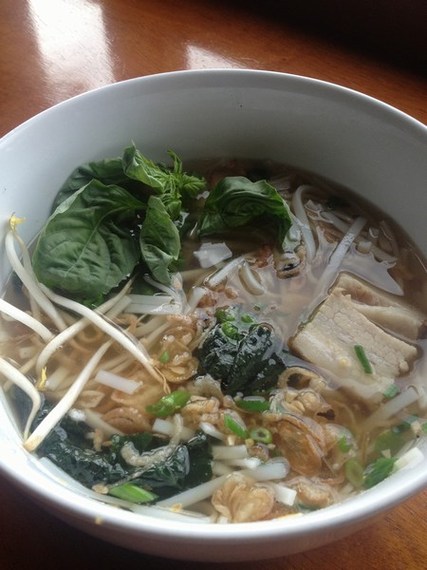 Pork Belly Pho at MoPho (Regina Varolli)
Chef Michael uses "Bluegrass Soy Sauce" out of Louisville, Kentucky, these numbered bottles are for sale on site. The soy "mash" (what's left in the barrels after the soy is fermented and drained), is used to marinate the pork belly. (Regina Varolli)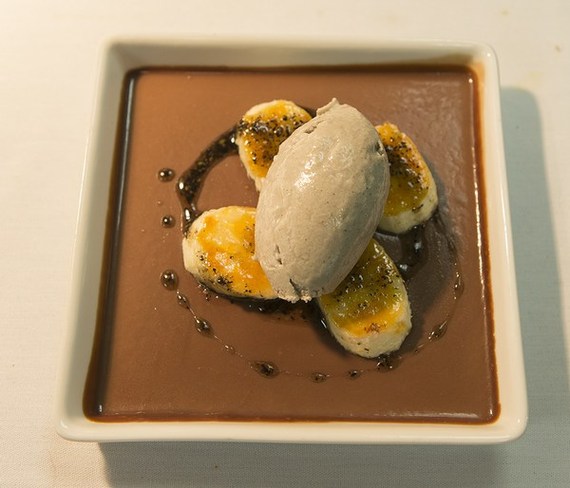 MoPho's Sesame Seed Sherbet with Bananas Brulée, Banana Tuille, Black Sesame Oil and Milk Chocolate Pudding (Photo Courtesy Sam Emerson, Red Box Photography)
La Petite Grocery
4238 Magazine Street
If you have something more upscale in mind, but still casual dress, call ahead for La Petite Grocery. Executive Chef-Owner Justin Devillier's seasonal, locavore menu combines classic Southern favorites like Fried Green Tomatoes, with international dishes like Turtle Bolognese. Growing up on the beach in Dana Point, and passionate about fishing, the California native's surprisingly delicate Blue Crab Beignets should definitely be among the things you order!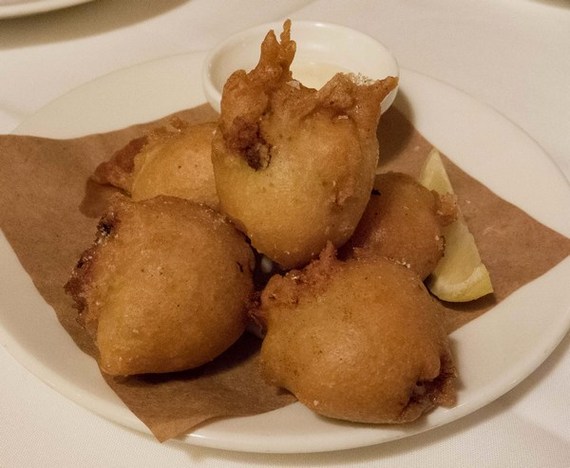 La Petit Grocery's addictive Blue Crab Beignets, you may not want to share these (Photo Courtesy Sam Emerson, Red Box Photography)
Samuel's Blind Pelican
1628 Saint Charles Avenue
For oysters, beer, and bar fare along the Mardi Gras parade route, head to Samuel's Blind Pelican, because the lively locals' hangout peddles 25-cent oysters by the dozen at Happy Hour, and they're good. When I asked Billy behind the bar what was the name of the oysters, he replied, "This one here is Bob, and that's John..." A response indicative of the cheeky sense of humor you'll get at Blind Pelican. All the oysters are local, and "Bob and John" were brought in from off the coast of Mississippi just that morning.
Samuel's Blind Pelican, the calm before the Mardi Gras storm (Photo Courtesy Sam Emerson, Red Box Photography)
Pralines by Jean
1728 Saint Charles Avenue
Also on the parade route, right up the street from the Blind Pelican is Pralines by Jean...and Cupcakes too!, and that's actually the full name of the shop. The famed Southern confection was introduced by the French generations ago, and Jean has been making them to order for twenty-five years. Pronounced "Praw-leens" in N'Orleans, Jean's crumbly, buttery melt-in-your-mouth pralines are hand-made on-site every day.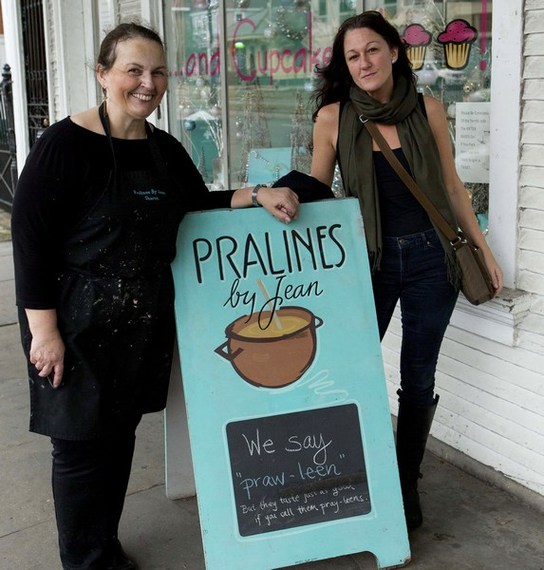 Jean Stickney (left), and yours truly (Photo Courtesy Sam Emerson, Red Box Photography)
Domenica
123 Baronne Street
One doesn't really think "Italian" when planning where to eat in New Orleans, but there's a place that may change that. At Domenica restaurant, John Besh paired up with Exec Chef-Partner Alon Shaya, who had previously worked for Besh at Besh Steak. Having spent a year cooking in Parma, Italy, at Ristorante al Vèdel, Alon learned about pasta fresca in the region most famous for it, Emilia-Romagna. The sleek, ceiling-soaring space is the go-to place for pizza, but the home-made pasta is not to be missed, nor are the desserts, King's Cakes, and house-crafted liquors by the talented pastry chef Lisa White.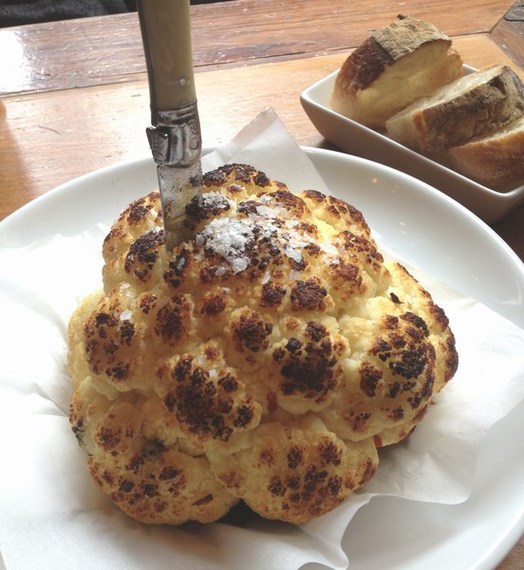 Domenica's perfectly Roasted Cauliflower, and pastry chef Lisa White's house-made bread (Regina Varolli)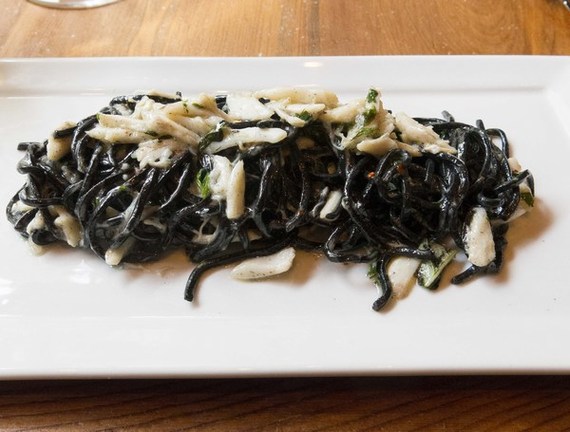 House-made Squid Ink Tagliolini with Blue Crab (Photo Courtesy Sam Emerson, Red Box Photography)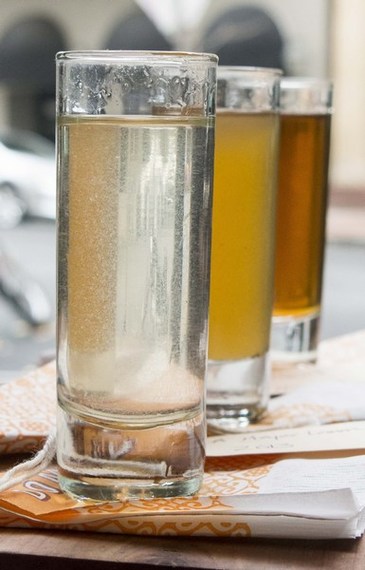 Pastry Chef Lisa White's "Cello" Liqueurs: Loquat, Louisiana Meyer Lemon, and Nocciolo di Pesca (Photo Courtesy Sam Emerson, Red Box Photography)
While not your typical list of the best gumbo in town (for that, go to Coquette!), this is food that clearly conveys not only New Orleans rich culinary history, but also its diverse and eclectic present, its local bounty, and its highly creative chefs.