Introducing Bay Street Theater's current production on Saturday night, of Charles Ludlam's 1983 breakout masterpiece The Mystery of Irma Vep: A Penny Dreadful, the actor Richard Kind had to kill time. Opening on the same night as Sag Harbor's fireworks, Vep was set for 7, but the audience, delayed by more than usual heavy Hamptons traffic, was still making its way, including Joan Copeland, Arthur Miller's 91 year old sister, who was driving from Amagansett, from obstacle to detour. "Soon you will hear the sounds of a popcorn maker," said Kind, and then the revival began its camp mash up of Daphne DuMaurier meets the Werewolf, Vampire, and Mummy.
Two actors, Tom Aulino and David Greenspan, play a total of eight characters constantly and thrillingly making speedy costume changes, the faster the better to retain the hilarity of this piece from the founder of the Theater of the Ridiculous; the production under Kenneth Elliot's fine direction stays close to Charles Ludlam's original staging from his small theater at One Sheridan Square. Ludlam died in 1987, an early AIDS epidemic casualty, and no playwright has yet replicated his peculiar, erudite and silly genius.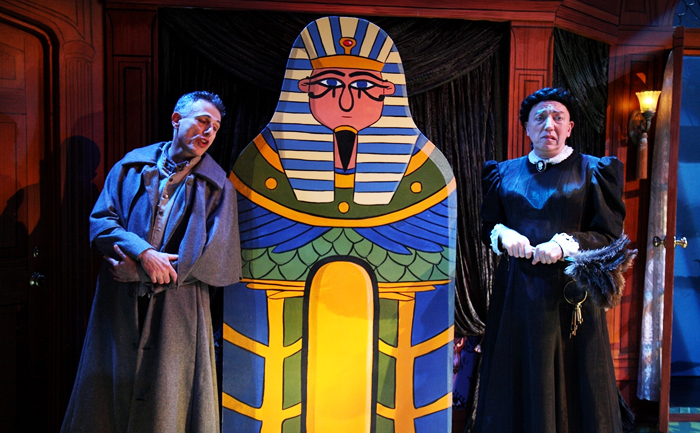 You will laugh and groan and marvel, particularly inside a mummy's tomb - I should note Ludlam breaks Aristotelian form, shifting the scene from a Victorian estate called Mandacrest, to Egypt in Act II-- when Greenspan comes live dancing bare-breasted-oy! He is simply a "bizarrity" that would make Ludlam chuckle in his grave. Tom Aulino plays the gallant straight man to this composite of femininity, but watch: he too has a few tricks up his skirt.
Kind was right. Just as we were leaving the theater, the fireworks went off on the wharf on cue, adding extra excitement to the spectacle at Bay Street. Traffic let up too, as we made our way to Nick & Toni's for a late night repast, complete with a chocolate tartufo, a bomb dessert ready to explode. Governor Cuomo was having dinner in the newly renovated dining room and one patron was celebrating his birthday--loudly. We needn't have worried about the kitchen staying open. And the night before, another treat in Amagansett at Sotto Sopra. No panic there either. A pizza bar stays open till 3 A.M. Before dining on surf and turf, a grilled lobster tail and steak, we sampled the seafood cocktail, a perfectly chilled combo of shrimp, lobster and crabmeat, a signature appetizer at all the Bobby Van venues. You expect the shrimp and lobster to be great in these parts, but ah, that crab.
A version of this post also appears on Gossip Central.