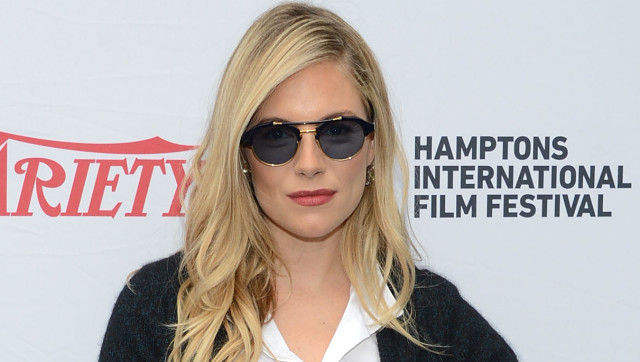 British actress Sienna Miller plays Tippi Hedren to Toby Jones' Alfred Hitchcock in the HBO movie The Girl. Observing the movie's star at this year's Hamptons International Film Festival receive honors at "Variety's 10 to Watch: Breakthrough Performers of 2012," a brunch held at Nick & Toni's, you think, oh yes, blondes have it all. The group includes a blond or two: Dree Hemingway who headlines Starlet assures viewers that she had a body double in some of her most risqué scenes. But to see The Girl, which airs this weekend, is to witness vulnerability.
As The Girl illustrates, within the star system of a bygone era, directors could own women, that is, barter for sexual favor. Aided and abetted by his wife, Hitchcock could lure actresses into his movies. Who wouldn't want to work with such a genius? And, in Psycho, Rear Window, Vertigo, it is clear, he preferred blondes. Famously, with Tippi Hedren, he made and unmade her career. In one particularly painful sequence to watch, he unleashed real birds to get footage of his star attacked in a phone booth, pecking at her face dangerously close to her eyes. Bruised and bandaged, she takes it making her way back to work. You wonder why he would jeopardize her ability to complete the film, but hey, he made her a star. As he says, doesn't he deserve something in return?
It took four hours in makeup to get the trim Toby Jones into Hitchcock mode. And just his luck for doubles -- as when he was Capote in Infamous( there was another Capote film) or when he was a dwarf in Snow White and the Huntsman, along came another Snow White movie. Anthony Hopkins as Hitchcock looms on the horizon.
A version of this post also appears on Gossip Central.