When I was 15, I got a horse.
It didn't happen the way I wanted it to. I had grown up reading books about children who looked out their windows on Christmas to see a black horse standing in the glowing snow with a red ribbon around his neck looking back at them. That's what I envisioned for myself.
There were two problems with this: Firstly, I grew up in Manhattan. Secondly, I am Jewish.
Until my family's move to the suburbs, my only connections to horses were the Central Park carousel, the mounted police officers' horses I could occasionally pet, and books and movies. I even had a VHS of A Day with Horses, which featured a horse named Clip Clop and walked me through basic horse care and safety. I watched that video so many times it began to fade. I was convinced I would need to know how to pick a horse's hoof because eventually I would have one.
The day came many years later, after a couple of years of weekly riding lessons and eventually half-leasing (renting the use of) an older school horse for a while. When it was clear that I was not going to outgrow horses, and that it was a relatively healthy (if expensive) way for me to spend my time, my parents relented. We could start the search for my horse.
I drove out to the sales barn with my dad with a very specific idea in mind of what I wanted. I wanted a black Morgan/Arabian cross gelding. He would have a white star, stripe, and snip on his face, and precisely two white stockings. Instead, I tried a few chestnut Thoroughbreds, but left the barn thinking about a bay paint horse, with a black and white mane and tail and a sliver of blue in one eye. I dreamed about him that night, and the next day I told my dad we had to go back so I could try him.
It rained. A lot. We trudged around in small, splashy circles, and I told my dad this was the horse, and that I was absolutely certain and that was that. Kings Deluxe Poco, the big American Paint Horse and polar opposite of what I had had in mind, was my horse. I nicknamed him Alibi because I knew I would spend every spare moment with him at the barn.
In retrospect, everything wasn't perfect. I rushed myself, because I was afraid my parents would change their minds. I chose a 4-year-old horse that was green-broke (barely trained) in Western Pleasure, a discipline I myself wasn't trained in. I had a wildly inflated view of my own riding abilities, from years of riding docile school horses. My trainer took one look at him when he arrived at my barn and said, "He's pretty, but he's too much horse for you. You're going to have to work very hard."
And I did. I got thrown, and dragged around, and kicked at. I got bitten, shoved, lifted off my feet by particularly energetic head-tosses. I bled, and I cried in frustration. But every time someone joked that they had a running bet in the office about how long I'd stay on each time I tried to ride him, or told me it would be ok if I decided to sell him and look for a different, older, gentler horse, I set my jaw and got back on the horse. I was terrified of Alibi. Some days, I hated him. But I knew that if I could just keep going, we would be a team.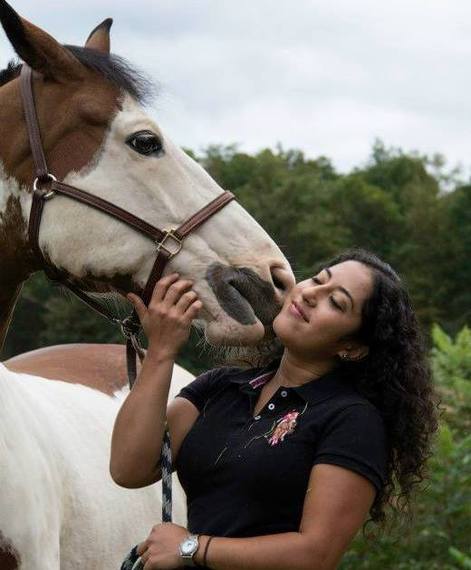 Photo by Laura Bradley, used with permission.
When I went to college, so did he. And in the last few years of growing up together, we have become partners. We know each other's moods. We trust each other. And we have fun. Last year, I took him to his first dressage show, and we came home with ribbons. This month, I watched a friend of mine -- a relative novice -- ride my horse on the trails. And tonight, Alibi and I jumped -- another new skill we are learning together.
After the lesson, a new instructor asked me about Alibi's background. I gave her the abridged version: There was a broken bone, some fear, some training difficulty. But she just looked at him, nodded, and said, "You've done well with him. He's a smart horse."
I said thank you, patted Alibi, and drove home. But I was overwhelmed with a flood of memories. The day the farrier knocked on the barn office door to say that someone's stallion had broken a fence, and I just sighed and said it was probably not actually a stallion, but just my feisty gelding (it was). The day I got thrown and we thought my nose was broken, but my trainer barked at me to get back on now regardless and I did, too stunned to be afraid or feel pain (I felt it later). The first time I walked into the barn and Alibi greeted me with a friendly nicker.
I am lucky. I have become the person I envied as a child. I am a fool, but I'm a fool with a horse, and I wouldn't trade him for anything.