Paradigm Shifters is a series of interviews with a select group of women from eclectic walks of life. It will highlight unspoken, real life insights on how women have been able to turn weakness into strength. A naked soul point of view of how their breakdowns were really a preparation for breakthroughs. They are your quintessential Paradigm Shifters; internal shifts converted into genuine change.
Everything I have ever done has been focused on this underlying theme of shifting the paradigm because, "what we think determines what we feel and what we feel determines what we do." Hence why Empowered by You takes lingerie, which has traditionally been seen merely as a tool of seduction and redirected that energy as a tool of empowerment.
I hope from these stories you will look at your own situations, struggles and accomplishments through a different lens. At the very least you will be more equipped with real life tools to change your own paradigm. At the end of the day we are our own Alchemist turning the silver we were born with into the gold we are destined to become.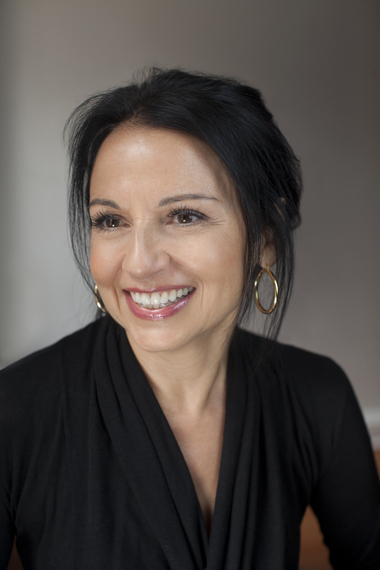 Denise Restauri - Founder & CEO of GirlQuake™, and author of Their Roaring Thirties: Brutally Honest Career Talk From Women Who Beat The Youth Trap
Tell me about the series you are currently working on?
The Self-Made Women Series on Forbes.com is a collection of stories from women who grew up without power or money, but with the support of mentors, teachers, family, a lot of smarts, and hard work, became successful. The series profiles women of all ages, their stories about their best mistakes, what keeps them hungry, and their success tips and tricks.
How did you come up with the idea for your book, Their Roaring Thirties: Brutally Honest Career Talk From Women Who Beat The Youth Trap?
One night, I googled "successful women in their thirties." All of these articles about dating popped up. I thought it was crazy; why are women in their thirties not getting media attention in the right way? Rachel Cohen Gerrol, with NEXUS Global Youth Summit, told me that being in your thirties is a barren wasteland of ambition without recognition. A year earlier, I was the architect and executive producer of the inaugural Forbes Women's Summit and Susan Hockfield, the first president at MIT was a speaker. We were talking about a gap I was seeing -- a lot of women on stage were under 30 and over 40, but thirtysomething women were missing. Susan said something to the effect of, "That's dangerous because when that happens we're skipping a decade. Who do twentysomething women have to look up to? They're going straight to their forties thinking they have to perform at that level. And who can thirtysomething women relate to?" So I decided to do something about this gap and write a book about women in their thirties - their brutally honest stories.
What was your biggest breakdown to breakthrough moment?
I was never afraid of failing but I always had imposter syndrome. I dropped out of college, started working in sales and was very successful (defined by excellent performance reviews and compensation), joined USA Today a year after launch, worked hard and became Vice President of Sales in my 30s. I was filling entry-level sales manager positions with women who had their master's degrees. That played with my head. I thought I could never leave USA Today, afraid that I wouldn't quality for another job because I didn't have a college degree, although I had taken enough evening classes to quality for a degree, I didn't have a diploma. That insecurity held me back from pursuing my dreams. Kat Cole, who became president of Cinnabon when she was 32 years old, says in Their Roaring Thirties, when you have self doubt, that first voice is okay, but any actions or thoughts that come after, you're responsible for. You have to control those thoughts. That's what I didn't do. I learned how to do that in my 40s.
How did you reinvent yourself?
I got this idea for a book I wanted to write for young girls. A collection of stories from girls around the world that would be a travel guide, a way for girls to see the world through the eyes of other girls, not what adults found to be exciting. A friend of mine wanted to do some marketing stuff for me on a website for the book. As we were building the site, Yahooligans, Yahoo's site for kids in those days, named it "site of the week." Suddenly we were getting thousands of girls signing up to a site that only had 3 pages! I started to build this community of young girls, asking them what they wanted the website to be, and found this niche of 8 to 12 year old girls who needed a place to be able to understand themselves and each other beyond their own communities. So we put the travel guide online as AllyKatzz.com versus making it into a book.
And that led to GirlQuake?
Yes. I realized we were putting the wrong role models in front of young girls. They need somebody they could actually be. In 2009, I brought 250 girls ages 8-12 together in Washington DC for the first ever tween-girl Summit. We featured young women who were changing the world, and that's when I saw the magic happen. The girls would go back to their hometowns and do things to create change. And I saw a new gap in the marketplace -- a platform to amplify the voices of young women who were creating a global force for positive change. I couldn't do it all, so I gave up the website and launched GirlQuake.
What do you want your legacy to be?
Helping women, especially young women, realize their potential and redefine power. Currently I do that through mentorship and sharing my platforms and networks. The platforms may change in the future, but the core will always be there. I feel so passionate about that. I'm getting teary eyed as I'm saying it.

What advice would you give to your younger self?
Trust and believe in yourself and don't be afraid to go for it. Your mistakes make you who you are. You just have to keep putting one foot in front of the other.
What are you most excited about now?
Working on the self-made women series, really getting into those stories. They're powerful stories on going from nothing to success and redefining success. Is success money? Happiness? A combination? None of the above? You need to determine your own success. Traditionally, there has been a very linear path to success: you get out of high school, go to college, get a great job, and make money. Other paths are looked at as alternative and too often not associated with "success." We need to change that and that begins with redefining success and power.
Denise is the embodiment of a paradigm shifter. Not only does she have clear unwavering self-belief in why she is here, she is shifting the light onto women who need a springboard to reach their maximum potential. By creating female leaders of tomorrow she isn't in the limelight, she is the light.