Even if we were as slick as Michael Jordan in his prime we couldn't dodge all the ads marketed to us on a daily basis. Each and every one of us fits a brand's 'target demo.' Yes, we are all in this one together. We would hope that in all these constant targeted ads aimed at us, we might be inspired and they could provide valuable insight or even, for just a moment, entertain us. Most of us just turn the page without a second thought and are oblivious to most of the "noise' that's out there.
But every once in awhile, something catches my eye, stirs my heart and even gets me thinking that there is more than one way to look at things. When an ad campaign has that effect on an audience, a paradigm shift happens - this shift ignites reflection, challenges our own status quo and triggers us to see things from someone else's point of view.
When the Dove "Real Beauty Sketches" were launched, (remember that series of ads in which women were asked to draw a picture of what they thought their faces looked like, and then those images were juxtaposed against actual photos?) I was immediately affected. Boy, what a difference between perception and truth - it challenged me on how I look at myself. I, like all other women, am my most severe critic - am I too fat, not pretty enough, not smart enough? All the usual qualms we women have which, by the way, are constantly reinforced by the media.
The Dove ad campaign made me aware....and gave me a sense of relief that we're all too hard on ourselves - how we look at ourselves is probably not how others see us. Dove's tag line "You are more beautiful than you think you are" really hit home.
So, how do paradigm shifting ad campaigns inspire me to better define how I communicate my life purpose in an authentic way?
After living in India from 2005-2007 to build a microfinance program for over 800 women, I returned to the States inspired by the resilience and unacknowledged beauty of these genuine women. One night, I remember watching a fashion show on TV and was disturbed that it reduced women's sexuality to mere seduction. In India I had experienced how much more there is to being a woman. I thought - what a missed opportunity to harness the energy and excitement the show engendered, and to redirect it to empowering women - rather than to objectifying them. Women can be sexy AND smart - who is highlighting this side?
I wanted to inspire people to see women differently: in particular to see lingerie as more than an item for seduction. So, I put my energies where my heart is: in the past eight years, the Seven Bar Foundation has hosted luxury lingerie fashion shows with top designers: Agent Provocatuer, Carine Gilson, Fifi Chachnil, and Atsuko Kudo, supported and attended by strong and positive female role models: Sofia Vergara, Eva Longoria, and Michelle Rodriguez. Our shows, Lingerie London, Lingerie Miami, and Lingerie New York, have garnered over 3.8 billion media impressions. The media instantly got it. The Wall Street Journal reported, "What's sexier than luxe lingerie? Microfinance" It worked. The paradigm of lingerie for seduction shifted to empowerment of women - inner armor for outer empowerment.
To take this beyond an awareness platform and provide an entry point for everyone to support it, in 2010 I created a social enterprise called Empowered By You (EBY) - a business model to fuel the empowerment of women consistently. With the similar spirit, we created the Empowered By You Panty, the perfect everyday panty whose sales direct 20% of profits to the Seven Bar Foundation, which empowers women out of poverty and into business via microfinance. After two years of research and development, the Empowered By You Panty is now the leader in the "perfect everyday panty" category.
I can talk about its product features and unique technology until I am blue in the face, but at some point I will just sound like Charlie Brown's teacher. Suffice it to say that this panty is about offering consumers an entry point to buy what has heretofore been looked upon as an item for seduction, but now, through its purchase, becomes a symbol of empowerment.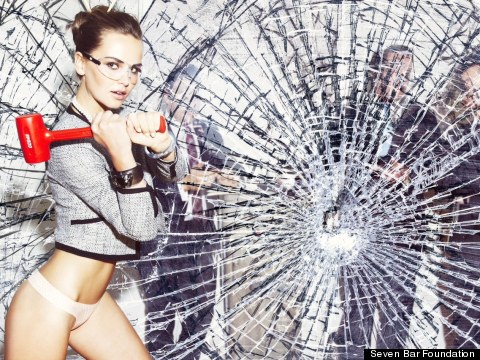 We feel that if consumers are going to buy a product, their purchase should count beyond its inherent attributes...and if advertisers and marketers are going to retail and market to consumers, they should make a conscientious decision to make the product they're marketing meaningful, thought-provoking or at to least ignite paradigm shifts.
To further drive the message of women empowering women home, the Seven Bar Foundation created a poster campaign using provocative black and white images of women of different ages and ethnicities telling stories of how they were empowered by turning their weaknesses into strengths. The interactive social media campaign called upon the viewer to respond with how she turned negatives to positives and hence empowered women everywhere with her testimonial. It wasn't your traditional positive campaign. It was real. It was raw. It was genuine and evoked 40 entries and 3,500 likes in one month. We were honored to get responses with stories like:
"I over came insecurity, my name is Angela, and I now see how beautiful I am." and from Monica "I am challenged by anger. I am empowered by learning how to forgive."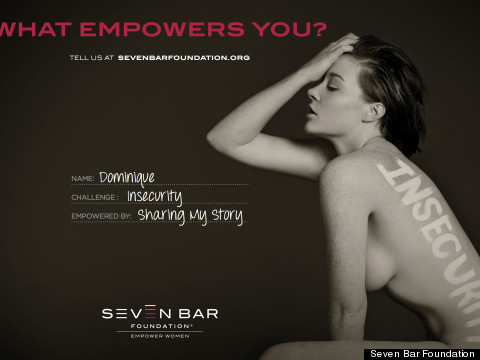 Empowered by You is a natural extension of the Foundation's long-standing position of inciting paradigm shifts and igniting authentic change by demonstrating how things can be seen differently.
I feel that if brands are going to retail and market to us, they should make it meaningful, and if you are going to buy a product, make it count beyond its fabric.