Paradigm Shifters is a series of interviews with a select group of women from eclectic walks of life. It will highlight unspoken, real life insights on how women have been able to turn weakness into strength. A naked soul point of view of how their breakdowns were really a preparation for breakthroughs. They are your quintessential Paradigm Shifters; internal shifts converted into genuine change.
Everything I have ever done has been focused on this underlying theme of shifting the paradigm because, "what we think determines what we feel and what we feel determines what we do." Hence why Seven Bar Foundation and Empowered by You takes lingerie, which has traditionally been seen merely as a tool of seduction and redirected that energy as a tool of empowerment.
I hope from these stories you will look at your own situations, struggles and accomplishments through a different lens. At the very least you will be more equipped with real-life tools to change your own paradigm. At the end of the day we are our own Alchemist turning the silver we were born with into the gold are destined to become.
Susan Rockefeller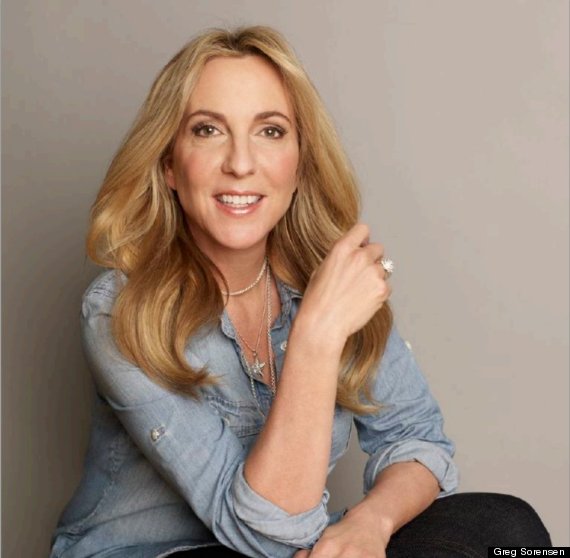 Susan Rockefeller - Conservationist, jewelry designer, documentary filmmaker, author
Renata: You are a board member of Oceana, the chair of Oceana's Ocean Council, a member of the program committee for the Stone Barns Center for Sustainable Agriculture and a member of the global Leadership Council for Natural Resources Defense Council. Why did you decide to dedicate your life to supporting environmental protection?
Susan: I want to protect our environment because I love it. I would go out to East Hampton when I was young and absorb the magic of the elements of sun, sand, salt and water. I also spent summers in Maine, where I had more of the woods and the Henry David Thoreau experience of living simply. I feel like I became interested in the environment just by being in nature. And my dad is on the board of the Wilderness Society and my mom is a cultural anthropologist. She kept beautiful Native American baskets and ceramics in our home and I was amazed by what you could create from natural elements. So I would say it was a mix of family history, family interest and the notion that so much of what sustains us and creates beauty is from nature. It also provides us with everything we need, including our health. We all depend on nature, so to work to protect it is the sensible thing to do.
Your Dive Deep jewelry collection highlights nature's beauty by incorporating ocean-inspired designs for each piece. What did you wish to capture in these designs?
Whether I see the sacred geometry of a sea urchin or the frond of an unfolding fern, I'm captivated by nature's colors, beauty, patterns and forms. The Dive Deep collection has sea urchin rings, pendants, beads, and pearls, along with a few mermaids and sea stars. Each piece is a way to carry nature's beauty with fashion.
On SusanRockefeller.com, the Circle of Mermaids is a place where women can write about and submit what they are most passionate about and how they protect what is precious. Why did you decide the mermaid would be the symbol of this project?
Mermaids represent our relationship to land and sea. They're a metaphor for balance and the need to rest, rejuvenate and reimagine a world that is healthy and connected to the things that matter most. Circle of Mermaids invites people to tell their stories about their memories by the sea and give a voice to a community of people who care about their own health and the health of the planet. From telling our own stories, we learn about people's passions and create a sense of community and a shared value to protect what we love.
Your film "Mission of Mermaids" details the negative environmental and human health effects ocean pollution causes. What were some of your goals when making this film?
I wanted to reach an audience that wasn't necessarily science oriented. By using the myth of the mermaid and my lifelong love of beaches and oceans, I hoped to connect people to their own memories of the sea and combine their experiences with statistics and facts. I wanted to simultaneously entertain, educate and, most importantly, inspire people to protect our waters.
What is the biggest paradigm shift you have experienced where seeing something differently changed your life?
There are many moments I can point to. In the 80s when I was living in a small Alaskan village, I walked into the post office one day and saw a man who had died that was being prepared for burial. It was so clear to me when I saw him that it was just his body lying there and that his soul was gone, and from then on I put into perspective the purpose of human life and the relationship between the spirit and the physical body. And then having children made me realize that I'm part of this continuum of women that create life. I felt very much connected to the importance of protecting our children and our families and, by extension, making sure that the environment around us is healthy. We're only as healthy as the environment and what we feed ourselves and our children. So it was this paradigm shift that we are all part of this human ecology and that the health of the environment is not only integral to our own health, but everyone's as well.
Has there ever been a breakdown in your life that has lead to a breakthrough?
When I was in my 20s going into my 30s I was in a relationship for 5 years and realized that it wasn't moving towards marriage. I had to make the decision to leave if I truly wanted to create a life with family and children. So it was staying in something and then choosing to leave because it wasn't moving forward. I think part of experiencing a breakthrough is embracing failure because if you don't take risks or stay true to who you are you don't necessarily grow in the ways you need to grow. For instance, if a film I create appears to be a failure because it wasn't received well or people didn't understand it, am I going to feel silly that I'm doing a film on ocean health or creating a jewelry line that starts a conversation about an important issue like the health of the environment? No. If you don't put it out there, you don't know. And if you fail it doesn't necessarily mean that you're a failure. It means there is another way of doing things that is coming around the corner that will be more suitable for you.
What kind of legacy do you wish to leave behind with your work?
I want people to be able to give themselves what I call the mermaid moment. We each can awaken the modern mermaid in all of us by resting, rejuvenating and reimagining. I believe that if we give ourselves time to get away from all of the noise and the rush to do 500 things at once, we will live healthier lives. If the oceans are given time to rest, we should realize we need time to rest as well. Research on the ocean states that if fishing regulations are enforced, bycatch is minimized and fish habitats are protected, the oceans will rebound. It's the same with us. If we take a meditation moment, maybe to walk or breathe more deeply, spend time with our children or listen more, transformation will happen. I hope my legacy will be that people can, in the process of taking time to rest, open their curiosity to the wonders inside themselves and the diversity of this magnificent planet. We'll find ways in the process of discovery to live a life of substance.
Susan is the ultimate testament that perception is the ultimate catalyst for change. As soft spoken as she is, her unwavering determination to leave a lasting impact is a force of nature to be reckoned with. If you have experienced her films, you will experience the transformation this is having on our environment. I could not be prouder to highlight Susan as a Paradigm Shifter. The fact that someone like Susan exists makes me believe in mermaids too.