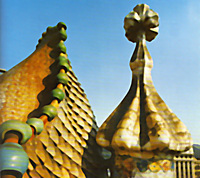 Is there an androgynous experience of a city? No? Then Barcelona has just invented it, perhaps not only for me. This should not be too surprising as this old, Spanish city ranks as number one in gay freedoms, nuptial rights included. I'd never spent time there, and my plan for six days was: 1) Gaudi, 2) more Gaudi (there are 13 sites in the Catalan capital) and 3) other "modernists" of architecture.
Plunging into Gaudi et al can cause the visitor instant "Stendhal Syndrome" -- that famous malaise or vertigo that befalls travelers who expose themselves to more art and cultural sensation than they can stomach. Gaudi's spirals, swirls and flourishes present a serious risk of overwhelm -- an architecture that vacillates between overstuffed women's boudoirs from 1900, dreamscapes out of 1001 Nights, and visionary nature mysticism. This male genius was perhaps overwhelmed by his own creations: After laboring on some of them for decades, he left major works unfinished. His favorite, the Basilica of La Sagrada Familia, begun in 1883, had just one finished facade with four towers when, in 1926, a streetcar named demise ended Gaudi's obsessions.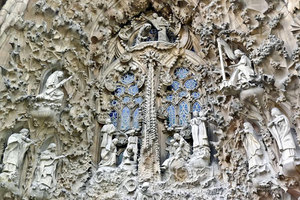 The strange chef d'oeuvre of La Sagrada, looking inside like a stone-sculpted, flowering jungle, has only just been opened as a place of worship. The creator of endlessly drooping, curving, bulging feminine forms was so meticulous in his architectural calculations that today's computers can pick up where he had to leave off. The goal is the final completion, with all 18 towers in place, in time for 2026, the centenary of Gaudi's death.
Was Gaudi gay?
On site and in the museums, I didn't find any mention of a Mme Gaudi. A photo shows a make-shift bed under a cathedral nook next to stone mason tools and dust. The Barcelona bourgeoisie loved Gaudi and let him create their luxurious living quarters, entire buildings sculpted and decorated from floor to ceiling, door-handle to chimney pot, in materials and shapes that please the senses, envelop and caress the body. One wonders how the patriarchs at the turn of the century could feel safe in the Baudelaireian luxe et volupté of the Casa Batlló or the Casa Milà ("La Pedrera"), the most famous Gaudi mansions built a stone-throw from each other. Were these patrons as androgynous as their eccentric architect?
Probably not. Today, in the depth of the city's offices of information, a secret is unveiled between women: It was the wives who patronized Gaudi. The homemakers and tastemakers, who came from wealthy families, chose to live, entertain and make love in rooms without a single, straight line.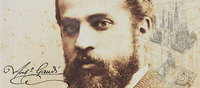 Women's masculine drive and power could not openly show. It had to be concealed behind veils of deception. A telling example is a villa by Gaudi's rival Lluis Doménech I Montaner, the sumptuous Casa Fuster from 1908 (today a luxury hotel). The official story claims that its emblem, the letters C and F embracing in an elegant Art Nouveau curlicue, stands for "Casa Fuster," a gift that Mr. Fuster from Mallorca presented to his wife. Unveiled, the letters (they appear in every material used in the decorations), stand for Consuelo Fabra I Puig, Fuster's wife. The official story doesn't care to remember that is was a woman who sponsored the building and paid for it. To find the unofficial, androgynous, gay story you have to lift the veils and read the curlicues for clues.