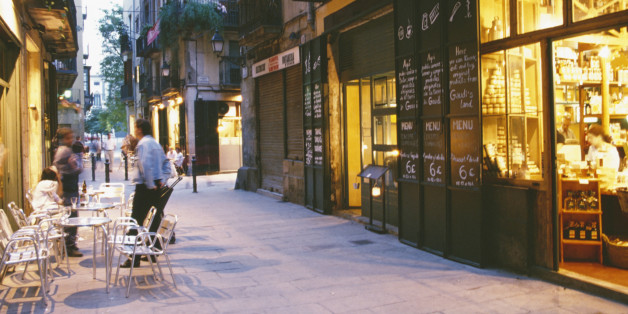 Summer is practically here and millions of tourists will be packing their bags to visit Barcelona, one of the top 5 most visited cities in the world according to Trip Advisor in 2013. If you and your friends or family will be vacationing in this coastal Mediterranean city, then here are 7 of their sweetest (and my personal favorite) cafes that are an absolute must.
When it's time to take a relaxing break from all the sightseeing, be sure to stop by one of these cafes to enjoy a cortado -- small coffee with milk -- and serving of something sweet.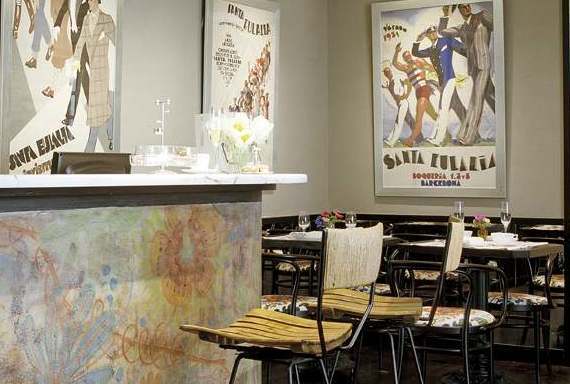 Cafe Santa Eulalia is a secret gastronomic space with a garden terrace hidden away on the second floor of the Santa Eulalia luxury boutique centrally located on the prestigious Passeig de Gràcia. After trying on a pair of Christian Louboutin's sexy, red-bottomed stilettos, sneak away to their secret café to have some tea and macarons by Enric Rosich which are not only delicious but much more affordable than anything else in the shop.

Bubóis a bakery and chocolatier whose creations are carefully crafted by award-winning Catalan pastry chef Carles Mampel. Each of Bubó's pastries and chocolates are prepared with exquisite attention to detail to ensure that each of the five senses are aroused during the sweet experience. Their original location is located in Born, however, they have a few other locations throughout the city. If you're in the mood for something with caramel, try the delicious Reus with a cup of their fresh coffee.

Cup & Cake is the first cupcake store in Barcelona with 100 percent handmade cupcakes. Visit their centrally located, cottage-style bakery which smells of sugary cake batter and homemade cookies. Enjoy one of their beautifully decorated cupcakes-crema catalan and red velvet are two of my favorites -- or a delicious, giant chocolate chip cookie with a cup of coffee or tea. They have two locations in Barcelona, as well as two other locations with a slightly different menu -- Brunch & Cake and Travel & Cake.

Boldú is a family-owned bakery that was born in Barcelona in 1939. Their promise to their clients continues to be that all of their bread and pastries are handmade daily with the best locally produced ingredients using their family's very own recipes. Although I have yet to try one, their adorable artisanal bolduman and boldugirl glazed, doll-shaped donuts, they look sinfully tempting. You can enjoy one of Boldú's sweets with a cup of coffee, tea or fresh juice at a handful of locations throughout Barcelona.

Think Sweet is a cozy cupcake bakery centrally located in Barcelona and walking distance from the lovely, tree-lined and shopped filled Rambla de Catalunya. The idea originated in Sydney, Australia where the founder first became fascinated with the delicacy and elegance some of the best cake decorators in Sydney used. Enjoy one of their fancily decorated mini-cupcakes with some coffee or one of their various teas.

>Cosmo Cafe & Art Gallery is a quaint cafe located about a ten-minute walk from Plaça de Catalunya -- one of the three main plazas in Barcelona --that serves a delicious vanilla chai tea with soy milk. If you're in the mood for something a little on the healthier side, they also offer a small selection of fresh juices. Sit outside on their patio or enjoy a cool breeze at one of their comfy tables near the front entrance.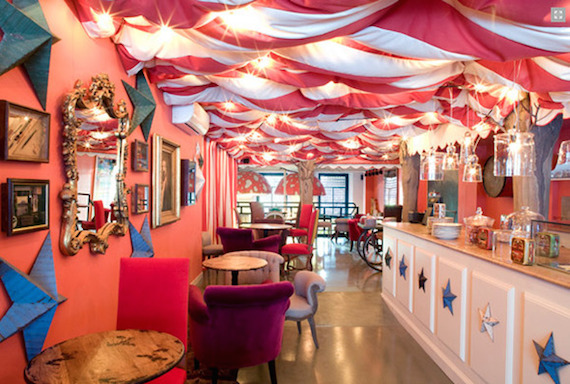 We Pudding is a child-friendly cafe that serves an amazingly delicious, carrot cake. Their carrot cake is moist, creamy and filled with large chucks of walnuts. One slice of their carrot cake can easily be shared by two or three people. If you don't have children, you can still enjoy a quiet cup of tea or slice of cake towards the front of the cafe in their semi-enclosed tea room. If you do have children, there's a toy-filled playroom downstairs where they also organize birthday parties.
To read more articles by Renee, learn about lifestyle coaching or to learn more about her soon-to-be released book, Lucky Coincidence: The Uncommon Guide to Getting Coincidentally Lucky, please visit here.