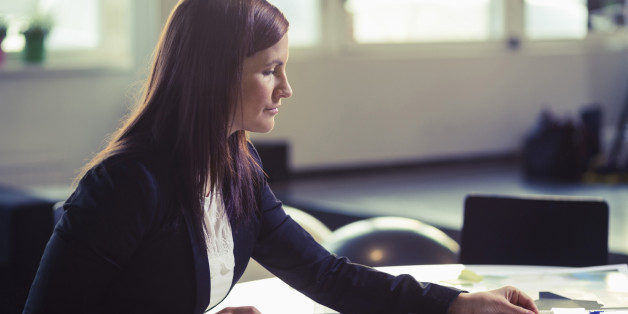 Arianna Huffington was speaking recently at a Leadership seminar in Toronto. The other speakers were Rudy Giuliani, Robert Sutton, Andrea Hill and my son Peter Aceto, CEO of Tangerine Bank.
Peter admires Arianna and her perspective on life and business as she presented in her latest book, "Thrive." He feels her philosophy reflects his own, describing a need to redefine success by creating a life of well-being, wisdom and wonder -- a life beyond power and money -- a life where healthy relationships compliment and help build a successful career.
Peter spoke before her and had the honor of introducing her to the audience of two thousand. His thought was to bring to the group the similarity of their views on life and the achievement of success.
Arianna joined us later for a private luncheon hosted by Tangerine/Scotia Bank which started with a discussion between her and Peter. Peter opened by describing how he had done his homework by reading "Thrive" Arianna's new book. (I always stressed to him the importance of homework.) She countered and said she too had done her homework and then preceded to read a blog that Peter had posted some months earlier, quoting me and my views of the world that I had shared at a family dinner. Peter was impressed that she did the research to prepare herself to share the stage with him that day and she had found something that genuinely interested her.
What was different about Peter? He did not typify the classic white male CEO. Why his strong desire to "break the glass ceiling" for women? She reflected that easily half the people in the room were female.
Peter explained, "My Mother lives a full life with great happiness and though she has some regrets and some disappointments, she has a wonderful perspective and it is always a treat to hear her share her experiences. Her insights:
There comes a time in your life, when you walk away from all the drama and the people who create it.
You surround yourself with people who make you laugh.
Forget the bad and focus on the good.
Love the people who treat you well, farewell to the ones who don't.
Life is too short to be anything but happy.
Falling down is part of life, getting back up is living.
Through Peter's writing Arianna saw something that reflected his inspiration to write about me, and so she asked me to write this from my point of view.
In the past women did jobs that were not validated. As wives and mothers, they had a vital job, but in the absence of a paycheck their value was degraded. I am proud of my son's insight reflecting the equal opportunity concept and know he was inspired by what I have done to change my life.
Peter's writing sparked an interest in Arianna, which may have begged the question -- How has this woman influenced this man? -- and so my perspective.
Women have always struggled to be recognized and validated in the private sphere. The social construct has only validated people in the public sphere because they receive money. My son sees and understands this and he and his wife have insured that their own family does not reflect this antiquated paradigm.
If I have made a difference by breaking away from the chauvinistic pattern that dominated our family and if the results of that encouraged a new way of thinking for us all then perhaps that attitude is reflected in my son's leadership. Arianna saw that a mother could be the role model that influenced her male child's point of view and how he deals with women in his life and in his work.
He saw that I was not going to remain in a place where there was no fulfillment. He saw that I needed to surround myself with people who loved and respected me and to do that I had to have the courage to change my life and focus on what could be and not what was.
Making changes are difficult but unless you have the courage to make these changes then you'll never have the chance or the possibility of what could lie ahead.
My advice -- don't accept the dictates of convention! Break through -- become your own person -- and perhaps greatness will be achieved, if not for you then for or through your children.