Yesterday, on behalf of MSLGROUP, I was delighted to sponsor a PRWeek Discussion and Roundtable at our MSLGROUP offices in New York. The conversations centered on the 2013 World Economic Forum (WEF) held in Davos, Switzerland, a few weeks ago -- and what our panelists took away from that prestigious gathering of more than 2,500 leaders from around the world.
The purpose of the WEF is to discuss key issues shaping global, regional and industry agendas. This year's theme, "Resilient Dynamism," is appropriate at a time when economic, political and social shocks reverberate around the globe with increasing regularity. It is a wakeup call to today's leaders to master strategic agility (dynamism) and risk resilience (resilient) in our complex, interconnected, yet vulnerable world. The Davos theme was the springboard for our discussions in New York and struck several chords with me as a business executive, a communicator and a woman.
Of particular interest to me was a discussion around the Davos plenary session, "Women in Economic Decision-making." In giving his perspectives on this forum, MSLGROUP CEO Olivier Fleurot commended the female panelists who challenged a very male audience to do more to empower women, both in business and in politics. It must have been inspiring to hear the "resilient dynamism" in the voices of the first woman president of Harvard University, the first female European Commissioner and Facebook's first female COO, among others.
Today, women are at the helm of many of the world's top PR agencies, including Porter Novelli, APCO Worldwide, Waggener Edstrom Worldwide and Cohn & Wolfe. And of course, no list of leading women communicators is complete without Arianna Huffington, the chair, president and editor-in-chief of The Huffington Post Media Group and the featured speaker at yesterday's PRWeek discussion on Davos. From the time she published a book in 1974 on the changing roles of women, Arianna has been a model of resilient dynamism for me and countless others. I know firsthand that in this business, resilient dynamism is a necessary, if unspoken, skill.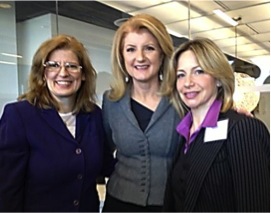 Serious Lady Power: Bernadette Casey, Senior Editor of PRWeek, Arianna Huffington, Chair, President and Editor-in-chief of the The Huffington Post, and Renee Wilson, President of MSLGROUP North America
So what, exactly, is resilient dynamism? Resilient is defined as "springing back into shape; recovering strength, spirits, etc., quickly." Dynamism is "continuous change, activity or progress; vigor." Separately and together, these words fit women to a T. Women know how to flex to meet the needs of their families, their careers and their communities. In fact, a Young Global Leaders session at Davos referred to women as, "flexperts." I can think of no better way to describe a woman's intrinsic nature and her ability to lead millions of citizens, motivate hundreds of employees or juggle the demands of a busy personal life.
Our event with PRWeekwas an exhilarating experience for us and the industry. I'm grateful to everyone who participated. I am proud that women figured so prominently in the discussions in Davos and at our event in New York. I am proud the communications field has so many capable and innovative women in leadership roles. And I am challenged and inspired to use my own resilient dynamism to its maximum potential -- and to help the women around me use theirs.
This post first appeared on mslworldwide.com