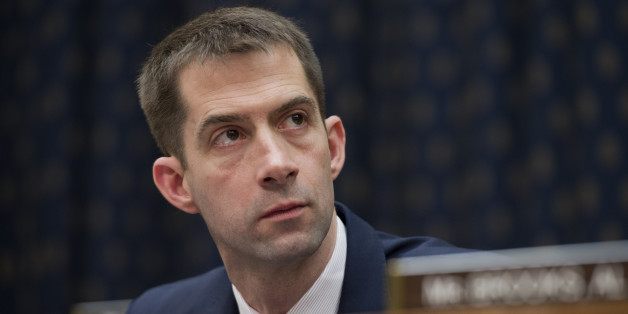 Last year the House Foreign Affairs Committee "marked up" an Iran Sanctions bill, taking amendments from committee members before sending the bill to the "Floor" for a House vote.
I offered five amendments. They all passed.
It's hard to believe, I know, but there actually is a spirit of bipartisanship on the Foreign Affairs Committee, so things went smoothly -- until it was Tom Cotton's turn.
Some background on Cotton: The Bush Administration created a secret program, of questionable constitutionality, that aggressively monitored the finances of alleged terrorists. The New York Times uncovered the program, and reported it. Tom Cotton, private citizen, called for the arrest, conviction and incarceration of the editor and two reporters who reported on the secret program.
In a deep red district in Arkansas, that soapboxing was good enough to get Cotton elected to the U.S. House of Representatives. Which plopped him down on the House Foreign Affairs Committee, with me.
No matter what the subject before our committee might be, Cotton always has to hold forth on how much he loves America. According to Cotton, he really, really loves America. Almost in the biblical sense.

Let me put it this way: When I hear Cotton, I think of Lady Macbeth, another great patriot. "Out, damned spot! Out, I say!"

Which, in Arkansas, qualifies Cotton for the U.S. Senate. Yes, Tom Cotton is running for the U.S. Senate.

So anyway, there we were, trying to pass a bill that would keep Iran from getting nukes, and Cotton thought that he had come up with the perfect idea: imprison all of the Ayatollah's relatives. Not the Ayatollah himself, just his relatives.

Cotton offered an amendment that would extend sanctions under the bill not only to the high government officials of Iran, but also to their relatives "to the third degree of consanguinity." In case you missed the quiz on consanguinity, that's children, grandchildren, great-grandchildren, parents, brothers, sisters, nephews, nieces, uncles, aunts, grandparents and great-grandparents.

But somehow, not second cousins twice removed. It must have been an oversight.

The enforcement mechanism for our sanctions is a criminal penalty. Specifically, five years in a federal prison. So if the Ayatollah violated our sanctions law, and his entirely innocent niece visited the United States, she'd get five years in the slammer under the Cotton Amendment. Just for being the Ayatollah's niece.
By the way, the Cotton Amendment is a constitutional threefer: it violates three different provisions of the U.S. Constitution at the same time. They are the Fifth Amendment, the Eighth Amendment, and the very rarely heard of "Corruption of Blood" clause. It's rarely heard of because almost no one is so stupid as even to contemplate punishing the relatives of wrongdoers.
Except for Tom Cotton.
When Cotton offered his amendment, I was tempted to say, "Now wait just a cotton-pickin' minute." But that would have been disrespectful to Bugs Bunny and possibly others, so I didn't. Instead, I patiently pointed out the constitutional infirmities of the Cotton Amendment.
To their credit, the Republican Members of Congress have some regard for the oath that they took to preserve the Constitution (as they see it), so there were certain murmurings on the other side of the aisle. The GOP Chairman asked Cotton to withdraw his amendment, and he reluctantly did so.
I thought that that would be the end of it. But no. Cotton came to me afterward, and offered to "work with me" to put his amendment back in the bill before the House voted on it. As one Harvard Law School graduate to another, I asked Cotton how he thought that imprisoning nieces for the acts of their uncles was constitutional. He told me, "they're just foreigners; they have no rights."
I think that he pronounced it "feriners."
If Tom Cotton lived in Gotham City, he would reside at the Elizabeth Arkham Asylum for the Criminally Insane. But since Cotton's home is Arkansas, not Arkham, that makes him a Congressman instead, and now a U.S. Senate candidate.
Cotton's opponent is Senator Mark Pryor. Pryor is not my favorite Senator, but Tom Cotton makes Mark Pryor look like Mother Theresa.
There have been four polls of the Cotton-Pryor race this month. Three of them have Cotton ahead. Cotton's average lead is four points, with a huge 14 percent undecided. In other words, it's a very tight race.
And, of course, the fate of the Senate hangs in the balance. But you knew that already.
When I wake up on Wednesday, November 5th, I want it to be with two thoughts on my mind:
(1) We won.
(2) Tom Cotton lost.
Courage,
Rep. Alan Grayson