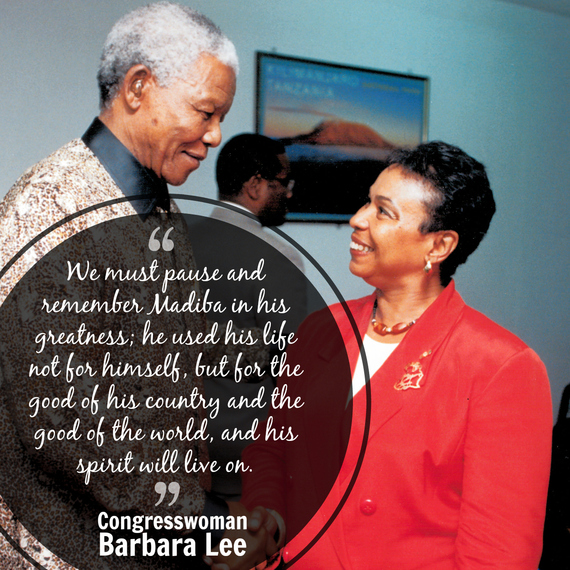 Throughout my 30 years of public service, I have had the privilege to travel throughout the world and meet and work with many heads of state and liberation movement leaders. There is no trip that will be as memorable and impactful as my most recent one to South Africa as part of the official delegation to President Mandela's memorial service. It was a truly humbling experience. It was one that triggered so many recollections, reflections, and memories about this giant of a man whose contribution to the world will never be duplicated or forgotten.
Experiencing the memorial services with my friends and colleagues in the Congressional Black Caucus was very powerful, and though the weather was miserable, we enjoyed the fellowship as we celebrated President Mandela's life and listened to speakers pay beautiful tribute to Madiba.
Throughout the past few days since President Mandela's death, I've been reminded of moments as I worked with the Free South Africa and Free Nelson Mandela movements. I've been reminded of the risks we took and what was at stake. From my getting arrested at rallies to participating in a burning passbook rally, and many other experiences, I vividly remember giving a speech at an ANC conference from the pulpit of the Riverside Baptist Church, where Dr. Martin Luther King Jr. gave his "Beyond Vietnam" speech in 1967. That was a critical moment for me and my political life. I wish I could find a poster from that speech to give to my grandchildren.
Although the African National Committee was banned in the United States and was long-considered a terrorist organization, I had the great privilege to know personally and to work with many great men and women who opened my eyes to the brutalities of apartheid. These fighters, along with Randall Robinson, the founder of TransAfrica, trade unionists, students, artists such as Harry Belafonte and many more influenced my perspective on international liberation movements and it became clear to me that governments are very often on the wrong side of history, including my own government.
In 1994, I was invited to serve as an election observer on a delegation led by Lennox Hinds and the National Conference of Black Lawyers. Upon arriving in South Africa, our first assignment for the first free elections was to monitor the clean-up of a bombing in front of the ANC headquarters that killed 9 people and injured over 100. Violence, death, and destruction were rampant in the streets, but nothing could stop the brave and determined people of South Africa from casting their vote. That night at the hotel, I wrote a letter to my only grandchild at the time, Jordan, explaining the importance of fighting to end apartheid in South Africa and racism at home. The concerns over violence were real and credible, and I prepared for the worst in the event that I would not return home. I still have this letter, and I thank God it never had to be delivered to her.
Another of my assignments during the election was to monitor the voting place at the Chris Hani Hospital in Soweto. I watched a pregnant woman in labor waiting in line to vote, and I was amazed at what South Africans would endure just to cast their ballots. I watched an amputee be rolled in in a wheelbarrow so that he could participate in this momentous election. As I witnessed the endless lines of people waiting patiently, my thoughts took me to my own country and the low voter turnout in the black community. The black community felt disaffected at the time; they felt there was no hope, no reason to vote.
I brought home several unused ballots as souvenirs and was struck by the lengths South Africa went to to make voting as simple as possible. Amongst the violence, the ballots were easy to read and helpful. The ballots were in color with pictures and party designations. There were several voting days, not just one. Election officials were stationed at every polling place to offer assistance and explanations. I couldn't help but wonder what would happen if the United States had a system like this. That few weeks forced me to reflect on our own system, about the possibility of electing our own African American president. In 1994, I didn't think it would be in my lifetime.
Nelson Mandela became famous for being in prison, but he became great for what he did after prison. As president, Madiba continued to champion unpopular causes, HIV/AIDS among them. HIV/AIDS had a ferocious grip on South Africa, but stigma, fear, and prejudice stopped many leaders from addressing it. No one spoke publically. In 2005, that changed. President Mandela's son, Makgatho, died of AIDS, and the global pandemic became personal. He showed true leadership in that time and encouraged other African leaders to break the silence and create a plan to combat what was becoming a death sentence to millions of Africans. I joined President Mandela at a special session of the United Nations to address HIV/AIDS and was speechless in his presence. I spent time listening to his wise counsel and felt his inner peace, strength, and serenity radiating through him.
He has inspired me in so many ways, and one of my proudest moments in Congress was in 2008 when I led the effort to lift President Mandela and the ANC off of the United States' Terrorist Watch List. It happened quickly with a herculean effort in the middle of the night. I wanted this legislation to pass quickly so Madiba would be free of the terrorist watch list in time for his 90th birthday.
However, the legislative rules dictated in that situation that a Republican and a Democrat had to keep the floor open for business and was getting ready to adjourn. I asked a Republican, Congressman Ed Royce, to stay with me on the floor and he, Congressman Conyers, and I, led that bill to passage, just in time for the birthday celebration.
Many other warriors here in the United States have added their ferocious voices to these struggles over the years. From former Congressman Ron Dellums, my predecessor and former boss, who introduced anti-apartheid legislation in 1972 reintroduced 12 times before it finally passed in 1986 to the thousands in my own Congressional district who joined the Free South Africa movement and welcomed President Mandela with open arms to Oakland and the Bay Area in 1990.
President Mandela taught us so many lessons. From reconciliation and personal perseverance to the true meaning of public service and the importance national liberation movements, what he taught us was to never give up the fight for justice.
His legacy will live on forever, and I'm proud to have been a witness to history.