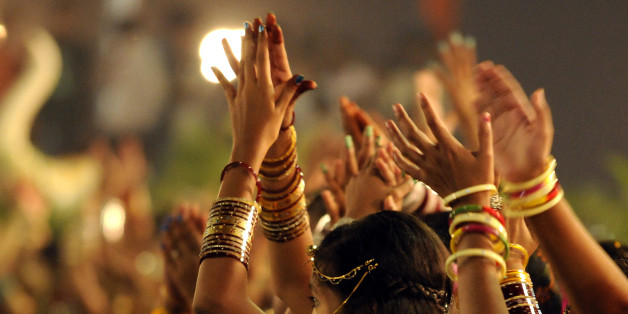 Every year around this time, I have the privilege of celebrating the special festival of Navratri alongside tens of thousands of Indian-Americans in my district. I enjoy attending the many garbas that are hosted throughout our community, with men clad in elegant jabho lengos and women in their colorful chaniya cholis, dancing late into the night to the beat of Indian drums. It is a truly remarkable atmosphere -- the young and old dancing together, others enjoying spicy samosas and sweet chai, and many onlookers taking in these memorable experiences.
While the nine days of Navratri are filled with joyous celebrations and feasts, it is also a time to honor Durga, the mother goddess of power. It marks a special time that symbolizes the triumph of good over evil, just as it is said that Durga defeated the demon Mahishasura after a lengthy battle lasting nine days and nights. This is the deity that revelers dance around during garba and is prayed to for protection during the Aarthi. Navratri is also an occasion to practice discipline, as many fast during this period and look to purify themselves and seek new beginnings.
Navratri not only brings friends and families together, but unites our community as a whole.
What I find most remarkable about this festival is its ability to bring people from various faiths, religions, and cultures together. I recall visiting the Old Bridge Garba at Carl Sanburg Middle School this past weekend and seeing several young Indian-Americans teaching their non-Indian peers in traditional Indian garb how to dance to garba for the first time. Navratri has become a learning experience in communities where it is celebrated, with more and more members of the community taking part in the festivities. I am sure that as time passes we will continue to see even larger garbas and festivals throughout the country.
As a founding member of the Congressional Caucus on India and Indian-Americans, I have long sought to ensure that the values of the Indian American community are represented in Congress. My experiences during Navatri reinvigorate me and remind me why it is so important that the issues concerning the Indian-American community receive close attention in Washington. I have also been encouraged by the success of the recent visit of Prime Minister Modi to the United States and believe it important that we continue to work towards a stronger U.S.-India relationship.
I wish all those celebrating across New Jersey and the rest of the world a very happy and festive Navratri.
United States Representative Frank Pallone represents New Jersey's 6th Congressional District. He is also a founding member of the Congressional Caucus on India and Indian-Americans.
Enjoyed Navratri celebration in Old Bridge w/ Kiran Desai & friends last night. Here we are at altar to the goddess pic.twitter.com/mrVwx8OFpD

— Rep. Frank Pallone (@FrankPallone) September 28, 2014