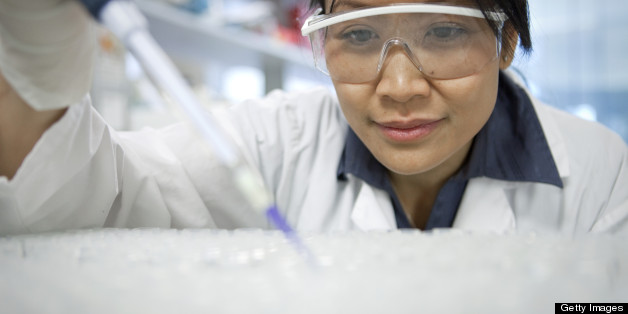 The fight to find a cure for breast cancer is one that deserves the full support of our federal government. That is why in the early 1990s, I led the effort to create an Office of Research on Women's Health at the National Institute of Health (NIH), and secured the first $500 million in dedicated funding for NIH to research a cure.

In the years since, advances in biotechnology have brought more promise to our efforts to find a cure. Thanks to genetic testing, we can now determine a woman's likelihood of developing a hereditary form of breast cancer -- information that allows a woman to make informed decisions about her health.

You may have recently read about the decision made by actress Angelina Jolie to have a dual mastectomy after a genetic test revealed that she had an 87 percent chance of developing breast cancer. This decision was surely not easy for Ms. Jolie and her family, but it was one that she felt was right.

Ms. Jolie's decision may have been easier to make because of legislation known as the Genetic Information and Non-Discrimination Act (GINA). I am proud to have authored this law that has been called the "first major civil rights legislation of the 21st Century." Signed into law by President George W. Bush in 2008, GINA prevents health insurance companies from revoking your insurance, or employers from firing you from your job based upon your genetic information.

Prior to the passage of the Genetic Information Non-Discrimination Act, women who suspected they might be at risk for hereditary breast cancer were often advised by their doctors not to undergo genetic testing because they could lose their job or their health insurance -- or both -- if the test confirmed that they were at risk. GINA gave women strong legal protections so that they can ask important questions and seek important medical answers to fight breast cancer and win. In addition, GINA gave people the freedom to participate without fear in research studies about the genetics of cancer and those studies have made important advances in our effort to find a cure.
Our nation took another important step forward when Congress passed the Affordable Care Act into law. The Affordable Care Act requires private insurers to offer free testing and genetic counseling to women who are at risk of hereditary breast or ovarian cancer. This measure alone makes our most technologically-advanced medical testing available to millions of women in America, not just the luckiest few.
We are making great strides in the fight against cancer. Thanks to strong laws like GINA and the Affordable Care Act, we are closer than ever to finding a cure.