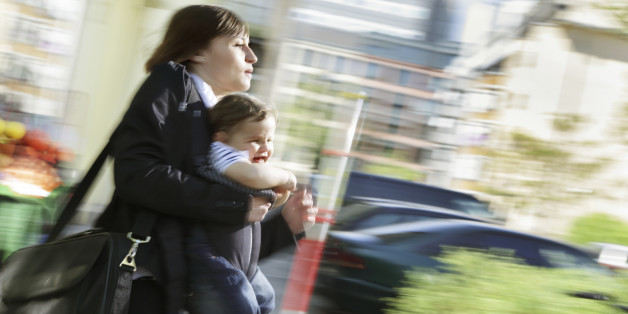 I remember working at my mother's small retail store as a teenager, helping her assist customers, stock shelves, and change window displays. The store kept my mother busy, and she worked tirelessly to keep the business open while caring for my brothers and me, the house, and a big garden.
What I also remember is that there weren't many women working outside the home at the time. Most of my friends' moms stayed home, and that seemed to be the norm. Today about 65 percent of married women with children work outside of the home, and the number of families led by a single mother has more than tripled. This demographic shift is significant, but what's troubling is that our workplace policies have not adapted to reflect the changes in the workforce.
It's also troubling that a disproportionate number of "female-headed working families" are living in poverty. Many mothers are trying to care for their children, look after elderly parents, and balance work responsibilities, and too many are paid less than their male counterparts for doing the same work.

Recently a broad coalition of organizations, along with state and federal lawmakers, gathered in Portland to discuss some policies that we can enact to support families and strengthen our economy and our communities. U.S. House Democratic Leader Nancy Pelosi was our guest, and she spoke about unleashing the full potential of women through policies like equal pay, affordable child care, and paid leave.

During the forum, one single mother described the demanding task of trying to provide for her child while living on minimum wage. For her, the cost of child care is nearly out of reach and the lack of workplace flexibility or paid time off leave her with no options if her child is sick.
Another speaker emphasized why and how family-friendly policies are good for businesses. Joni George, the Vice President of Human Resources at Climax Portable Machining & Welding Systems in Newberg, told us about how she started work years ago when she was a young mother. Her experience helped inform her work today, and she said that family-friendly policies help retain workers and build a more productive team. Her company has developed workplace policies that support the changing workforce, resulting in less turnaround and a loyal and content workforce. This is a marker of a 21st-century economy, and it should serve as a successful example for other businesses to follow.
Last June I attended The White House Summit on Working Families, where businesses, economists, workers, labor leaders, and policymakers gathered to discuss how to have an economy that works for all Americans. I was impressed with the number of businesses large and small that discussed how they changed their policies to reflect today's workforce. As a result, they save money by reducing turnover and they have more productive workers.
Organizations like Family Forward Oregon continue to advocate for policies that help working families succeed, and Oregon has an impressive coalition that is advocating for improvements. The status quo for working mothers is not sustainable. Mothers are faced with impossible choices, and too many are struggling to give their children what they need without jeopardizing their jobs. As more women serve as breadwinners for their family, our policies need to help them advance, not restrict their opportunity to succeed.