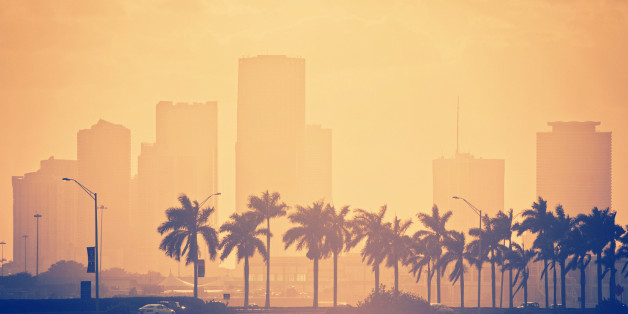 Last week, a group of well-respected Florida scientists sent a letter to Florida Governor Rick Scott and requested a meeting to discuss the environmental and economic threats posed by climate change to Florida. The letter read, "We note you have been asked several times about how, as Governor, you will handle the issue of climate change. You responded that you were 'not a scientist.' We are scientists and we would like the opportunity to explain what is at stake for our state."
I applaud these scientists for taking the initiative. In an ideal world, the Governor of Florida would actively seek out their expertise on a comprehensive plan for preventing and mitigating the risks associated with climate change to our communities, our environment, and our economy.
We were reminded just how serious those risks are by the National Climate Assessment released earlier this year. A peninsula situated in the vulnerable Southeast region of the United States, Florida is especially threatened by rising sea levels, increasing temperatures, and water availability.
In South Florida, we understand the danger posed by rising sea levels. Heavy rain and tropical storms already overwhelm drainage systems designed to dump floodwater into the ocean. Just a few inches on top of current sea levels would allow saltwater to permeate our porous landscape and seep into the Everglades, jeopardizing the freshwater supply relied on by nearly 6 million Floridians. The economic impact of more flooding is also staggering. In Florida, between $15 billion and $23 billion of existing property will likely be underwater by 2050, and the value of the property lost to rising sea levels could rise as high as $208 billion by the end of the century.
Increasing temperatures and water availability affect public health, agriculture, energy use, and transportation infrastructure. South Florida's aging population already struggles with high rates of chronic illnesses, including heart disease and respiratory problems. Heat-related mortalities will only aggravate the health care challenges we face and possibly result in up to 36,000 additional deaths each year. By the end of the century, temperatures in the Southeast could reach 95 degrees or higher over 120 days each year, decreasing labor activity in vital sectors like construction, transportation, agriculture, and environmental restoration.
It's time for all of us to listen to the scientists. Just last week, a report released by the American Meteorological Society reaffirmed that 2013 continues to reflect trends of a warming planet. The trends, occurring throughout the world, mirror those happening within Florida: rising sea levels, increasing global temperatures, and rising greenhouse gas emissions.
While Governor Scott has shrugged off climate change, South Florida's leaders understand that confronting climate change is not about politics. It is about survival. That's why several counties have formed a Climate Compact focused on reducing the risks posed by global warming.
Yet local efforts are no replacement for a coordinated state and federal action plan to reduce the carbon pollution that is warming our planet. We need to protect our environment for future generations with a comprehensive, nationwide action plan to reduce carbon emissions, mitigate the threats, and accelerate our adoption of clean, affordable renewable energy technologies.
Combating climate change is a priority in South Florida. It must be a priority in our Governor's mansion and in Congress too.