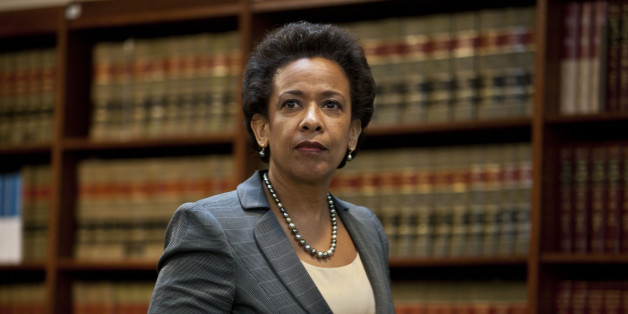 After last Tuesday's devastating results in the midterm elections with Democrats losing control of the Senate and other vital seats, including several governors' races, many were frustrated. I myself was extremely disappointed by Democrats that ran away from President Obama, and even more importantly, ran away from his policies and successes like the Affordable Care Act, an improved economy, lower unemployment rates, criminal justice reform initiatives and much more. As I was tempted to wallow in disgust and indignation, the president made an inspiring announcement: his nomination for the next Attorney General, Loretta Lynch. In every sense of the word, she is a rose in the midst of thorns.
Ask anyone who has ever worked with, dealt with or interacted with Lynch and they will tell you that she is fair, courageous and serious when it comes to upholding the law. I had the pleasure of knowing her in 1997 when she was a senior prosecutor in the case against NYPD officers accused of beating and sodomizing Haitian immigrant Abner Louima. Though she was extremely dedicated and always balanced, she never sought headlines; for her it was always about doing effective work. And while she was part of the team that successfully prosecuted the case against the officers in the Louima incident, she could never be attacked as being anti-police because there were other cases which she did not take on, like the one against the cops involved in the shooting death of Sean Bell.
Despite her tremendous track record, Lynch has kept an extremely low-profile and humbly continued her work prosecuting a range of criminals from terrorists to corrupt politicians. Last year, she announced a massive immigration bust at 7-Eleven stores in Virginia and New York accused of running a modern-day plantation system. She has overseen the prosecution of several elected officials, including Pedro Espada Jr., a former Democratic New York State Senator and William F. Boyland Jr., a Democratic Assemblyman from Brooklyn. She also led the investigation of Republican Rep. Michael Grimm of Staten Island who was indicted on 20 counts earlier this year.
Lynch and her team have previously prosecuted several terrorism cases, including one against the men attempting to blow up bombs in subways in New York City. As if these accolades weren't enough, she has also worked for the International Criminal Tribunal for Rwanda, established by the UN Security Council to "prosecute persons responsible for genocide and other serious violations of international humanitarian law." Lynch is without a doubt a consummate professional whose entire career embodies impartiality and justice.
When current AG Holder announced his resignation, many, including myself, were saddened to hear the news. For those of us in the civil rights community, we were pleased to see Holder take on modern-day challenges like voter suppression, sentencing disparities and ways to reform the criminal justice system overall. Once he stated his intent to resign, we were all clearly anxious to see who his replacement would be. My great fear was that after the groundbreaking work Holder did preserving civil rights, voting rights and more, his established agenda would be compromised. But I am pleased to see that Lynch is someone who will continue the tradition that he began. I know many Americans may feel disillusioned after last week. There is a lot of reflection that we must do as individuals, as communities, as leaders and as those who are on the side of progress. But there is also room for encouragement with the nomination of Loretta Lynch. She is by all accounts, and by my own personal experience, a gutsy, no-nonsense, fair and tremendously qualified legal mind who will serve this nation well as the next Attorney General.
There may be a lot of thorns everywhere right now, but she is the rose pushing through to lead the way.