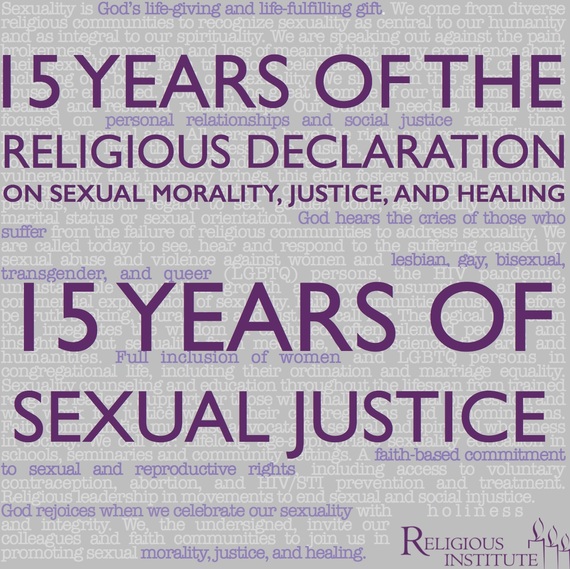 Fifteen years ago, the Religious Declaration on Sexual Morality, Justice, and Healing was published in a full page ad in the New York Times, surrounded by the names of more than 800 of the country's leading religious leaders. The Religious Declaration was a clarion call to the nation's religious leaders to break the silence around sexuality that persists in too many faith communities. It urged religious leaders and faith communities to promote comprehensive sexuality education, sexual and reproductive health and justice, and the full inclusion of women and "sexual minorities" in congregational life and society at large.
Today, more than 4600 religious leaders have endorsed the Religious Declaration. They come from every state in the union and more than fifty different faith traditions. The endorsers include the heads of denominations, presidents of leading seminaries, and clergy from thousands of congregations.
The last 15 years has seen remarkable progress in furthering the vision of the Religious Declaration. Women are currently the leaders of such denominations as the Episcopal Church, the Christian Church (Disciples of Christ), the Metropolitan Community Churches, and the Evangelical Lutheran Church in America. Fifteen years ago, the Religious Declaration upheld the rights of "sexual minorities" because there was little recognition or understanding of the transgender or queer community. Today, the Religious Declaration has been updated to reflect the great visibility and participation of bisexual, queer, and transgender persons.

Marriage for same sex couples was not on the national agenda 15 years ago; in fact, the Religious Declaration originally called for the "blessing of same sex unions" because, in 2000, marriage was seen as unobtainable. Today, 36 states and the District of Columbia allow same sex marriages. In 1999, only clergy from the Unitarian Universalist Association were allowed to perform same sex unions; today, at least a dozen Christian and Jewish movements allow their clergy to perform them. Fifteen years ago, few seminaries provided sexual health training for their students and no denomination required future clergy to demonstrate competency in sexuality issues. Today, 30 seminaries meet the criteria of a sexually healthy seminary, and at least four denominations require preparation in sexuality for their clergy candidates.
Yet, much remains to be done. Access to family planning and abortion services are more limited than they were fifteen years ago. Few congregations provide lifespan sexuality education. Allegations against clergy for sexual misconduct have decreased, but misconduct is still occurring in almost all denominations. Many calls for religious liberty misguidedly believe that religious freedom means imposing one's religious beliefs on others. Many religious communities still remain all too silent on sexuality issues, and the two largest religious traditions in the U.S. still fail to fully include women and openly LGBTQ people in their professional leadership.
Fifteen years after its original publication, the Religious Declaration on Sexual Morality, Justice, and Healing is still a prophetic vision of sexual justice yet to be fully achieved. Religious leaders are encouraged to endorse the Religious Declaration and join the national movement for sexual justice. The Religious Declaration ends, "God rejoices when we celebrate our sexuality with holiness and integrity." May we make it so.