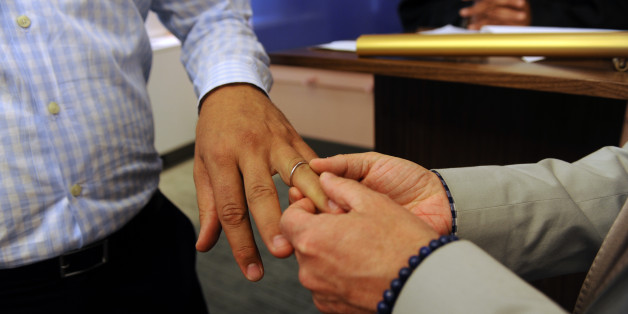 I had no idea this wedding would change our nation.
In the summer of 2011, shortly after New York State had legalized marriage for all, I received a phone call. The man on the other end was Ijpe DeKoe. Ijpe told me he wanted to get married to the love of his life -- Thom Kostura -- the very next day and he was asking me to do it.
Ijpe's urgency was not born of natural excitement alone. He had a much more practical reason for his urgent request. In two days Ijpe would be deployed to a forward operating base in Afghanistan. There was a very real possibility Ijpe would never see Thom again.
He asked about the church fees for a wedding. I told him the cost and there was a silence. Quickly I added, "However, in gratitude for your service to our nation, we want to give you the church and my services at no cost."
Ijpe was willing to put his life on the line for America; for our rights, freedoms, and safety; for men, women and children he had never met; and for Tennesseans, New Yorkers and Texans, alike. How could anyone get in the way of his marriage to Thom? So I waived all customary fees and the wedding was on.
Ijpe and Thom would enjoy a 24-hour engagement and we would meet the next day for premarital counseling and perform the wedding.
We talked for about an hour before the wedding. We went over the usual pre-marital topics: growing old together, fighting well, finances, sex, and the unusual topic of a nine month separation they would face immediately, as a result of Ijpe's Afghanistan deployment.
I have performed many marriage services and pre-marital counseling sessions, and after meeting with Ijpe and Thom I knew, right down to my core, that this couple had what it would take to make a good, life-long marriage together.
Thom's dad and step-mother were the witnesses at the wedding. They were energetic people, who loved their son completely and rejoiced in his love for Ijpe.
The wedding was simple, traditional and had the usual ending, "By the power vested in me, by the church and the state of New York, I now pronounce you husband and husband. You may now kiss." It was a beautiful $70 wedding.
At some point Ijpe remarked, "We just want to be another boring married couple." And that was it. Until last week.
Now, Ijpe and Thom's marriage is being scrutinized by the highest court in the land.
Their marriage, and the marriage of several others, have become the acid test by which the United States Supreme Court considers if there is a right for gay folks to marry, to carry equal responsibility for each other, and publicly recognize their joy in one another. Do we have this right...? Is there marriage equality for all?
At this question, I can't help but assume my Pastoral collar and recall the question that confronts Philip in the Book of Acts chapter 8 verse 36, also known as the story of Philip and the Ethiopian Eunuch.
Most plainly, the eunuch asks Philip, "Here is water, what is to prevent me from being baptized?"
You see Philip was heading home to Ethiopia from Jerusalem when he met the eunuch. He then learned the eunuch had worshiped in Jerusalem and was now reading the prophet Isaiah.
Philip asked him if he understood what he was reading and he said no. No one had explained it to him. So they talked deeply about scripture, about the God of Israel who called his people holy, about how God had come to them through Jesus, how he had been crucified and raised from the dead, how his Spirit was among them, leading them, guiding them, bringing others to faith in Jesus. And now, having learned from Philip all that it means to profess faith in Jesus Christ, the eunuch wished to be baptized.
Yet, the eunuch was a sexual minority, a queer man, and having been moved by Philip's witness to the lord, he asked "Do I have the right?" Philip used to know the answer to that question. No.
He knew the prohibition against eunuchs (Deuteronomy 23:1). Yet, God clearly had spoken to this man's heart and led him to Jesus. And so when the eunuch asked, "Here is water. What is to prevent me from being baptized?" Philip knew the answer was simpler than his own confusion. Nothing.
Nothing is to prevent this baptism. Philip went into the water with the man and baptized him.
God brought this man into the assembly -- this sexual minority, this queer man -- was now a baptized child of God. God changed Philip's mind and the eunuch's life.
Today, as in Philip's time, God's Spirit is still at work, changing minds, reforming societies, bringing us all into the assembly.
And so today, I put the story of Philip and the Ethiopian Eunuch, and of Ijpe and Thom, before all.
Here are two men. Two men who love one another and have sacrificed for us all. What is to prevent them from being married? The answer is simple. Nothing.
--
Pastor Foster serves Incarnation Lutheran Church, Bridgehampton, NY and St. Michael's Lutheran Church, Amagansett, NY. She is a member of the Bridgehampton Volunteer Fire Department and resides in Watermill, NY with her wife Pamela and daughter Zoia.
Known as the church of "God's work. Our hands," the Metropolitan New York Synod (MNYS) of the Evangelical Lutheran Church in America (ELCA) covers 200 congregations in all five boroughs of New York City, Long Island, and the Lower Hudson Valley. The church emphasizes faith in Jesus Christ, unity among Christians and service in the world. Its roots are in the writings of the German church reformer, Martin Luther.
To learn more about the church visit: www.mnys.org or www.facebook.com/mnyselca, www.hamptonslutheran.org