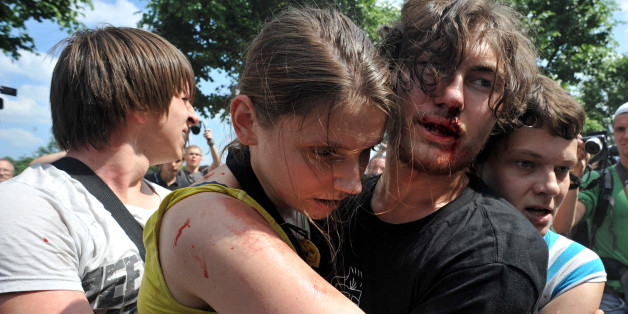 On Friday, Sept. 6, as President Obama met with the G20, he took time from the crisis of Syria to meet with Russian lesbian, gay, bisexual, transgender and queer (LGBTQ) advocates who now live under repressive Russian laws that prohibit even talking about the rights of sexual minorities. The lives of LGBTQ people hang in the balance under these increasingly heinous laws.
Just weeks ago President Obama was in Africa urging leaders there to respect the human rights of all people regardless of sexual orientation or gender identity. President Obama understands the global nature of our struggle -- perhaps even more than some of the movement leaders here in the United States. Obama could have acquiesced to the arguments that there are "cultural differences" that should give Africa and now Russia a waiver for their attitudes and laws, but he has pressed on.
Some might say that Obama's foray into the LGBTQ human rights challenges in Russia are far beneath the importance of a potential strike against Syria for using poison gas. The strike has the potential to draw Russia, Iraq, Iran, Lebanon, Israel and other countries into unforgiving wars.
But let's be clear: All the elements for genocide against LGBT people are lining up from Russia to Eastern Europe to the Middle East and sub-Saharan Africa. More than 70 countries still have laws that make same-gender love illegal, and seven countries make it punishable by death.
Prejudice and antiquated laws are being ramped up to implement prohibitions that warrant increasing penalties of persecution, imprisonment and execution. The campaign to stop LGBTQ rights is being exported to Africa, Latin America and around the world. Fundamentalists who call themselves conservative evangelicals have lost ground at home on marriage equality and now promote-long debunked myths about gay people in other countries to leverage virulent homophobic responses.
Scott Lively, now being sued for fomenting the "kill the gays" bill in Uganda, wrote an open letter to President Vladimir Putin saying, "As a long-time leader in the pro-family movement who toured your country in 2006 and 2007 advocating the very policy you have enacted, I want to caution you not to assume that you have fully solved the problem by the enactment of this law." He goes on to praise Uganda's resistance to LGBTQ people and said the anti-homosexuality bill "never reflected any intention of the Ugandan government to exterminate homosexuals." He then issued a de facto call to arms against LGBT people by comparing our human rights movement to Nazis in Germany and called on Putin to "redeem the future of mankind from a Fascist Leviathan, just as we did in World War II."
It is this kind of rhetoric that gives tacit support to street violence against peaceful demonstrations while police turn their heads, or worse, turn their batons on LGBTQ advocates.
As the head of Metropolitan Community Churches (MCC) with ministries in 40 countries, I have put out a call to pray for our brothers and sisters in Russia who are struggling with this new era of repression and outright oppression of LGBTQ people.
In addition to prayer, we must act!
The International Olympic Committee must support LGBTQ human dignity during and long after the Olympics are over. They could use their good offices, in advance of the events in Russia, to insist on dialogue about human rights.
The United Nations must expand its campaign for LGBTQ human rights throughout the world and specifically address the situation in Russia
The World Council of Churches must get off the fence and also acknowledge LGBT rights as human rights and challenge Orthodox, Anglican, Catholic and conservative Christians to stop the persecution.
Religion can be a force of great tolerance, peace and love, but religion can also be a source of great intolerance and oppression. Religious and political leaders must go back to core values of respect for human dignity and life itself. As Hillary Clinton stated as Secretary of State, "gay rights are human rights." Prejudice can be unlearned, and laws can be repealed. Stop the repression now.
We send our prayers to Russia with love.