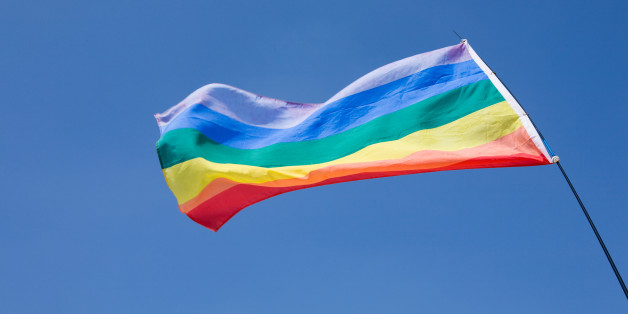 In recent weeks, federal courts in Utah and Oklahoma have ruled that state bans on same-sex marriage are unconstitutional. These rulings -- in states that have long been regarded as likely to be among the last to legalize same-sex marriage -- do not change the law in the South. However, they do inspire hope as we keep pushing for LGBT equality across a region where anti-LGBT discrimination persists in every area of life -- employment, health care, adoption and marriage.
These rulings are also strategically important because they demonstrate exactly how fragile such bans -- like North Carolina's Amendment One -- are. Federal courts are finding that there are no legitimate legal grounds to uphold state bans on same-sex marriage. With cases now pending in most Southern states, this has important strategic implications for LGBT organizers on the ground here.
Amendment One and laws like it will fall. We can hasten this process by putting increased pressure on these laws in the public square. First, we must continue standing up to discriminatory laws in our public and private lives to raise awareness about the harms of these laws, and we must continue asking others -- citizens and elected officials -- to join us in taking a moral stand against these laws. Second, we can raise awareness about the flawed arguments being used to defend marriage bans on same-sex marriage in the courts, positions that are increasingly out of synch with public opinion.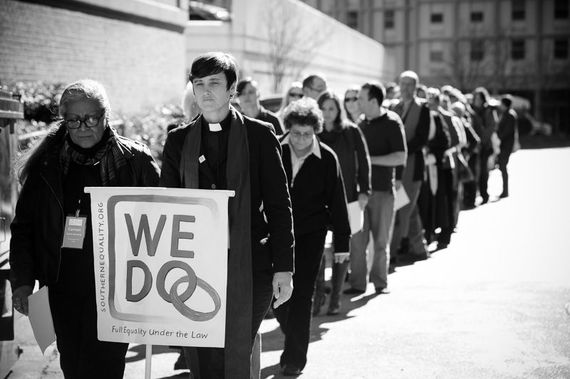 In this moment, the South once again holds within it the tensions of the American democratic process: Discrimination against LGBT people persists from cradle to grave as the law of the land, and yet we could -- on any given day -- break through to become full and equal citizens. At a recent marriage equality action in North Carolina, I saw a friend in her 80s who had lost her partner of many decades. "I think we may get there in my lifetime," she said, her hand tight on my arm, the sun shining on her short, white hair.
Civil rights movements are always fueled by the courage of people taking action in the very communities where discrimination persists (e.g., any community in the South). There are many ways to resist discriminatory laws and systems: a Mississippi couple standing at a marriage license counter and being denied a license, taking this action to make visible the harms of a discriminatory law as part of the Campaign for Southern Equality's (CSE) WE DO Campaign; a young transgender man entering a South Carolina courtroom to petition for a name and gender marker change; an employee of a large Southern corporation finding the nerve to write her boss and request equal benefits for her legal spouse; a North Carolina couple filing their legal marriage license as a public document in their home county to create a record of their love and commitment, also part of the WE DO Campaign.
People sometimes ask, "What do any of these actions actually accomplish?" In response I say that we should never underestimate the power of the human spirit in the face of injustice. The plaintiffs in the Oklahoma marriage case -- Mary Bishop and Sharon Baldwin, and Gay Phillips and Susan Barton -- filed that suit almost a decade ago. Pause to think about what it might have felt like to take that step in 2004 (eons ago in terms of LGBT rights, especially in a traditional red state). These couples knew that they were on the right side of history and that the Oklahoma ban on same-sex marriage was both unjust and unconstitutional; they had the courage and perseverance to act on this premise. Their victory offers another lesson about what is possible when people find the strength to stand up and express simple truths: We are equal, and this law is unjust.
Parallel to taking such actions, we also need to shine a light on how opponents of LGBT equality are defending marriage bans as federal court challenges progress in Virginia, North Carolina, South Carolina, Tennessee, Kentucky, West Virginia, Alabama, Mississippi, Arkansas and Louisiana. Doing so will not impact the courts' rulings, of course, but it will help the public understand what's at stake in these crucial cases.
For example, in North Carolina the American Civil Liberties Union (ACLU) has challenged Amendment One as unconstitutional in federal court. In an initial brief from North Carolina Attorney General Roy Cooper's office, two of the primary arguments that the state made in defending Amendment One were that "North Carolina's laws do not single out 'lesbians and gay men,'" and that North Carolina has a legitimate interest in banning same-sex couples from marrying. It's worth noting that similar arguments are being rejected by every federal court that hears them. In Oklahoma, U.S. District Court Judge Terence C. Kern found, "The Court recognizes that moral disapproval often stems from deeply held religious convictions ... However, moral disapproval of homosexuals as a class, or same-sex marriage as a practice, is not a permissible justification for a law."
I do not believe that, over time, these arguments will hold up to the scrutiny of fair-minded Southerners. Here in North Carolina, growing numbers of people support marriage equality (polling conducted by Elon University in April 2013 found that 44 percent of the general population and 55 percent of those under 30 support marriage equality) and, increasingly, they will find the state's arguments alienating and out of touch with the realities of their own families and lives.
The tides of history are moving quickly, and everyone -- from citizens to elected officials -- faces a simple, important question: "If I believe a law to be discriminatory, what am I prepared to do to change it?" More citizens are answering this question by saying, "I will do everything in my power to put pressure on this law." Elected officials must decide if they will continue to defend or enforce a law that clearly singles out a minority group for discriminatory treatment, even as courts across the country find similar laws to be unconstitutional. Will they acknowledge the ways that discriminatory laws hurt LGBT people and families and take action to change these laws?
Every day that we live without basic rights and with the burdens of anti-LGBT animus, people suffer. That is why the need to act in the South is a matter of moral urgency. When people are suffering, patience ceases to be a virtue. If ever there was a time for cautiousness, it has long since passed. I'm grateful to the plaintiffs and attorneys in those Utah and Oklahoma cases for reminding us what is possible when you act boldly.