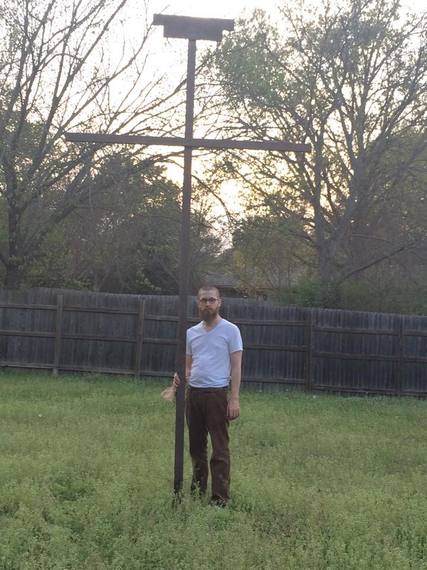 While churches always have a plethora of odd smells, there is one that is particularly memorable. Smelling like a mix of mold and mildew, I have always imagined it to be the results of inactive butts marinating in the pews for years and years. When I arrived for the prayer breakfast on abolishing the death penalty, the smell reminded me that we were probably just going talk without really saying much of anything. In the midst of the hollow words, I started to pray that Jesus would show up. With a small commotion, I noticed everyone looking at the door. Turning, I saw a Buddhist monk walking in.
One after one, people shared their stories over breakfast. Truth be known, I knew which story I wanted to hear. When the time came, Tashi Nyami tilted his head back and recalled the moment when he and his mentor walked up on a group of guys mercilessly beating a single guy. Before Tashi could collect his thoughts about what to do, his mentor spoke up and yelled out, "Wouldn't it be more fun to beat up a couple of Buddhist monks?" Embarrassed, the guys stopped the beating and ran away. Tashi reminded us that the pursuit of love and justice always requires us to place our bodies into the conversation. I have never had a story stick to me like this one did. Tashi drew me to the cross and helped me to realize that bodies can still make a difference.
For many years, I have worked against the death penalty. From lobbying to walks to vigils to fasts, I have sought to place my body into the conversation. People consistently ask me, "Why do you care so much?" My gut reply is always the same, "I am a follower of Jesus committed to his teaching of loving your neighbor as your self...and I know I can't love my neighbor and let them be killed." Throughout Lent, I have studied and prayed over the last words of persons executed in Texas. Through it all, I have consistently been reminded that a society can't kill people to teach people to stop killing people. We have got to stop this evil cycle of violence. I believe that love is the only antidote there is. At the cross, Jesus showed us that the fullness of love is found in giving your life so that others might live. If Christians would give their lives to love, there would be no death penalty. How much longer will we have to wait for Christians pick up their crosses and demand an end to executions? I can't wait on anyone else. I'm taking my cross to Huntsville.
At the Walls Unit, the red bricks are piled high and the infrastructure resembles a fortress. Behind the wire and concrete is the place where person after person has been executed in Texas. During Holy Week, I knew I needed to carry my cross down and share the love of God. I cannot let hate and violence continue without question. For the follower of Jesus, the biggest questions are always in the form of a cross. On Maundy Thursday at 3pm, I will begin a 24-hour vigil holding a 12-foot cross. Throughout my time there, I will remember the victims of this evil process and pray for an end to the death penalty. On Good Friday at 3pm, I will end the vigil by celebrating communion with other clergy. Wherever you are, I invite you to participate in person or in prayer. Together, we can embrace the love of God and stop the killing.
Amen.