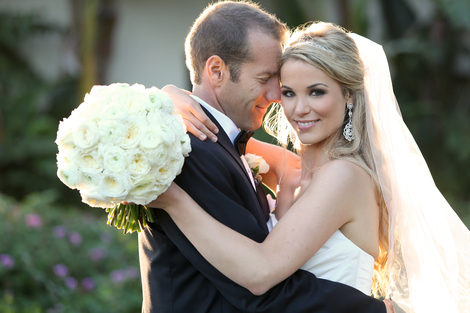 Few people come into a marriage free of baggage and history. Although a wedding is meant to be a clean slate and a fresh start for a couple, it is important to do some 'spring cleaning' for the heart and soul before your big day.
It is often a process of gently identifying, releasing, and giving up that which stands in the way.
It may seem wacky to think that a pile of old magazines or relics from relationships past that are collecting dust can interfere with your marriage, but clutter can impact your love life.
A good, soulful cleaning of can help bring you get closer to the fresh start you seek.
"When my husband and I first started dating, I had quite a bit of memorabilia from past relationships that felt to him like the needles of a cactus surrounding me," says Ana Marie, a bride interviewed in my book Wedding Goddess. "With time, I was able to start letting go of things."
"I was afraid at first, thinking of them as parts of me I needed," she says. "Each time I let go of something it became easier because my past was not erased, simply put behind me making more room for my future to fill my life."
There is a very specific spiritual law that states that "nature abhors a vacuum." Get rid of something and something new can come in. So consider this an exercise in making room for a happy marriage. In some cases, if one of you is moving in to the other's existing abode, you may also be making room for a happy mate.
Try some of these tips:
• Start with one drawer. Then a closet. Next a whole room. Rampage through your physical space, one step at a time, as a symbolic gesture of cleaning up your life and making room for a wonderful relationship with the love of your life. Take a big black garbage bag -- or 10! --and dump things. Give anything you don't need any more to friends or charity.
• Let go of memorabilia from past or failed relationships. This includes anything that ties you inappropriately to the past, or to a love affair that is long over. Save or sell anything that is valuable or sacred, but pack it up and place it in storage -- at least for now. It is not a great idea to have photos of your old loves on the mantle, or stuff that reminds you of them, while trying to get ready for the new. (If said ex-love is parent to your children, this idea may have to be adapted so that the kids do not feel their parent is being pushed out of their lives due to the new marriage.)
• Sell off the good stuff. If you have some big ticket items, collectibles, or jewelry related to a part of your life you want to be over and done with, but it's too valuable to give away, sell it. Use the money to buy wedding favors or a new pair of bridal shoes. That way you can know the stuff is going to good use, and you can use the money to walk down the aisle on a strong foundation of what came before, yet it will be all new and fresh.
• Make cleaning up your life a fun and rejuvenating ritual. Play music that inspires you or classic letting go songs, such as, I Will Survive. Or watch wedding movies that make you laugh and cry as you clean up your old life:
• Father of The Bride
• My Best Friend's Wedding
• Four Weddings and a Funeral
• My Big Fat Greek Wedding
• The Wedding Singer
• The Wedding Planner
• Runaway Bride
• Monsoon Wedding
As you release the old and get ready for the new, try to relish the fact that you will get to walk down that aisle to the one you love and appreciate all you are doing to clear your pathway to the altar.
Clearing clutter does not wipe away your history but it is chance to clear away historical clutter that is no longer needed in your personal archives.
Like A Virgin: Clear Old 'Love Clutter' Before Your Big Day is a short guide I wrote to help brides take a good look at "relationship and love clutter," attachments to former flames, and anything that can get in the way of your happily-ever-after. Sometimes you do not even realize how much love clutter you have collected over time or the impact it has. Evaluating and clearing things helps you enter into marriage renewed.
This column was adapted from Like A Virgin: Clear Old 'Love Clutter' Before Your Big Day.