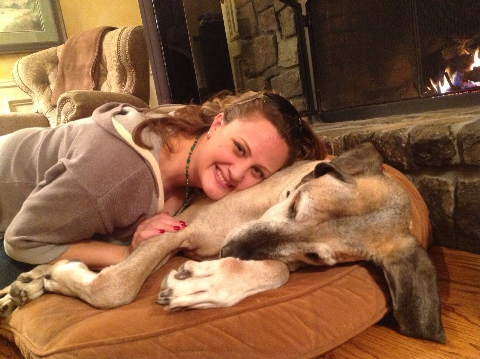 This week, my extended family lost a dear loved one -- a beautiful 165 lb. puppy (11 years old) named Chief. Chief was a beautiful creature. Understated in temperament. Loyal. Sweet. And a part of our family. It was devastating to see him go. While Chief was not my dog -- he belonged to some dear friends -- his loss reminded me of the great value pets play in our lives. Pets draw us closer to God and His creation. Chief's death reminded me of my own journey with animals who have blessed me and my family. This blog is an update on one I wrote more than a year ago, but think it's story and message is relevant today. As my loved ones grieve the loss of their own, may we all be encouraged to know that God shows small pieces of His love through the animals who surround us and our families.
Honestly, I have no idea whether or not puppies go to heaven. This is not intended to be a blog looking deeply at Scripture. Will our pets be in heaven with us one day? I don't know the answer to that question for sure -- but I hope so!
When my husband and I moved to Maryland we decided, very intentionally, to reenter into intentional community with my family. Thus, we live next door to my parents and do life together. One of the gifts of doing life together is also doing life with my parents' pets. In addition to the snake (I don't know his name), the turtle my nephew Daniel named "Florida," and some fish, my parents had six dogs! I call them "puppies" but they vary in age. There is Marley the Great Dane, a basset hound mixed mutt named Toby, and four poodles: Abby, Bess, Moose, and Chester. Their weight differential went from Marley's 164 lbs to Abby's 4 lbs. -- no exaggeration.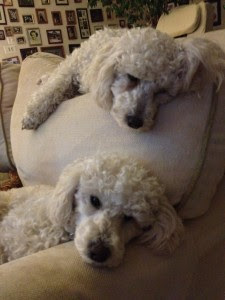 These puppies have brought us so much joy. The two youngest -- Chester and Moose -- are all white and they look like little lambs. I am determined one day to write a children's book about the adventures of Chester and Moose. They were ALWAYS getting into trouble. They would go and play in the neighboring swamp and come home covered in mud. My Dad always said they were a little piece of heaven. Watching them play and pounce and bite tails really was a small piece of joy.
The other dogs all have their own personalities as well. Abby (the 4 lb. one) is the meanest. She growls and was always mean to Marley, the Great Dane who was 40x her weight. She rules the roost. Marley was the protector, a gentle giant. If I took the little dogs downstairs he would come after us and force the door open with his nose. He just wanted to be a part of the family.
Sadly, we have lost half of our pack. In December 2012, Chester was hit by a car. It was an accident and the driver felt terrible. It broke our hearts and Moose hasn't quite been the same since. We miss the two little white fur balls chasing one another all over the place!
We expected both Toby and Marley would go soon. In "dog years" they were probably over 100. Toby had cancer and passed in a stupor and stopped eating. When we took him to the vet, we were told that there was nothing that could be done and that it was time to say goodbye. Saying goodbye to him -- and each of the others - was like losing a part of the family.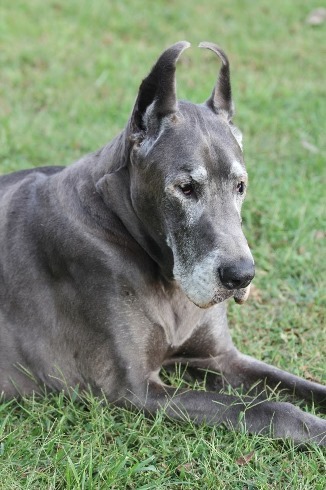 After Marley's death, I posted his picture on Facebook . Honestly, at times, I felt ashamed that I was taking his death so hard. When there are so many serious issues around the world -- it seems a luxury to even have pets. It is certainly a loss to say goodbye, but I told myself that I needed to have perspective. But then, my friends and community were so incredibly comforting and I began to experience something very meaningful. I was gently reminded that pets, and creation around us, are a gift from God. Animals are creatures that remind us of His goodness, His mercy, His grace, and His joy.
My friend Angel Cartagena posted the following on my page. I was blessed by his words and overcome by a small glimpse of the love of God toward me -- and toward His creation.
Mae: Our hearts go out to you and your family. So few people really understand how much pets become part of our family. People also forget that God has spoken on this issue in Proverbs12:10, where He says, "The godly care for their animals, but the wicked are always cruel. (NLT) Think about it: we are being godly, other translations use the word "righteous," when we care for our pets. And if God cares enough to recognize you for your love for Marley, then you know that He cares enough that He will comfort you and your family. God bless you Sis.
I was deeply touched by these words. I experience the love of God through our puppies and pets, but even more through my community!
When my husband and I married more than 12 years ago we had a sort of verbal prenuptial agreement. It included some silly commitments like that my husband had to become a Washington Redskins fan. After more than a decade, we still both loyally support the team. The last of the five commitments my husband made to me was that "one day we will get a Great Dane." For Christmas 2013, my husband gave me the greatest gift.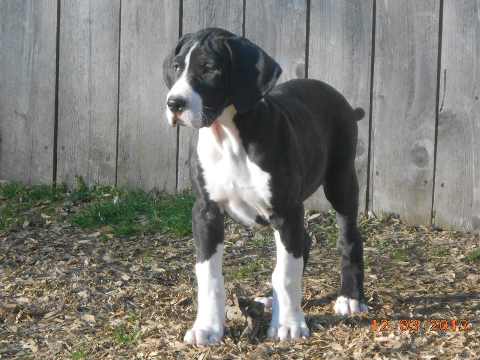 Katherine Scarlett O'Hara Fisk. Named after Vivian Leigh's character in Gone With the Wind.
Scarlett came to us at 12 weeks old and already weighed 45 pounds! She has been a bundle of joy and I look forward to growing together as we celebrate the gift of the next generation of puppies following in the footsteps of Chief and Marley. All of these precious animals bring and will continue to bring our family joy as they play, comfort, snuggle, and provide protection. The gift of animals reflects bits and pieces of the glory of God right here in our midst. My prayer is that everyone would have the opportunity to know such joy and such love.