All over the world Thursday evening, churches throughout the east and the west will host services to celebrate Maundy Thursday. The Thursday of Holy Week reminds believers of the Last Supper Jesus had with the disciples, and more specifically Jesus' teaching about the power of what it means to be a servant.
Jesus knew what was to come. He had loved the disciples and the world while He lived amongst them and John 13:1 tells us he "loved them to the end." Christ's ultimate act of love would follow a few short days after the meal, but His lessons for those who followed Him were not yet complete.
Judas Iscariot had already made the decision to betray Jesus. And Christ knew what was to come. The Scriptures remind us that Jesus knew "all things were in his power" and that He had come from God and was returning to God (John 13:3).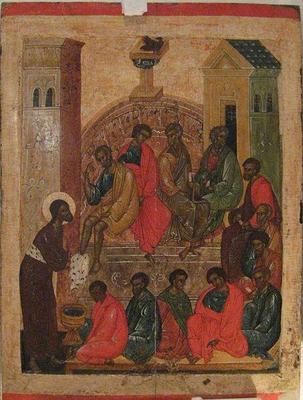 Russian icon from Pskov early 16th century - Jesus Washing the Feet of the Disciples
My favorite part of this passage recounts the interaction between Jesus and Peter. As the meal progressed, Jesus got up, removed his outer clothing, and placed a towel around Him. The following conversation ensued between Peter and Jesus (John 13:6-10):
He [Jesus] came to Simon Peter, who said to him, "Lord, are you going to wash my feet?"
Jesus replied, "You do not realize now what I am doing, but later you will understand."
"No," said Peter, "you shall never wash my feet."
Jesus answered, "Unless I wash you, you have no part with me."
"Then, Lord," Simon Peter replied, "not just my feet but my hands and my head as well!"
Jesus answered, "Those who have had a bath need only to wash their feet; their whole body is clean. And you are clean, though not every one of you." For he knew who was going to betray him, and that was why he said not everyone was clean.
What an incredibly powerful picture. Bold, proud, stubborn, determined Peter. "No, Lord... you shall never wash my feet." I can see his defiance and resistance. Of course Peter would never allow Christ the Savior to humble Himself to such a degree.
Jesus' actions of washing the disciples feet was an ultimate act of humility and servanthood. He wanted the disciples to follow His example and to be servants to the world, just as He served them in the simple act of washing their feet.
Christ gently responds to Peter's reticence. "Unless you allow me... you will have no part with me..." Peter, chastised and perhaps ashamed, unabashedly responds -- I can see him wholeheartedly and with great exuberance replying, "then not only my feet but wash every part of me" -- the indication of these words imply Peter's deeply passionate commitment to Jesus. The thought of not being "with him" was too much to bear - Peter's desire was to be completely intimate and close to Christ. The symbol of desiring his whole body to be washed represents Peter's intentionality in being fully devoted to Jesus.
The cleanliness Jesus discussed was more than that of dirt simply being removed from the feet of his disciples. Rather, Christ spoke of cleanliness synonymous with purity of spirit. He spoke of "not everyone" being clean because He knew already that Judas would betray Him.
As with Peter, Jesus invites us to experience the forgiveness of having our whole bodies cleansed. His act of service -- first exemplified in the washing of feet and later profoundly expressed in His death on the cross -- is an invitation for all who follow Him to be purified and washed completely clean.
May Christ reveal Himself to us as we reflect upon His actions of service this Maundy Thursday.