Over the course of my ministry, I have had the great privilege of witnessing movements and individual leaders seeking peace. The broad scope of peace includes the personal quest for inner centeredness and rightness before God and also the corporate manifestation of Biblical shalom and justice in the world around us. In my research and writing (such as Just Spirituality: How Faith Practices Fuel Social Action), I've looked deeply at the connection of the spiritual lives of some of the world's most influential peacebuilders. We should be encouraged to know there are incredible individuals and communities striving for peace in our own backyards, in the Holy Land, and around the world. For Christians, the foundation of this peace work is rooted in our spiritual practices that connect us to the Prince of Peace, Jesus Christ.
This Peacemaker's Litany is one of my favorite personal devotions to help us to submit to the Prince of Peace.
Many years ago I was in a meeting at work and a guest came in to talk with us about the church in the Middle East. He shared this prayer:
Gracious Lord, we dream of a world free of poverty and oppression, and we yearn for a world free of vengeance and violence. We pray for the peace of Jerusalem.

Lord in your mercy, hear our prayer.

When our hearts ache for the victims of war and oppression, help us to remember that you healed people simply by touching them... and give us faith in our ability to comfort and heal bodies, minds and spirits that have been broken by violence.

Lord in your mercy, hear our prayer.

When the injustices of this world seem too much for us to handle, help us to remember that you fed five thousand people with only five loaves of bread and two fishes... and give us hope that what we have to offer will turn out to be enough, too.

Lord in your mercy, hear our prayer.

When the fear of the power and opinions of others tempts us not to speak up for the least among us, help us to remember you dared to turn over the money-changers' tables... and give us the courage to risk following you without counting the cost.

Lord in your mercy, hear our prayer.

When we feel ourselves fill with anger at those who are violent and oppressive, help us remember that you prayed for those who killed you... and give us compassion for our enemies, too.

Lord in your mercy, hear our prayer.

When we tell ourselves that we have given all we can to bring peace to this world, help us to remember your sacrifice... and give us the miracle of losing more of ourselves in serving you and our neighbors.

Lord in your mercy, hear our prayer.

Walk with us Lord, as we answer your call to be peacemakers. Increase our compassion, generosity and hospitality for the least of your children. Give us courage, patience, serenity, self-honesty and gentleness of spirit need in a world filled with turmoil and terror.

Lord in your mercy, hear our prayer. Amen.
This prayer was written by Jack Knox and is used with permission. It may be found in Just Spirituality: How Faith Practices Fuel Social Action (InterVarsity Press, 2013).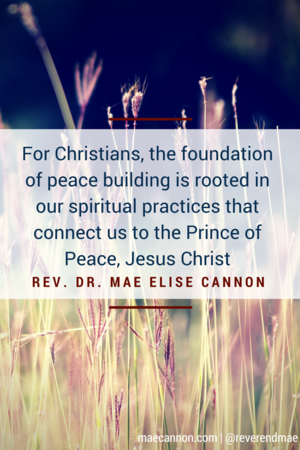 One of the foundational ways we remain connected to Jesus Christ is through prayer. The ancient Christian church tradition of praying a pre-worded call and response prayer between the leader and the congregation is a powerful way to join together in unity and to pray for peace. In working for peace and justice, it is common to be at a loss for words as to how to communicate both the brokenness and our hope and cry for peace. Having words to repeat over and over again as we seek justice allows us to remain rooted in the truths of the peace of Jesus Christ. This is a way we can convey our hope for the world in situations that seem hopeless.
I was moved by the encouragement in Knox's prayer to trust in God's intervention and example. In Matthew 5:9 during the Sermon on the Mount, Jesus shared these words: "Blessed are the peacemakers; for they will be called children of God." Despite the quiet and reflective connotations of "peace" - peacemaking is often far from a tranquil endeavor. Intentionally praying prayers like this is one way to root ourselves in the strength needed to be called the peace-making children of God.