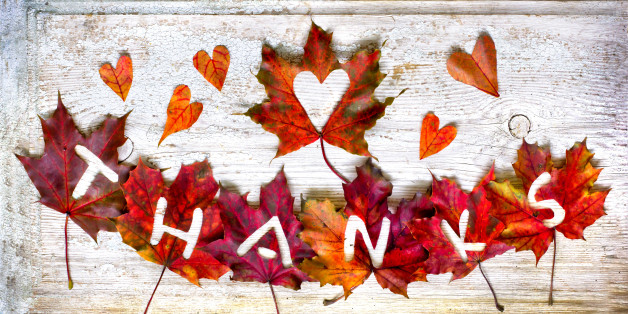 It's going to be my first Thanksgiving without my dad. The loss is one I feel daily, and I am not looking forward to the holiday season. I am sure it will be especially poignant on the days when we the picture-perfect moments include families all gathered around. But I've had my moments this year sharing a table with my dad, giving thanks for the many blessings in my life. We felt it was a spiritual practice to give thanks to God for the many blessings of which we believe He is the provider.
During my dad's battle with cancer our family began "Thankful Tuesdays." It might sound a bit cheesy, but what a wonderful practice! On those evenings we went out to dinner together and as we gathered around the table we all shared one thing we were thankful for. Given the impetus for starting Thankful Tuesdays, the thanks were often for things like the chance to have one more day together, one more chance to make memories to carry us through the future days when sorrow and grief would be a closer companion.
As I reflect on the memories of those Tuesday nights and the memories of my Dad, I find it is still the simple things that bring gratitude most quickly to my heart:
Sitting quietly and watching the sunset together...
Soft down pillows on which to lay my head...
The silly play of puppies and the way they unconditionally respond to human affection...
Hot coffee at the beginning of the day watching the sunrise as the morning dew sparkles across the fields...
A glass of red wine and a bite of dark chocolate at the end of a day...
Appreciating the way even the sense of taste has a purpose in our bodies, offering our wearied minds and emotions strength and comfort.
It is important to be thankful for the big things- - the roof over our head, the food at our table, the privileges we are afforded. But sometimes it is in these small moments and the regular observance of finding just one thing for which you're thankful that works together to create a grateful heart. As we come to the season where as a nation we collectively pause to give thanks, I find myself thankful for a father who led by example. He taught me to make this thanks-giving a regular part of my life and to see the beauty and the grace in simple everyday things.