That's so speedy.
As in Representative Mike Speedy, House sponsor of SB 621, which will axe the four At-Large City County Councillors. "Queer the deal?" Hmmm. In 2011, Zach Adamson became the first openly gay man elected as a Marion County City-County Councillor. An At large City-Councillor.
While I don't believe the Bill's intent is to remove a gay councillor (Indiana has a plethora of qualified LGBT political candidates -- unless they flee the state), I am insulted at the clearly discriminatory comment. Moreover it seems that very few legislators took notice. Speedy is not known for colorful language but he is known for his disrespectful attitude toward LGBT individuals and equal rights.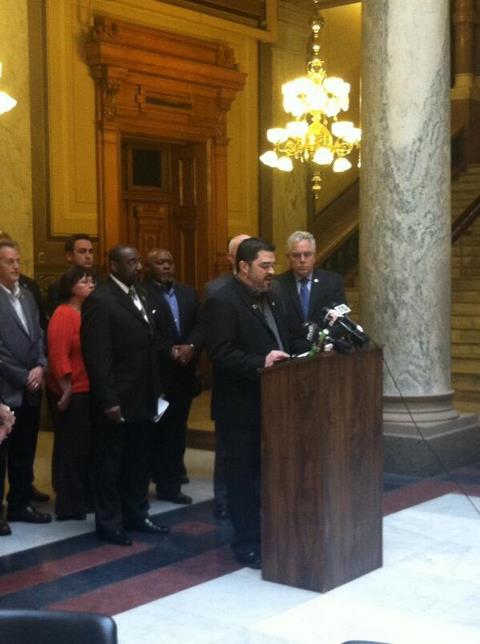 Perhaps our state's legislators are busy getting the word out regarding the ramifications if Gov. Pence signs the bill which is on his desk as I write this. The bill restructures the government of Marion County, removing the four At-Large councillors (who happen to be of the same party ) and giving the power to the Mayor, (who is of the opposing party). This has been tried before... and has always failed. Mayhaps General Assemblies past saw the bill for its power grabbing attributes.
But this year it passed both houses despite bipartisan opposition. Aside from the At-Large seats, the bill would give the Mayor budgetary and other powers beyond that of the Governor. Those living in Marion County have had no say in this restructuring (as they did when Indianapolis enacted UniGov). The bill sets a dangerous precedent that many people and other elected officials in Marion County have noted. Prosecutor Terry Curry stated "It alters the framework by which our citizens are represented without any attempt to engage them in the conversation. It is simply a piece of bad legislation at its worst."
Returning to the "queer the deal" comment, it is an expression, found in Merriam Webster, which means to spoil, ruin, jeopardize, etc. It has evolved into a more common usage regarding those who are GLBT. I am not alone in seeing the comment as being aimed at Zach Adamson -- Rep. Speedy is quite good at feigning ignorance regarding LGBT justice issues.
He co-authored SB213, which passed and which in essence would nullify the Human Rights Ordinances of many Indiana cities: Fort Wayne, Indianapolis, Bloomington, South Bend, and more. Mayor Ballard and others expressed surprise at this effect, and thanks to a collaborative effort , including those of Indiana Equality Action and local officials, work was done to ensure that HROs would not be affected.
Before this successful effort, co-author Speedy, (who voted against the 2005 HRO) was quoted as being "stunned" by the city's assessment that his bill would negate HRO's. "Why didn't they tell me that before?" Speedy said.
"They" did. An article from the
Democratic Legislative Campaign Committee
chronicles how the ramifications were raised in committee.
Rep. Cherrish Pryor, an Indianapolis Democrat who formerly served on the City-County Council, tried on March 18 to add an amendment specifying that it would not affect equal opportunity in employment. That amendment was defeated in a party line vote. Speedy said today he opposed that because he believed it was unnecessary and didn't want to 'clutter up' the bill.
Rep. Ed Clere (R ) from New Albany understood and voted "no." Clere was the lone Republican in 2011 who voted against a constitutional amendment defining marriage as well.
It is the hope of many /most Hoosiers that Gov. Pence will not sign this bill. Prominent political figures foresaw the dangers of the bill as shown
in this video months before the vote.
. Now that the bill has passed, Democrats and City officials held a
press conference
to urge Gov. Pence to veto the bill. Zach Adamson stated:
It strips the Council's ability to serve as a balance to the now unchecked power of the Mayor, the very balance the voters clearly and decisively demanded when they elected us. It also drastically alters the makeup of the City-County Council by eliminating the four At-Large councillors without a shred of input from the people of Marion County in a purely partisan move that attacks the people's ability to self-govern.
I see quite clearly that Adamson and other At-Large councillors are doing what we elected them to do, and not messing things up.
I don't believe Speedy used the quaint phrase "queer the deal" innocently, any more than he was "stunned." Perhaps he could look up "stunned" in his Funk and Wagnalls.