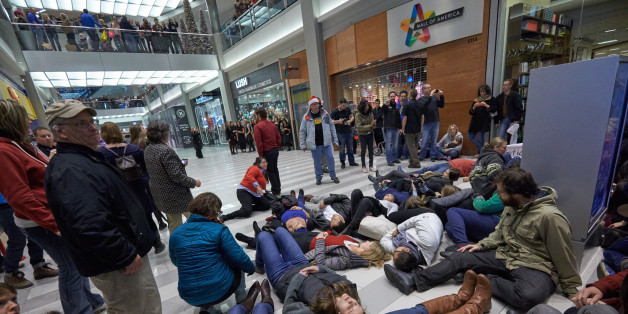 The chants of several thousand people rang through the rotunda at the Mall of America. "While you're on your shopping spree, Black people can't breathe!" Or, "No Santa for Tamir! That is why we're here!"
And then, at a moment indicated by leaders, hundreds of protestors fell to the ground for a four and a half minute die-in -- each minute signifying one of the hours that Michael Brown's body lay in the steamy streets of Ferguson, Missouri, last August.
During the die-in, clergy were encouraged to hold hands, stand in a circle in the center of the protestors, and pray. We each prayed silently, so I don't know what others prayed. Here is the content of my own prayer, in spirit if not in the exact words:
Spirit of life and love and justice, I thank you for this day. I thank you for this day when thousands of people of all races stand together longing for justice, longing for a time when Black Lives Matter, and living our intention to turn that longing into reality. I thank you for the courage of each one of these nonviolent protestors, who each overcame fears of their own to be here.
I pray for the families of all those who have been killed by police, who have been destroyed by people who should have protected them, for the grieving parents whose aching hearts will never overcome their losses. May they see their loved ones' value resurrected in these actions.
I thank you for the black and brown people who are here today, for they are most at risk taking this action. They are most at risk everyday, in schools and stores, workplaces and city streets. I pray for their well-being. May they be free from harm.
I grieve for the young people who are not here, whose lives have been shriveled by violence and racism, whose school experience is more like prison, whose support for bold living is minimal, who have not found their way to belief that anything they do matters. May they find the arms of loving community, of elders who encourage and support their strength, and thrive in it.
I thank you especially for the amazing leadership of this action, young Black activists, whose courage gave courage to the thousands who are here, whose wisdom structured a safe and effective action, whose love gives voice to our collective cries for justice. May all that they give to the world be returned to them over and over.
I thank you for the courage of white people, who showed up today in trust and in hope that our speaking up could make a difference, who committed ourselves to justice and peace for all. May we know a strength and hope far deeper than the comfort and privilege which is afforded to us simply for being white, a strength and hope grounded in unity and truth and compassion.
I thank you for the Bloomington Police Department, and the Mall of America Security Force, for their willingness to keep things calm and peaceful. May their humanity continue to shine in the difficult months ahead, as we work towards systemic change when police are accountable to the same laws as other citizens.
I thank you for the children who are here, children learning in the cradle that the adults they trust can be trusted to speak and work for justice, children inheriting a new understanding of what it means to grow up as part of a diverse people, united in commitment to the well-being of all.
Spirit of love and justice, my heart is broken for all of the killing, for all of the oppression, for all of the destruction of life's potential. My heart is healed by the resistance, by the courage to take action, by the leadership which I experience today. May this day wake us all up, help us all to know more clearly what it means to be human.
Amen.
As I write this the next day, in the early morning light of the Solstice, I pray that our nation is turning towards the light. And this morning, with sadness in my heart, I add the grieving families of killed police officers in Brooklyn to my prayers, knowing that these families will now, too, face a lifetime with a hole in their hearts.
May we all find peace together. May we all find justice together. May we be one nation together.