If you want to learn from the world's great orators and become a more compelling, memorable writer and speaker, Joe Romm's "Language Intelligence: Lessons on Persuasion From Jesus, Shakesphere, Lincoln, and Lady Gaga" is the place to start. I know of no better primer on rhetoric -- "the science of listener attention."
A few months ago I read the paperback. Two weeks ago I listened to the audiobook. Now I'm encouraging my friends and colleagues to experience this helpful little volume for themselves -- especially those engaged in what my mentor Thomas Berry called "the Great Work" of co-creating a just and thriving future for humanity and the larger body of life.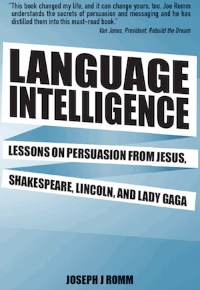 Rolling Stone magazine called Joe Romm (Senior Fellow at American Progress) one of the top "100 Agents of Change" in America today. In this book Joe focuses his talents on helping us all to increase our Language Intelligence and become more adept at the art of persuasion.
Romm shows that we don't have to be an expert to vastly improve our ability to communicate. In just 180 pages he pulls together the secrets of the greatest communicators in history to show how any of us can learn to apply these tools to our writing, speaking, blogging -- even our tweeting.
Language Intelligence not only prepares us to be more memorable and persuasive communicators, it can also help us detect the tricks of the trade used (and misused) by candidates on the stump, in convention speeches, and debates.
Van Jones, President of Rebuild the Dream, said, "This book changed my life, and it can change yours, too. Joe Romm understands the secrets of persuasion and messaging and he has distilled them into this must-read book."
I fully agree.
(To experience Van Jones and Joe Romm's gifts in concert, see their April 11, 2013 op-ed in The Miami Herald titled, "Martin Luther King and the call to direct action on climate.")
See the following reviews: