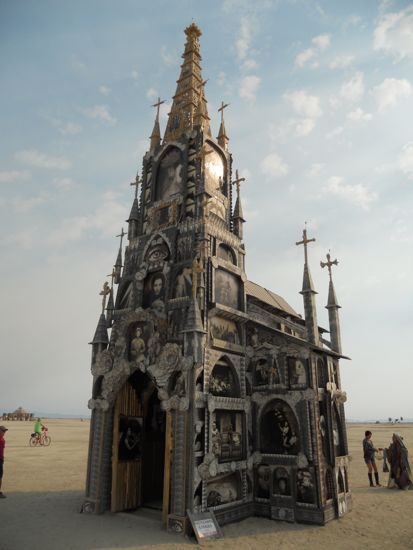 At times one could not help but wonder why we chose to go to the Burning Man festival in the Nevada desert. For the sake of art and a new sort of community we left loved ones behind only to be stuck in two of the worst traffic jams of our lives, waiting five hours to move one mile on our way in and out of Black Rock City.
The elevation, dust storms and extreme daytime heat wore everyone down. The wild colors and scenes over-stimulated us. The action and the beat of the electronic music never stopped. 68,000 people, with not enough water to bathe, lived practically on top of each other in a harsh desert of extremes.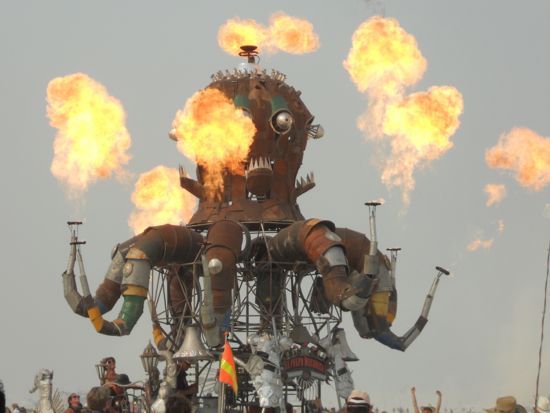 Still one could not help but feel a sense of elation in first arriving. Signs along the side of the road prepared us for the society we were entering. One said, "Finance is your religion." Another quoted Arthur C. Clarke, "Any sufficiently advanced technology is indistinguishable from magic." Not long after arriving I met a man with a yellow armband that said simply "Get Free!"
Together we were getting free from our shared religion of finance with a social technology that seemed like magic. For a whole week no one tried to sell me anything and no one talked about jobs or the economy. There were no phones, schedules, email messages, advertisements, brands or logos. The only things one could buy were coffee and ice. The pace of Silicon Valley makes it difficult for us to be generous with our time. Out there it seemed like we had infinite reservoirs of time and attention to share, even with strangers.
What did I bring home? Mystical experiences in the desert renewed my sense of intimacy with the divine. In the solitude of early morning, red slivers of cloud intersecting the rising sun made me feel like God was baptizing me in dust. Bicycling at sunset with the wind at my back flying past extraordinary artistic creations into the gray water sky, this vast, mysterious universe seemed like a home for our peace, gratitude and love.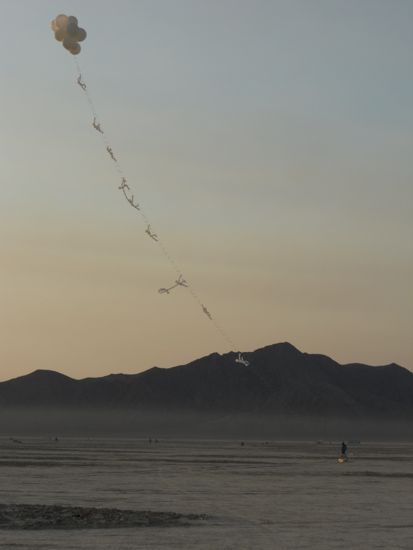 Second, most of the people I met were younger and helped me to see the world in a different way. I realized how sheltered and naïve I am. Usually when I talk to people in their twenties, it is on my terms, in my world and this constrains our conversation. At Burning Man I got out of my suburban church box and met people who do not even really know what Christianity is, people whose motivations and most basic assumptions differ from my own. They deeply blessed me and helped me to appreciate our shared humanity.
Finally, perhaps it took getting out of my church sphere to discover what I have to offer to the world. The people I met appreciated the value of being deeply immersed in an ancient spiritual and intellectual tradition. They asked great questions.
On one of my last nights in the middle of a dust storm I met a woman named Susan. She had sought God when she was young and had given up. We wondered if everyone might know something about God even if we use different religions and language to describe the source of meaning. Perhaps truth is the collection of ways that God is speaking to all of us.
In that conversation I realized that churches offer ancient practices (prayer, opportunities to serve others, holy writings, music, ritual, a calendar, aesthetic experiences, etc.) that help us to be drawn more deeply into the Divine. At its best church functions as a community and a technology for recognizing our place in the universe, for loving other people in the confidence and intimacy with God exemplified by Jesus.
Burning Man helped me to see that spiritual practices from the past have no value unless they can be connected to the concerns and aspirations of the present. Of any group in society, the churches I know should be speaking to exactly the people drawn to Burning Man. Their openness to the future, their divinely inspired creativity, their idealism in seeking to transform society so that it is fair and accepting, their spirit of generosity and concern for others, are exactly what churches need.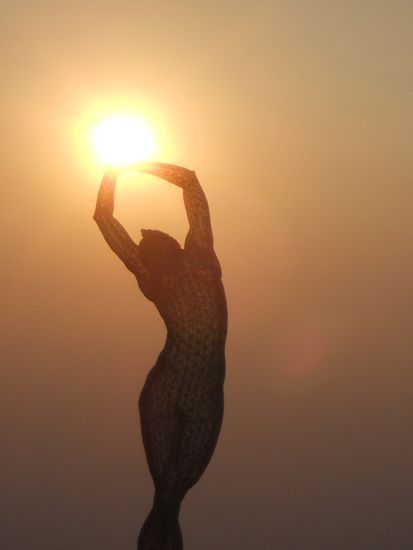 This is the last article in a three part series about Malcolm Clemens Young's experiences as a Christian pastor at the Burning Man festival in Nevada. A version of these pieces appeared in The Los Altos Town Crier on Sept. 25, Oct. 2 and Oct. 9, 2013.