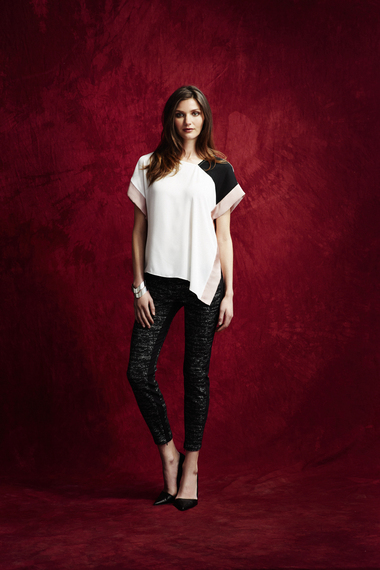 Photo Courtesy: Jason Brownrigg
The change of the temperature and the leaves also brings about another change; our wardrobe. It's the time of year we put away our shorts and flip flops in exchange for boots and scarves. Short sleeves are replaced by long sleeves and a cute jacket.
There are certain pieces in your closet you can keep from season to season, and some that need to be retired. But which ones? It seems for the longest time we were told "Never wear white after Labor Day!" Now, it's acceptable to wear all year round.
To ensure I'm on point with the Do's and Don'ts of Fall 2014 fashion, I decided to phone a friend. Someone who is far more knowledgeable than I in what's trending this season that will have me looking my best.
Jaynee Berkman is the Chief Merchandising Officer at Adrianna Papell. Her father was one of the original founders of Adrianna Papell some 35 years ago, so fashion has always been a component of her life. She attended school at Tulane in New Orleans and began a four year stint at Saks Fifth Avenue her senior year before moving over to Adrianna Papell. Today, she oversees fabrics and design choices for the company which provides wardrobe for celebrities such as Miranda Lambert, Taylor Swift, Amy Robach and Kathy Lee Gifford.
I heard pastels were in this fall. I knew she'd be able to dispel the rumor, or explain how one could wear pink this season and not appear out of the loop!
What colors should we be wearing this season?
This season we are seeing a selection of:
Reds: True reds a la Valentino or Audrey Hepburn, to shades of pink.
Blues: Not just any blue will do. Look for electric blue or lapis. This color is great because it works with every hair and skin tone.
Neutrals: A great palette for the evening. Think champagnes and grays. Neutrals are great to mix with pastels.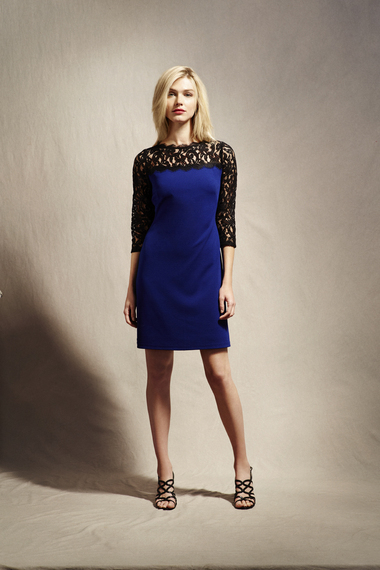 Photo Courtesy: Jason Brownrigg
Pastels? In the fall?
Pastels can be tough for the average American consumer. This year we are incorporating pale colors grounded with black. For example, try wearing a blush and pale blue pairing with black shoes or black cover up. If you are considering a print, you will find pastel colors such as a blush colored floral mixed with browns in the background. Also you'll see pastel colored sweaters such as pink with some black element to it.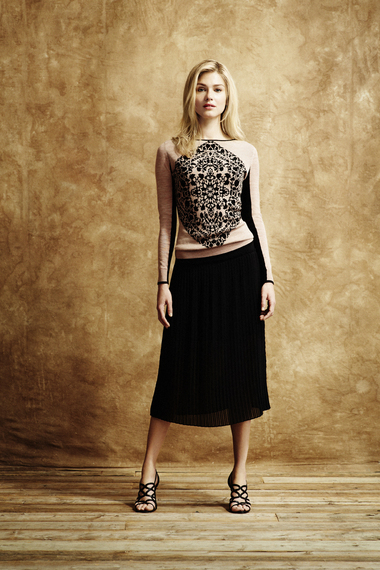 Photo Courtesy: Jason Brownrigg
Speaking of Prints...
Animal Prints: I love animal prints because you can dress it up or down. It can be used in the daytime or at dusk. Leopard, cheetah and snake are popular this season. It works for any age group. This season, prints will be a little more abstract.
Also watch for black and white graphic prints.
I see leather is back. I love leather, but can you wear it during the day too?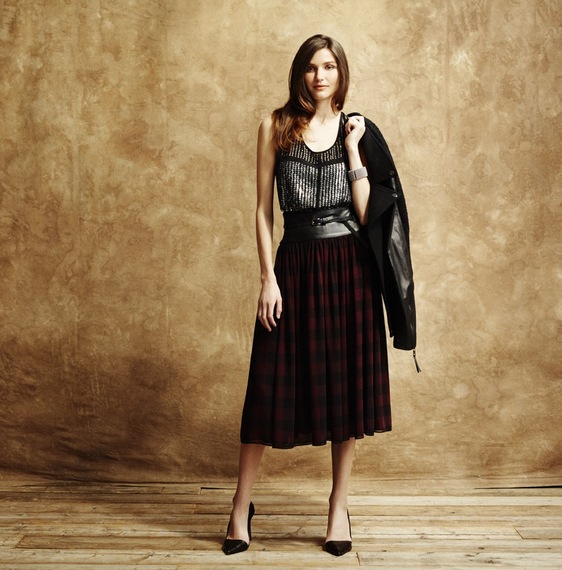 Photo Courtesy: Jason Brownrigg
I think leather and lace have become two staples in every woman's collection. They serve as both wonderful accents to full garments. Mixing different types of fabrics and textures is what great fashion is all about. There is nothing better than a great leather jacket. It can be worn with slacks or a skirt, and then the same jacket can be paired with a great pair of jeans or a cocktail dress. A leather jacket makes you feel youthful!
Leather can be found as piping, banding and cutout work. I don't think leather is going away after the season ends. Women really do love any kind of leather.
Women really do want one wardrobe they can mix and match for day or night and weekends. The Fall trends will give you a lot of those options.
--
I see a lot of pink and black in my future! Thank you Jaynee for the tips!
Follow Adrianna Pappel on Twitter at @AdriannaPapell